In our follow-up article focusing on Tortoise Energy Infrastructure (TYG), we would like to update our readers on what has been going on in the energy industry since the beginning of the COVID-19 pandemic in late February 2020. Unfortunately, this fund has been severely negatively impacted by the pandemic and sharp fall-out of commodity prices earlier this year, as it has experienced a loss in total assets from $1.41 billion to less than $300 million year to date. In addition, the stock price has plummeted by more than 70% during the same time. We believe that the fund will have a difficult time keeping a quarterly distribution rate of $0.3950 per share, as it has experienced a drop of 75% in net investment income over the last quarter. Therefore, we find this CEF suitable for contrarian investors with a very high risk tolerance who believe that the COVID-19 pandemic will end sooner than expected. Consequently, our economy and the business activities of the energy industry can return to the rapid growth as a result of supportive monetary and fiscal policies so far this year.
Developments in the crude oil market YTD
What a year in the energy markets! During our college studies, we have never heard about the possibility of a negative price in the futures markets. The COVID-19 pandemic has created an environment in the financial markets where the unthinkable can become a harsh reality overnight.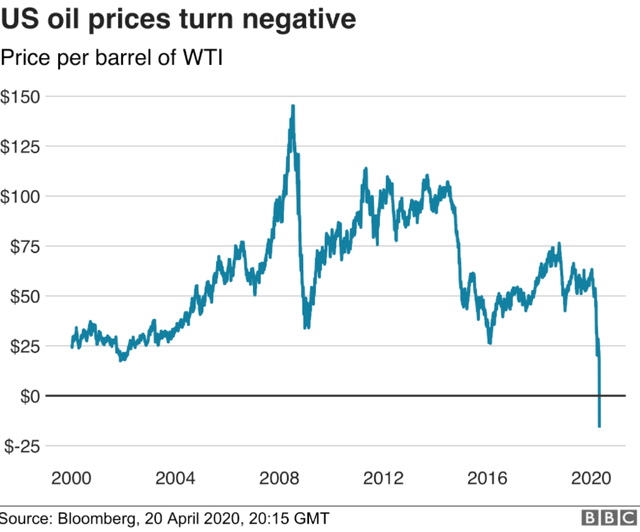 (Source: BBC)
The WTI crude oil future price has fallen from approximately $60 per barrel at the beginning of the year to as low as -$37 per barrel on April 20, 2020. The reason was an ongoing crude oil price war between Saudi Arabia-Russia combined with the global lockdown measures of stay-at-home orders, which resulted in oversupply in the crude oil market. Afterward, OPEC+ countries reached a deal to cut oil production, the global economies reopened and the global financial markets started to recover leading energy prices higher. In fact, the S&P 500 (SPY) and Nasdaq 100 (QQQ) have even reached new record highs over the last couple of weeks on the backbone of the biggest tech names or so-called FAANG stocks.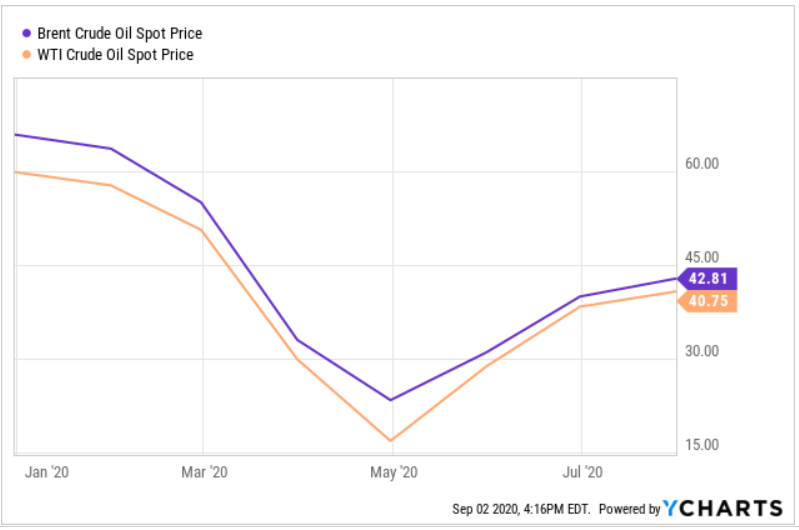 According to the figure above, we anticipate that very low volatility in the market price of both Brent and WTI crude oil over this summer might be disrupted by the unexpected sharp move in either direction over the coming months. We are a bit more biased towards a strong negative move, as the COVID-19 pandemic-related risk factors outweigh the potential bullish catalysts of the U.S. crude oil market. Especially now, during the upcoming flu season in autumn. We believe that a demand for gasoline and jet fuel will most likely remain negatively impacted by the lack of air travel and road transportation before there is an available vaccine on the market. In general, people are advised to stay at home and limit their non-essential travel due to the resurgence of the second wave of coronavirus infections throughout developed economies.
That forces refineries to continue to operate below their optimal capacity levels, leading to higher fixed costs per unit with lower sales of end products like gasoline. In the worst-case scenario, we might experience an increased number of bankruptcies of the most levered refineries, as they won't be able to cover their fixed costs or meet their debt obligations anymore. In fact, that would act as a major disruption to the entire crude oil value chain, as both oil drillers and midstream companies might lose their longer-term contracts with the most negatively impacted refineries.
On the other hand, the domestic oil Exploration & Production companies involved in the shell drilling have been piling on debt to acquire other companies or to expand their production capabilities over the last couple of years. They anticipated that the price of crude oil should trade higher than $50 per barrel, which ended up as a very risky play. Unfortunately, once the crude oil price plummeted to low teens earlier this year with a very grim outlook for the U.S. economic growth surrounded by the uncertainty of the COVID-19 pandemic, that created an unprecedented shock for the entire energy production industry. As a result, plenty of energy producers got downgraded to "junk level," including Chesapeake Energy (CHK) and Occidental Petroleum (OXY).
"The percentage of oil and gas companies with distressed credit ratios spiked from about 25% at the end of last year to 94% in mid-March, according to S&P Global Ratings."

(Source: CNN)
In fact, plenty of energy companies might even be forced to file for Chapter 11 bankruptcy protection in the near future, as the COVID-19 pandemic doesn't seem likely to disappear anytime soon. Nonetheless, some of the energy industry experts believe a smaller number of producers will create a better and more efficient environment with slightly less ambitious plans of rapid shale oil production growth.
"I think there's going to be fewer companies, bigger companies, and more disciplined companies and then shale can grow again, about 300,000 barrels a day rather than 1 million barrels a day every year, producing twice as much as we were producing five years ago," Morse said."

(Source: CNBC)
Based on our analysis, we are concerned about the overall future performance of energy producers and refiners as well, which should negatively impact pipelines, MLPs, and midstream companies that are the core focus of this CEF.
Performance of MLPs during the COVID-19 pandemic
In general, midstream companies have been challenged by lower demand for refined products, which has tested their ability to weather the storm using other sources of income. A big positive was a commitment of large oil producers to even drill oil and transport crude oil to refineries when the price of oil was below $10 per barrel. Even at such a low price, it is still more profitable to offset some of the fixed costs compared to the entire shutdown of pipeline and production facilities. Likewise, if the producer decides for a complete shutdown, then it faces legal issues with midstream companies, as it has a contractual obligation to pass a certain minimum amount of volume through pipelines indifferent to the current crude oil price. That is one of the reasons why we prefer MLPs compared to energy producers, as it makes them more resilient. The challenging COVID-19 pandemic environment pretty much reflected that, as midstream companies were able to find other sources of income during H1 2020.
"Just as we have during previous commodity price cycles in 2008/2009 and 2015/2016, the performance of our durable fee-based businesses and our storage and marketing activities provided a natural hedge that enabled us to largely offset the weakness in our natural gas gathering, processing, and petrochemical businesses during the second quarter of 2020."

(Source: EPD Earnings Release)
In addition, a company like Enterprise Product Partners (EPD), which is also the largest holding of this CEF, was even able to take advantage of the oversupply of crude oil as the result of the crude oil price war between Saudi Arabia-Russia combined with global stay-at-home orders. Consequently, the majority of global producers were looking for available storage capacities to store excessive crude oil in March 2020. Interestingly, EPD was one of the few companies to have sufficient storage capacity.
"During the quarter, we were also able to benefit by using uncontracted storage capacity to capture contango opportunities in NGLs, crude oil, and refined products and will continue to see this benefit for the remainder of 2020."

(Source: EPD Earnings Release)
After the reopening of major developed economies and the sharp rebound of the crude oil price, energy industry activities returned to normal levels, though, with a bit weaker demand than a year before. Therefore, the second major holding of this CEF – Magellan Midstream Partners (MMP) – anticipates weaker pipeline volumes for refined products during the H2 2020.
Refined products pipeline volumes continue to be affected by the pandemic, with average base business volumes, excluding the impact of expansion projects, declining by 6% for gasoline, 12% for distillate and 40% for aviation fuel during the second half of 2020 compared to the same period in 2019.

(Source: MMP Earnings Release)

(Source: EPD Earnings Release)
According to the figure above, EPD reported similar NGL, crude oil, petrochemical, and refined products pipeline transportation volumes (MBPD) for the H1 2020 compared to the year ago, while natural gas pipeline transportation volumes (BBtus/d) experienced a drop of 6% y/y.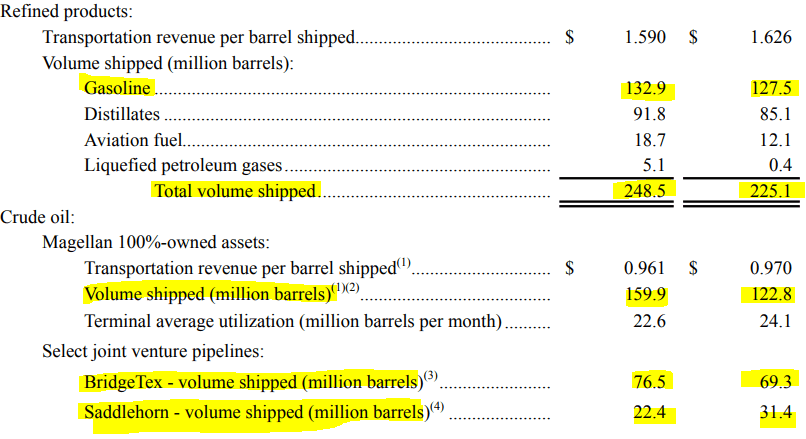 (Source: 10-Q Filing)
On the other hand, MMP reported a 10.3% higher total volume shipped of refined products for the H1 2020 compared to a year ago. Even the crude oil segment experienced a 30% higher total volume shipped (million barrels) versus a year ago. In our view, that points out the resiliency of the pipeline transportation business, as both companies were able to maintain adequate volume levels during the present unprecedented times of the COVID-19 pandemic.
Interestingly, even though the transportation volume remained quite robust, both companies reported weak Q2 2020 quarterly results compared to a year ago as the result of the COVID-19 pandemic challenges and low crude oil price environment.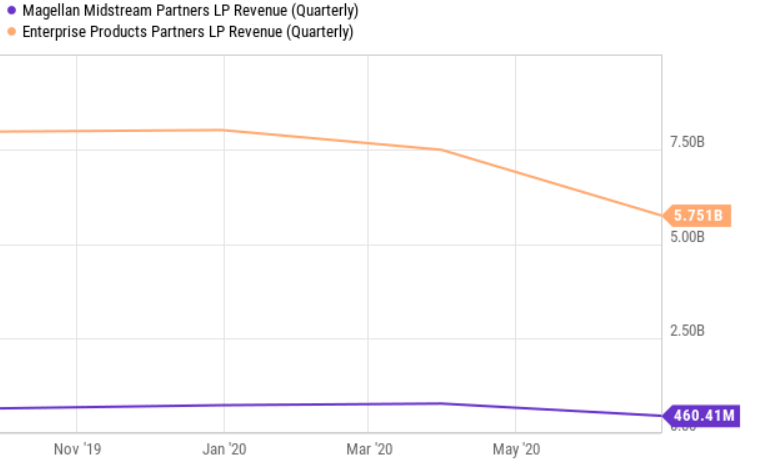 According to the figure above, both MMP and EPD have experienced a sharp decline in quarterly net income of approximately 42% and 23%, respectively, between Q1 and Q2 2020.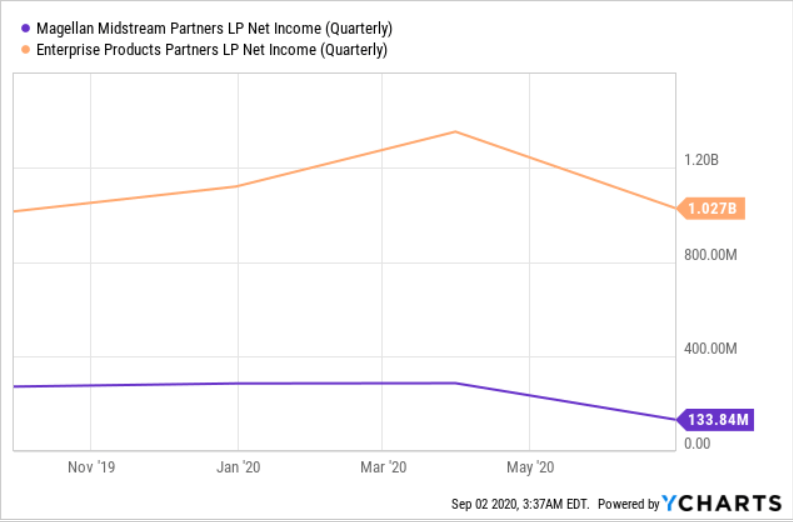 Besides, quarterly net income of both MMP and EPD has declined by approximately 53% and 24%, respectively, between Q1 and Q2 2020. Unfortunately, a challenging business environment and weaker financial performance have resulted in the lower total return for shareholders year to date.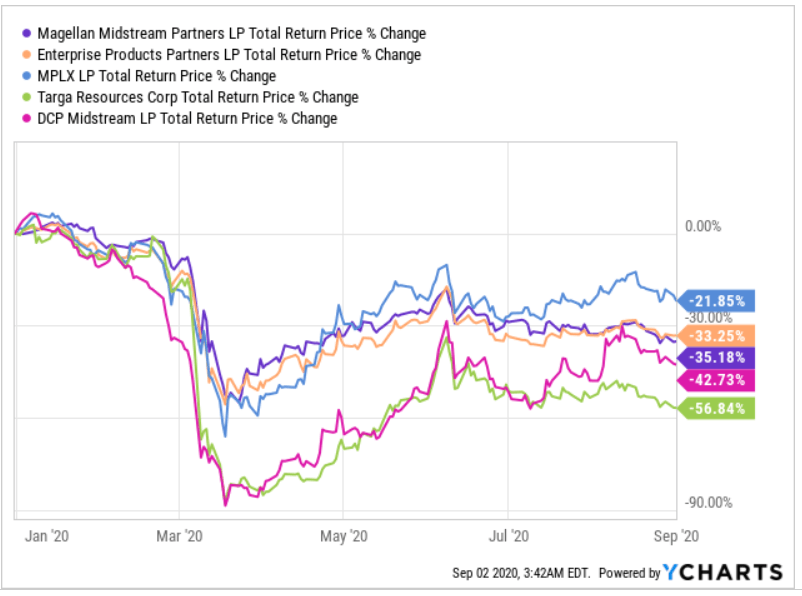 According to the figure above, where we have expanded our analysis to include also the other top 5 holdings of this CEF as of 7/31/2020, both MMP and EPD have experienced a negative total return of approximately -35% YTD. On the other hand, MPLX LP (MPLX) has slightly outperformed its peers with a negative -22% total return YTD, while both Targa Resources (TRGP) and DCP Midstream (DCP) have generated a more than 40% negative total return YTD.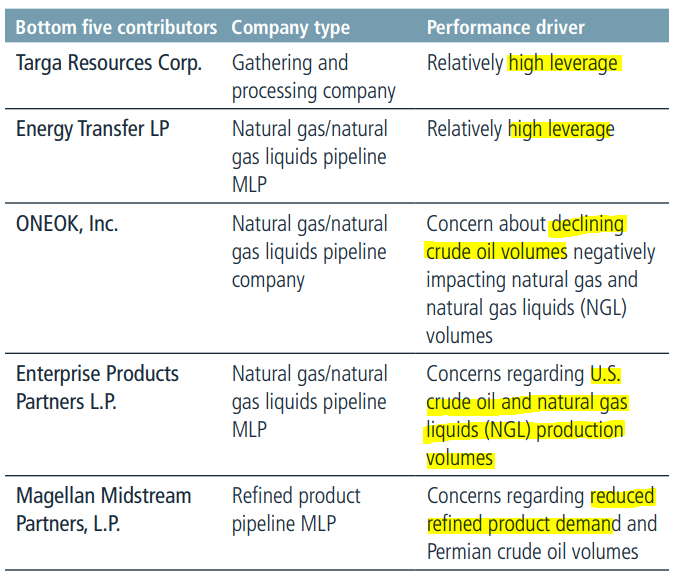 (Source: Quarterly Report)
We can also spot some of the previously mentioned companies as the bottom contributors of this CEF. They were primarily negatively impacted by concerns over demand for crude oil and natural gas production volumes combined with relatively high leverage.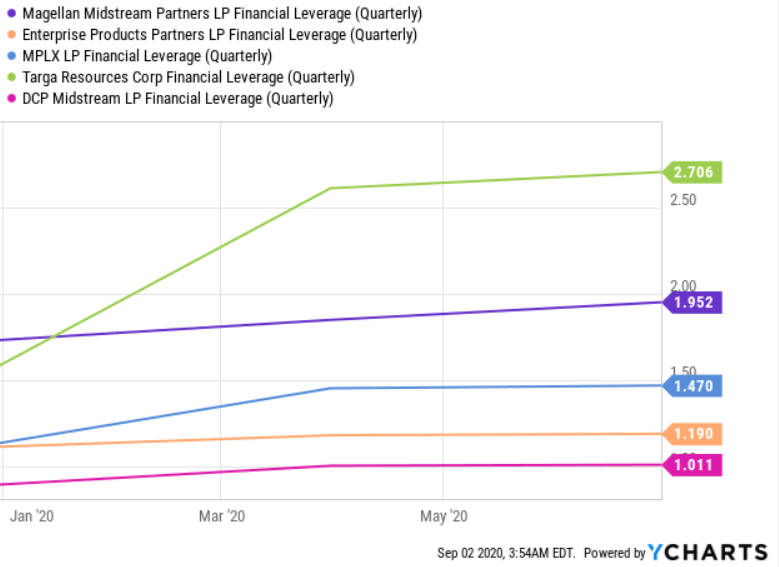 According to the figure above, TRGP and MPLX have experienced a sharp increase in their financial leverage to approximately 70% and 30% as the result of the COVID-19 pandemic. On the other hand, the other 3 companies have maintained their financial leverage close to pre-COVID-19 pandemic levels. Nevertheless, we find a bit excessive leverage of TRGP and MMP at 2.7 and 1.95, while the other 3 companies have financial leverage at relatively normal levels below 1.5.
We anticipate that all of the previously mentioned companies should be able to meet their debt obligations and continue with normal business activities over the next 12 months. However, we find that some of the biggest downside risks for the future performance of MLPs in this CEF are the following: (1) an increase in financial leverage, as a result of business deterioration after the beginning of the COVID-19 pandemic, (2) worse-than-expected outlook of future U.S. natural gas and oil production volumes, including a very important Permian Basin area, and (3) potential stronger-than-expected 2nd or even 3rd wave of coronavirus infections later this year, leading to another round of shutdown of non-essential businesses throughout our country.
Performance of TYG

(Source: Tortoise Fund)
According to the figure above, both historical market price and NAV have been in the range of $15-20 per share before the beginning of the coronavirus crisis. However, both market price and NAV started to experience the biggest short-term turmoil ever once the lockdown measures started to take place in mid-March. The fund has announced a reverse 1-4 stock split on May 1, 2020. Afterward, both market price and NAV have been trading near the pre-pandemic level of around $20 per share.

(Source: Morningstar)
Based on the figure above, this MLP has generated a total return (market price) of -76.2% year to date, or approximately 11.7% lower than the corresponding benchmark – Energy Limited Partnership – during the same time period. Morningstar categorizes this benchmark as funds which invest in energy master limited partnerships. Unfortunately, we couldn't find more information about which companies are among holdings of this particular Energy Limited Partnership benchmark and how Morningstar derives its value.
Nevertheless, this CEF was able to capture a better return over the last 3 months, once global financial markets and commodity prices started to recover.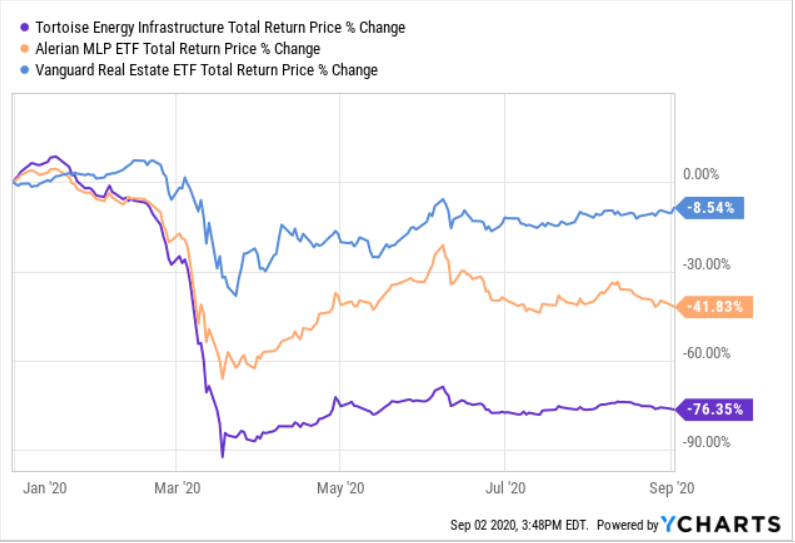 This chart indicates that the fund has underperformed its most direct peers among exchange-traded funds – the ALPS Alerian MLP ETF (AMLP) and the Vanguard Real Estate ETF (VNQ), by 35% and 68%, respectively, year to date.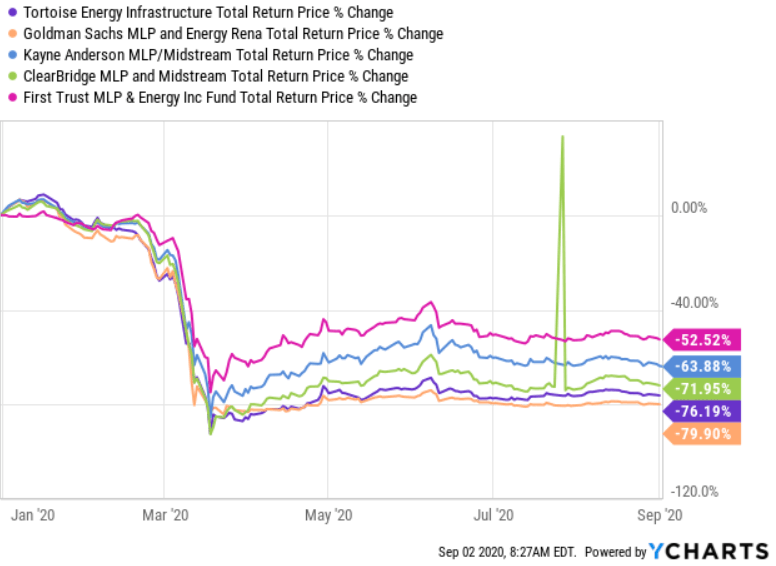 If we expand this selection to other related CEFs in the MLP universe, then TYG has been one of the worst performers year to date. Contrarily, First Trust MLP & Energy Income Fund (FEI) has been the best performer among its peers by achieving a total return of -52.52%. In addition, ClearBridge Energy MLP Opportunity Fund Inc. (EMO) and Kayne Anderson MLP/Midstream Investment Company (KYN) achieved a total return of -72% and -64%, respectively during the same period. To sum it up, this year has been very turbulent for investors in MLP-related CEFs, as they have lost more than 50% of their shareholder value so far this year. Consequently, one might anticipate that during present unprecedented times with high uncertainty of future growth, CEFs should probably trade at a deep discount to NAV.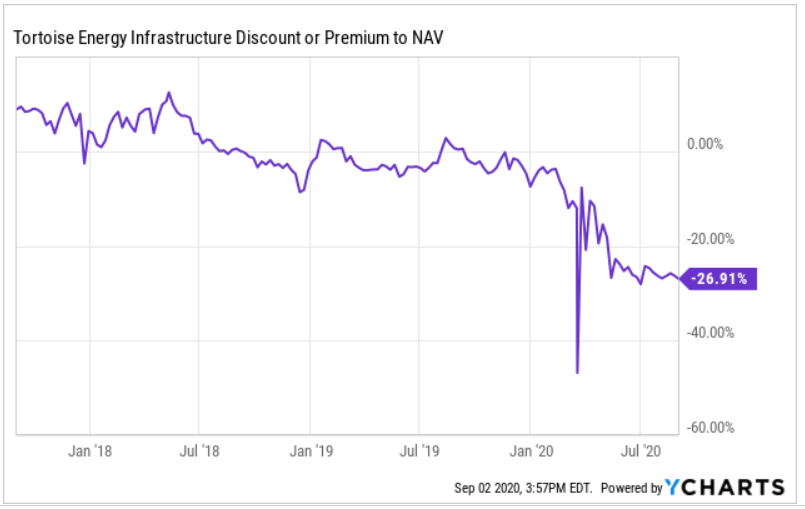 If we take a look at a historical Discount or Premium to NAV multiple, then investors can get now a very deep discount to NAV of -27%. In a year before, TYG was trading at a discount to NAV close to 0%. Some investors might be tempted now to take advantage of such a deep discount to NAV at the present level, however, we would consider all of the previously mentioned risks we have described in the previous chapter. Therefore, investors shouldn't definitely make their investment decision solely based upon a double-digit discount to NAV.
Q2 20' Financial Highlights


(Source: Quarterly Report)
According to the figure above, the fund reported a total income from investments of $10.9 million in Q2 2020, or down 74% q/q, while there was no available distribution to shareholders. In fact, a distributable cash flow of $5.8 million in Q2 2020 is only a quarter of previous distributions paid on the common stock of $21.2 million in Q1 2020.
As we have warned our readers in our previous article on TYG here, investors should definitely consider all of the associated risks of the COVID-19 pandemic on the energy industry. We are concerned that in case the pandemic worsens, it can have long-lasting permanent changes in how the energy producers operate and conduct business throughout the entire value chain. Especially now, when we are facing a present challenge of increased electrification of vehicles and increased demand for renewable sources of energy.

(Source: Seeking Alpha)
Over the next couple of quarters, we believe that this fund will most likely have to cut by more than 75% of its previous quarterly distributions of $0.3950 which were paid to shareholders before the start of the COVID-19 pandemic.
When it comes down to leverage, the fund's management has made an excellent decision to lower the total leverage of the fund from 39.9% in Q1 2020 to 25.4% in Q2 2020 to limit the downside risk. Such a move was inevitable, as the portfolio management team couldn't anticipate beforehand such a sharp decline in the oil price and total volume of natural gas and crude oil production in March-April 2020 caused by the COVID-19 pandemic outbreak in the U.S.
In our view, it's to the portfolio management team credit that it remained calm and didn't fire-sale entire portfolio assets, and kept leverage to a normal level of 25% during such unprecedented times in the energy-related businesses. This later supported the fund to take advantage of the sharp rebound in both crude oil prices and major stock market indexes after the bottom was reached at the end of March 2020. On the other hand, if the portfolio management team would have panicked by lowering the leverage to 0 and selling the worst-performing securities in the portfolio during the height of the coronavirus crisis, then today investors could face a drop of approximately -90% YTD in TYG's market price. The reason being that TYG has reached a 52-week low of $4.60 on March 18, 2020, or down approximately 94% from January 1, 2020. If we assume a 0 leverage and a lower number of performing assets, this CEF couldn't be able to capture the rebound in the global financial markets and commodity prices, which has taken place since April 2020. Thus, TYG's price would most likely stay closer to the range of $5-10 per share to this day.
Conclusion
Given that we anticipate a grim outlook surrounded by strong headwinds for the entire energy business, including the midstream sector, we believe that now might not be the best time to be heavily invested into any kind of MLPs or midstream companies. Yes, a potential faster-than-expected end of the COVID-19 pandemic will definitely return pipeline volume closer to pre-COVID-19 levels as demand for fuel, diesel, and jet fuel return to normal. However, we believe that an entire energy industry needs a bit more time to restructure itself, as was the case with the financial industry during the financial crisis in 2008. It resulted in a smaller number of bigger financial institutions with a more robust regulatory framework, which spurred strong shareholder value creation between 2010 and 2020. Therefore, we definitely recommend our readers to wait for a quarter or two before initiating a significant position in this CEF.
Disclosure: I/we have no positions in any stocks mentioned, and no plans to initiate any positions within the next 72 hours. I wrote this article myself, and it expresses my own opinions. I am not receiving compensation for it (other than from Seeking Alpha). I have no business relationship with any company whose stock is mentioned in this article.
Additional disclosure: This article does not constitute a bid or an invitation to bid for the purchase or sale of the financial instruments in question. Neither is it intended to provide any kind of personal investment advice, therefore readers should conduct their own due diligence. Investing in financial instruments may always be associated with risk. Please contact your personal financial or investment advisor for any additional questions or materials regarding this article. We shall not be liable for any type of damage or loss arising from the use of the information contained in this article.