Partnerships
Twist Bioscience (TWST) has been doing well during the pandemic and the first 9 months of its 2020 fiscal as announced in its Q3 earnings call:
At the beginning of the fiscal year, we outlined we'll secure between five and 10 partnerships, as Emily noted, and we were tracking to do exactly that. During the quarter, we signed three new antibody discovery partnerships and expanding the agreement with a current customer.

As Emily mentioned, we've now signed total nine agreements with six generating milestones and/or royalties.
One of those agreements is even with a top 10 pharma company – Takeda.
With 9 new partnerships and partnerships from previous years, this could become a meaningful source of growth for the company in the future. Especially considering the fact that in some cases royalties and/or milestones. Please keep in mind that from discovery to market is a long time in drug development and thus revenue beyond license fees is a long-term prospect.
Agilent lawsuit
The company removed a big risk factor in February when they settled the lawsuit with Agilent (A). Even with paying out $22.5m, it stops the drain on management time and legal costs for the future. As such it's great news for the company. The market agreed on that and the company's share price has been on a steady climb since then – from about $26.75 on the day of the release to 63.27 at Friday 4th September close.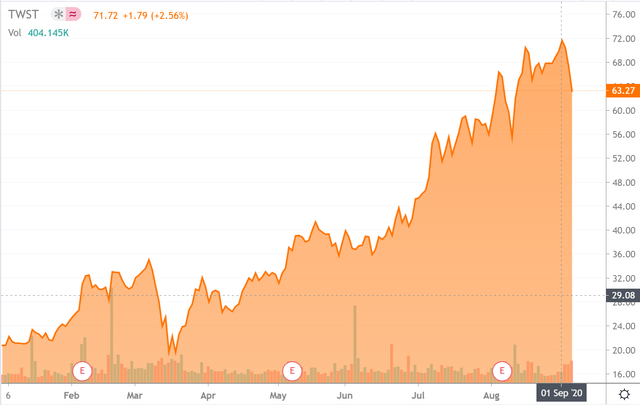 Cash on hand and dilution
Twist has raised cash three times this fiscal year.
Between December 18th and January 27th, a total of $50m with an average price of $22.32 for a total of 2.24 million new shares were sold through an At-the-market offering.
On February 24th, the company completed a public offering netting the company about $140m with the sale of 6.04m new shares at an average price of $28.00.
On June 8th, an additional 3.94m shares were sold for an average price of $33 and proceeds of $107.4m.
That's for a total of $297.4m and 12.58m new shares. As such, there has been considerable dilution in the form of new shares sold as evidenced by the Q3 2020 filing. At June 30th, 2019, there are 25.8m diluted shares outstanding whereas on 30th June 2020 there are 41.8m shares. That's a total of 16m shares – that number includes options and offerings prior to this fiscal year. That means a dilution of 62% (16/25.8) over a 12 month period. That's quite a drastic dilution.
The company has $311.8m in cash on June 30th, 2020 and with a market cap of $2.83bn at end of day 4th Sept that means it is unlikely to dilute the shareholding as much in the coming 12 months. Only an 11% dilution would be required to raise the same amount of cash as the company has on hand now.
With that amount of money and current quarter's loss, there should be a runway that will last between 8 and 10 quarters.
Future prospects
The company has a lot of things going for it both in the short and the long term. For the longer term, it's working on alternative forms of storage – in synthetic DNA and had an announcement on that recently. An episode of Biohackers, a Netflix (NFLX) show, was stored on synthetic DNA. That is partially supported with non-dilutive funding from the US Government.
In the short term, the company has done a fair amount of work on COVID-19 related sphere. In the latest earnings call, they were not willing to disclose any revenue associated with COVID-19 related work. As such it's hard to assess or put much value on it. Certainly not for the longer term.
For your pleasure here is a slide from the 3Q earnings presentation: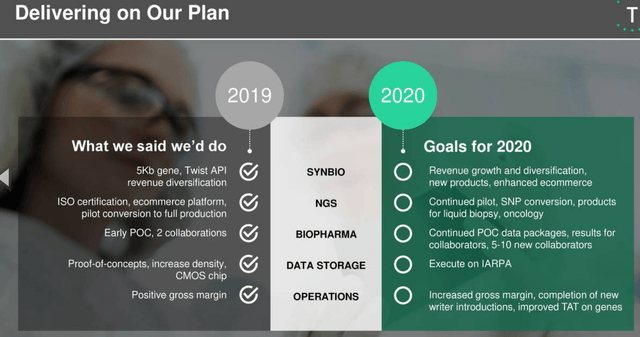 It gives a bit of flavor of what is happening soon and what goalposts the company has set going forward. IARPA is a government agency that has part-funded the discovery work surrounding storage on synthetic DNA. Another important theme on the slide is expanding gross margins which is done with higher revenues.
In terms of current revenue growth and going forward Biopharma companies are becoming more and more important and the reliance on Ginkgo is being reduced quarter by quarter as other revenue sources grow quicker.
Conclusion
With the lawsuit over and execution focus now improved, the company has been doing that and the share price has followed on a beautiful trajectory upwards from a low point of $18.52 in March and a high point of $71.99 just before last week's pullback. The market has certainly agreed that this company has a bright future.
I have not quite made up my mind on the current share price – if there is too much COVID-19 optimism baked in or if I should wait for a further pullback before investing – at 2.83bn market cap and Price to Sales (TTM) being 31.22 it's already quite richly valued. To be worth that it needs to be able to increase revenue considerably over the coming years and avoid the dilution of the last 12 months being repeated.
Disclosure: I/we have no positions in any stocks mentioned, and no plans to initiate any positions within the next 72 hours. I wrote this article myself, and it expresses my own opinions. I am not receiving compensation for it (other than from Seeking Alpha). I have no business relationship with any company whose stock is mentioned in this article.