Nasdaq just dropped about 10% from its all-time-high, closed at 11539 on Friday, September 4. Many have questioned whether the bull run could continue, for the stock market is now trading at unprecedented territories even the economies went straight down to the trough. Indeed, the euphoria of the market currently shares similarities with the previous internet bubble in 2003, where most technology stocks are seriously overvalued. Thus, this article will provide a solution to the possible crash or correction: An all-weather portfolio that will stand the test of time even during a financial crisis.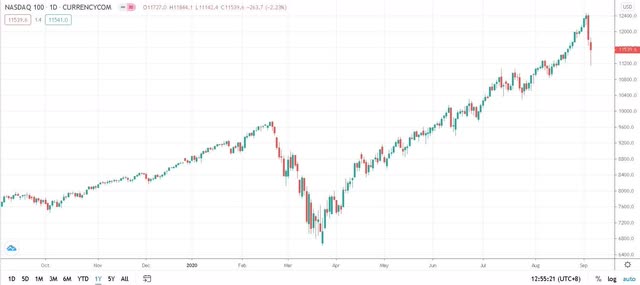 (Source: Author via TradingView)
The all-weather portfolio was originated from Ray Dalio with an aim to earn an acceptable return while simultaneously minimizing downside risk. Here, we compare the benefits and costs of the suggested portfolio with other widely used risk management strategies.
| | | |
| --- | --- | --- |
| | Pros | Cons |
| 1. Exit the Market (Low Risk) | Take the profits and avoid all risks associated. | May miss out profitable opportunities, and it is difficult to determine when to get back into the market. |
| 2. Protective Put (High Risk) | Lock-in the profits no matter how far the market will drop. | Derivatives are inherently riskier, and it will incur a significant upfront cost. |
| 3. All-Weather Portfolio (Medium Risk) | Ensure reasonable returns even in hard times. | It is a less risky strategy, and thus rewards should be lower as well. |
As depicted above, the suggested portfolio is a medium risk and reward strategy, which is suitable for most average investors with low to medium risk tolerance. It is designed to thrive in uncertainty, while in a clear bull market it would be better to switch to another riskier portfolio to earn a bigger return. However, for investors who are not willing to time the market nor to bear additional risks, this portfolio is appropriate to be held for long term to earn an annualized return of about 8-9%.
Portfolio Construction
The all-weather portfolio has many variations, but its core concept is to hold the most fixed income for stability, followed by moderate equities for growth, and some precious metals for capital preservation. It can be easily replicated by any investor with no stock-picking abilities whatsoever, and they simply have to buy-and-hold and rebalance annually to obtain the optimized outcome. In my previous article, I preached to own at least 10% of precious metals not only for hedging against inflation, but also for capital protection in case of a financial crisis. The portfolio suits extremely well with my investment philosophy: simply buy-and-hold some gold forever and never exchange it for paper money.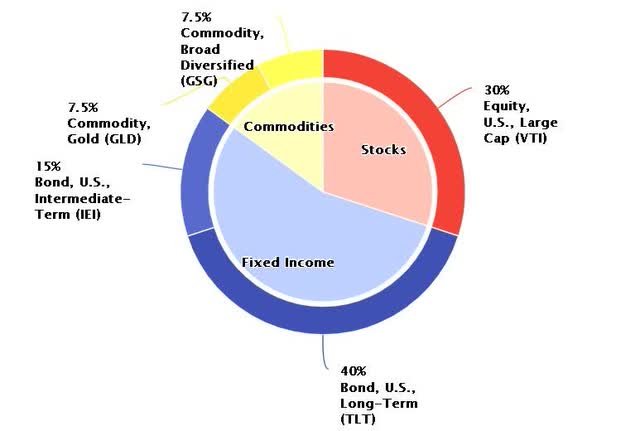 (Source: Lazy Portfolio)
Below are the five ETFs with their monthly return statistics from Yahoo Finance. It is highly customizable, in terms of the composition and the choice of ETFs, to suit the needs of different investors. Thus, I will leave the option for my readers and patrons to choose their preferred ETFs and the appropriate allocation of different asset classes. As for this article, however, I will use the standard one to give a generalized view of what this portfolio could achieve.
| | | | | |
| --- | --- | --- | --- | --- |
| Ticker | Name of ETF | Annual Return | St Dev | Composition |
| | Vanguard Total Stock Market | 14.92% | 13.88% | 30% |
| | iShares 20+ Year Treasury Bond | 7.01% | 12.86% | 40% |
| | iShares 3-7 Year Treasury Bond | 2.72% | 3.03% | 15% |
| | SPDR Gold Trust | 4.23% | 16.32% | 7.5% |
| | iShares S&P GSCI Commodity Indexed Trust | -8.64% | 21.32% | 7.5% |
Returns & Growth
In the last ten years, the portfolio obtained an 8.11% compound annual return. As it is not designed to outperform, do not be surprised that it cannot beat the major indexes such as the Dow Jones, S&P 500 and Nasdaq. If you prefer a portfolio that will outperform the market while simultaneously bearing a lower risk, you may want to visit this article of mine for another suggested strategy. However, the best thing is that this portfolio shines on its almost guaranteed positive return within only two years of investment. And from the 3rd year and onwards, the probability of having negative periods will be zero, indicating that it is nearly impossible to lose money afterwards. Hence, here I present two common strategies for the suggested portfolio. It could be either used as a tactical asset allocation strategy in uncertain times and subsequently switch to another portfolio for growth, or it could be the main portfolio for investing in long term for anyone who prefers a comparatively low risk strategy.
Potential Drawdowns
The suggested portfolio is by no means aiming to achieve crazy returns, but it relies on its trustable outperformance in bear markets to protect investors' wealth. From the chart and table below, it shows an exceedingly strong resistance over market shocks even during the global financial crisis in 2008, where the portfolio kept its value and the market plummeted over 50%. In 2002, the technology sector declined 80% from its high, and many tech-fanatics suffered an unprecedented loss which have not been seen in a very long period. This time, the possible crash will most likely wipe out many investors who get caught in the blood bath, as it has always been. Thus, one favorable solution is to switch to the all-weather portfolio. Historically, the statistics have shown that the average drawdown shall not exceed 7%, while during extreme circumstances it could rise to 12%. I believe, for most investors with low to medium risk tolerance, the downside risk is very much reasonable and acceptable.
(Source: Lazy Portfolio)
Summary & Conclusion
Again, the all-weather portfolio can be implemented either as a temporary solution to the crash or to be held for long term. If it is to be used as tactical asset allocation, I suggest it should be held for two to three years to ensure a positive return. In this way, not only can investors enjoy a handful sum of continuous dividends from their investments in equities and fixed income, but they can also expect reasonable capital appreciation at the same time. More importantly, this portfolio is perfect for investors who do not wish or lack the ability to pick winning stocks or ETFs. It is the ultimate strategy for both laymen and professional investors.
Disclosure: I/we have no positions in any stocks mentioned, and no plans to initiate any positions within the next 72 hours. I wrote this article myself, and it expresses my own opinions. I am not receiving compensation for it (other than from Seeking Alpha). I have no business relationship with any company whose stock is mentioned in this article.