Escalator up, elevator down? The forces of gravity finally returned to the U.S. stock market, at least for a couple of days. After rising by +19% on the S&P 500 and +26% on the NASDAQ 100 in just over two months since June 26, both headline benchmark indices moved sharply to the downside on Thursday and Friday of last week. What measurable damage, if any, has this recent pullback in stock prices inflicted? And what should investors reasonably expect from here?
Flash Correction. Within eight trading hours from Thursday's open through mid-morning Friday, the S&P 500 dropped by more than -6%, while the tech heavy NASDAQ 100 dipped briefly into correction territory in falling by more than -10%. Both indices spent the rest of the trading day on Friday clawing their way back up the elevator chute, but still ended lower between -4% to -7% over the two day period by Friday's close.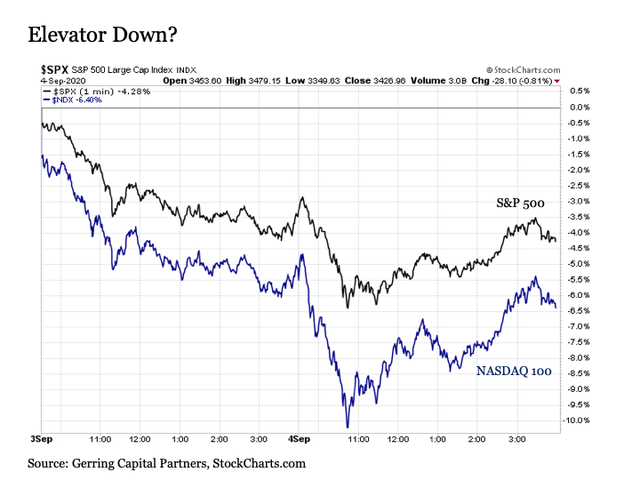 What now? Amid the first patch of downside pressure in more than two months, what should stock investors reasonably expect as we enter the upcoming holiday shortened trading week?
1. 'Tis but a scratch. It is first important to put the recent stock market correction into context. Yes, the stock market pullback on Thursday and Friday was sharp. But so too was the stock market ascent that preceded it. So while both the S&P 500 and Nasdaq were down quite a bit, at their Friday intraday lows they had still only fallen back to levels at which they were trading just two weeks ago. And Friday's closing levels would have represented new all-time highs for either index at the start of the previous week on August 24. In other words, the end of week pullback has been effectively nothing so far.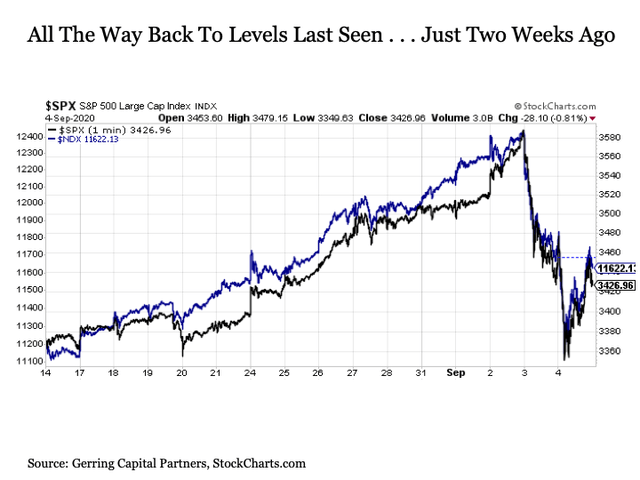 2. Stocks love Mondays. A quirk of the post COVID crash trading experience will be worth watching as the new trading week gets underway. Consider the following average rates of return on the S&P 500 by weekday since March 26.
Monday: +0.98%
Tuesday: +0.06%
Wednesday: +0.37%
Thursday: -0.22%
Friday: +0.08%
Put simply, virtually all of the stock market gains since the late March lows have taken place on Mondays. The S&P 500 Index is up over +30% since March 26. But if one were to take away Mondays, the S&P 500 would be up less than +5% and would be lower since June 5. Exactly why stocks have been up so strongly on Monday and effectively flat for the remainder of the trading week (average +0.07% daily return from Tuesday to Friday) is just one of the many anomalies that can surface during periods of aggressive Fed quantitative easing through daily Treasury purchases. For example, back in 2013 and 2014 during the Fed's QE3 program, the key trading day of the week was Tuesday.
Will it matter that stocks won't trade on Monday because of the Labor Day holiday? Perhaps. But for the trading week of May 25 when the market was closed on Monday for the Memorial Day holiday, stocks advanced by +1.23% to start the week on Tuesday, May 26. This "Monday effect" alone may be enough to stem if not completely arrest any further decline in the immediate term.
3. Still frothy. Even if stocks bounce on Tuesday to open the trading week, it still does not take away the fundamental problem still plaguing both the S&P 500 and the NASDAQ 100. Both are still trading at historically extreme valuations.
For example, the S&P 500 Index was trading at 40 times estimated 2020 earnings at Wednesday's all-time highs. Following the two-day pullback to close out last week, the S&P 500 is still trading at a historically rich 38.2 times estimated 2020 earnings. By comparison, the historical average multiple for the S&P 500 Index is 16.4 times earnings.
Both the S&P 500 and the NASDAQ 100 are still trading well above their long-term moving average trendlines. For the S&P 500, it still has room to fall further to the downside by -4% to its medium-term 50-day, -10% to its long-term 200-day, and -12% to its ultra long-term 400-day moving averages and its uptrend would still remain intact.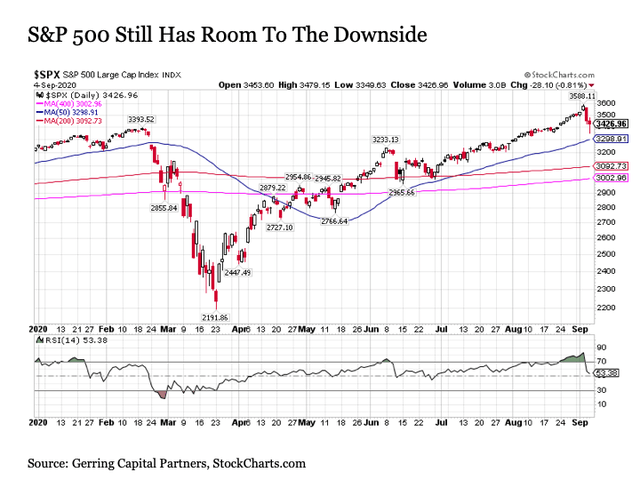 As for the NASDAQ 100, it is worth noting that it is still at its highest premiums relative to its 200-day and 400-day moving averages since early 2000 when the tech bubble was peaking. In other words, the NASDAQ 100 is still blisteringly hot even after the fleeting correction late last week. And the tech heavy benchmark could fall another -5% to its 50-day, -19% to its 200-day, and -27% to its 400-day moving averages and the uptrend would still be maintained.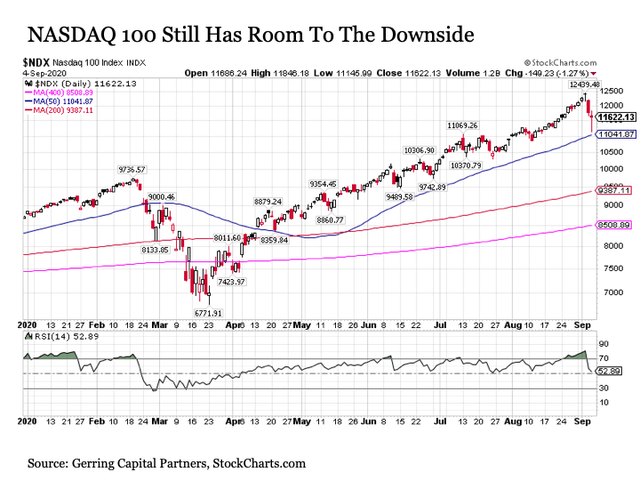 Such is the risk associated with expensive and high-flying markets. The further they get ahead of themselves, the more dramatic the corrections may be in simply reverting back to the long-term mean price trend.
4. Still concentrated. Another problem that continues to plague the U.S. stock market is the reliance on a select few mega cap names to pull the entire market higher. The fact that nearly all of these names are concentrated in a single sector of the market in technology is all the more problematic. Why? Because if these elite performers start to falter, the names that are already lagging likely do not have the relative strength to pick up the slack.
How concentrated is the performance in the tech sector right now? Consider the following chart of the market cap weighted tech sector versus its equal weighted counterpart. The performance spread of more than 40 percentage points over the past year in favor of the market cap weighted tech index speaks for itself – performance concentration is absolutely extraordinary right now.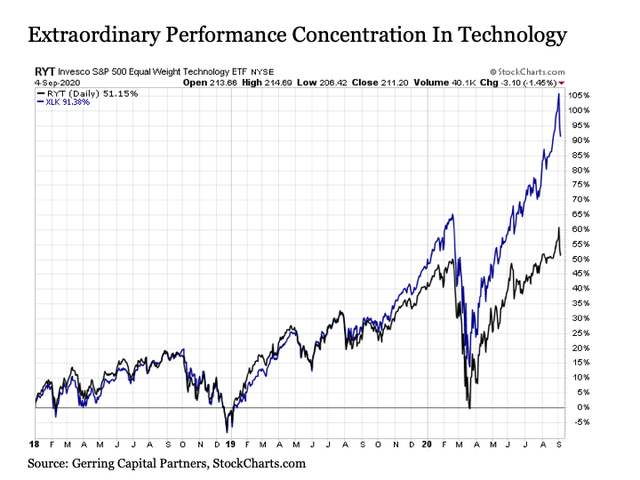 Let's dig a little deeper on this point. The S&P 500 Index has nine stocks with market capitalizations in excess of $100 billion that have year to date returns in 2020 in excess of +35%. These nine stocks make up nearly one-quarter of the entire weighting of the S&P 500 Index. And all of these stocks are either in the information technology sector, used to be in the tech sector, or are tech stocks in consumer discretionary clothing. These stocks are Apple (AAPL), Microsoft (MSFT), Amazon (AMZN), Facebook (FB), Nvidia (NVDA), Adobe (ADBE), PayPal (PYPL), Salesforce.com (CRM), and Netflix (NFLX). Whether these companies can continue to generate strong operating results amid the worst economic downturn in nearly a century remains to be seen, but let's indulge the current forward earnings estimates for the coming year (companies historically end up typically falling short of forward estimates by the time they report earnings – in other words these estimates are likely optimistic). These nine stocks are currently trading with an average forward P/E ratio of more than 49.1 times earnings. This represents more than +57% premium to their average historical forward P/E ratio of 31.1 times.
In other words, these stocks are already priced beyond perfection. And if they end up disappointing and falling lower, or if buying pressure for these names is finally exhausted, what then will fill the void to propel the broader market to new highs?
5. Still skittish. Speaking of exhausted buying pressure, the latest readings on volatility suggest that even if stocks are able to shake off the initial downside from Thursday and Friday in the upcoming trading week, they still are not likely out of the woods from further downside in the weeks ahead.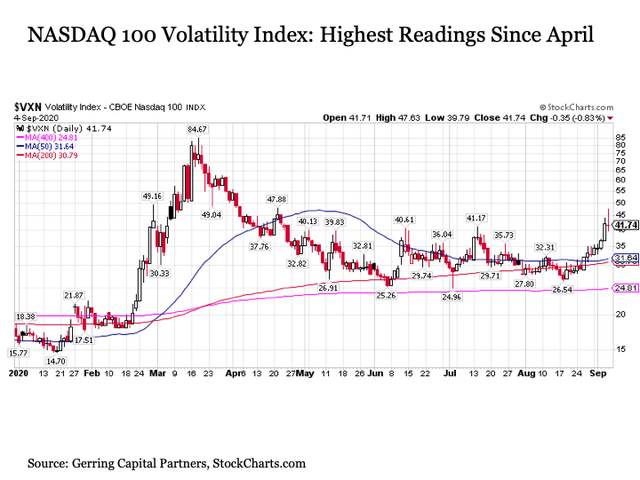 Consider the CBOE Volatility Index for the NASDAQ 100 (VXN) in the chart above. This reading remained persistently above the mid to high teens from the pre-COVID start of the year in the 25 to 40 range. More notably, the VXN has risen by as much as +80% since mid-August. In the process, it reached its highest levels on Friday since April.
Put simply, the "fear" index is running increasingly hot in the specific area of the market where the high-flying names on which the market is most reliant are concentrated. This is a problem, particularly given the fact that so many players currently trading in these names are apparently of the "weaker hand" retail variety that are relatively new to the markets and are employing higher risk strategies such as options.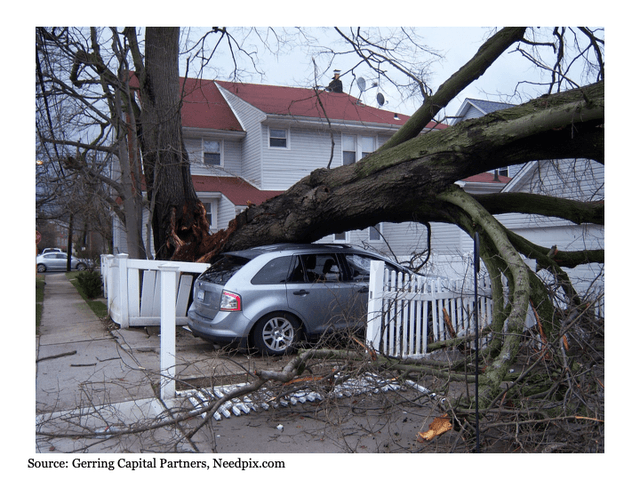 Stocks may bounce, but they are not out of the woods. Putting all of this together, we have the following set up for U.S. stocks heading into the upcoming trading week. Stocks may continue to bounce from their Friday morning intraday lows to open the week. And the rally may continue to new highs before the week is out. But the underlying instabilities that led to the market sell-off at the end of last week have not been alleviated to any measurable degree. If anything, they have been compounded further.
Thus, the U.S. stock market weakness on Thursday and Friday may be the very beginning of what is shaping up to be a more turbulent final few months of the trading year. Be prepared for the potential for considerably more downside volatility in the weeks ahead.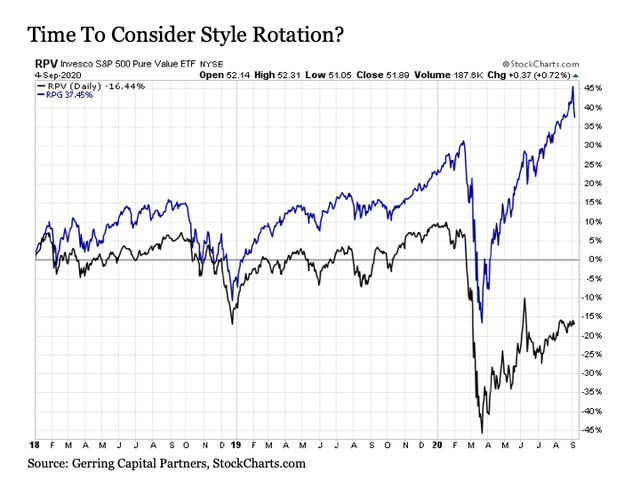 Time for style rotation? A step that stock investors may wish to consider in protecting against broader stock market downside is to take a fresh look at those areas of the market that have been relatively out of favor. Consider the performance of pure value stocks relative to pure growth stocks within the S&P 500, where the relative performance gap is more than 50 percentage points at +37% for growth versus -16% for value since the start of 2018. Knowing that growth and value move in and out of favor with each other over time (with value historically holding a marginal returns advantage), it may be time to revisit some long overlooked U.S. stock market names.
Are you concerned about risks for U.S. stocks as we head into the fall? Are you interested in exploring attractive opportunities beyond the U.S. stock market?
If so, come join us on Global Macro Research, where we apply a contrarian investment approach in preparing for risk in the future while positioning for opportunity today.
Special limited time offer through Labor Day: Join now and receive a two-week free trial plus 15% of your subscription»
Members receive our:
Weekly Key Themes Updates
Weekly interactive Q&A and Open Discussion sessions on Zoom
Model Portfolio & Watchlists
Special Bulletins
Sign up today and prepare for the road ahead.
Disclosure: I/we have no positions in any stocks mentioned, and no plans to initiate any positions within the next 72 hours. I wrote this article myself, and it expresses my own opinions. I am not receiving compensation for it (other than from Seeking Alpha). I have no business relationship with any company whose stock is mentioned in this article.
Additional disclosure: I am long selected individual stocks as part of a broad asset allocation strategy. I am also long SH and RWM as a hedge against these long individual stock allocations.
Disclosure: This article is for information purposes only. There are risks involved with investing including loss of principal. Gerring Capital Partners and Global Macro Research makes no explicit or implicit guarantee with respect to performance or the outcome of any investment or projections made. There is no guarantee that the goals of the strategies discussed by Gerring Capital Partners and Global Macro Research will be met.