Let us turn back the clock just a bit. The time is May 2020. It is a volatile time in the markets, but the financial media has lost its mind over the massive flotilla of very large crude carriers ("VLCCs") heading to American shores. Although well-telegraphed for months – the ships were charted in March – the move was viewed as an act of aggression by many, including some in the US Congress. For analysts and the market, the coming shipments were viewed as the proverbial cherry on top of the bear case for crude oil. The spat between Saudi Arabia and Russia over market share, coupled with coronavirus demand impact, had to all but ensure an imbalanced market. The days of America being a net energy exporter were done, shale company bankruptcies would be fierce, and the rally after West Texas Intermediate ("WTI") (USO) went negative in April would be nothing more than a dead cat bounce.
Reality Of Today
In other words, this time would be different. Pricing tendencies and game theory mattered not; free markets were dead. Even though it would not be in its best interests financially, Riyadh would, for some reason, head down this treacherous path just to "send a message" to American shale, repeating the same mistake it made in 2016 when it ramped production in response to the emergence of US shale.
Reality has been much different. According to ClipperData (a commodities analytics firm focused on waterborne crude), the United States will import just 264 mboepd of Saudi sourced oil in August – the lowest level since 1985 and down 50% from 2019 levels. Crude tanker rates, which popped sky high throughout March and April, have come falling back to normalized levels – gutting a pretty common consensus long trade among many investors in energy. Institutionals that pair-traded at the peak of hysteria by going long storage and short producers got crushed.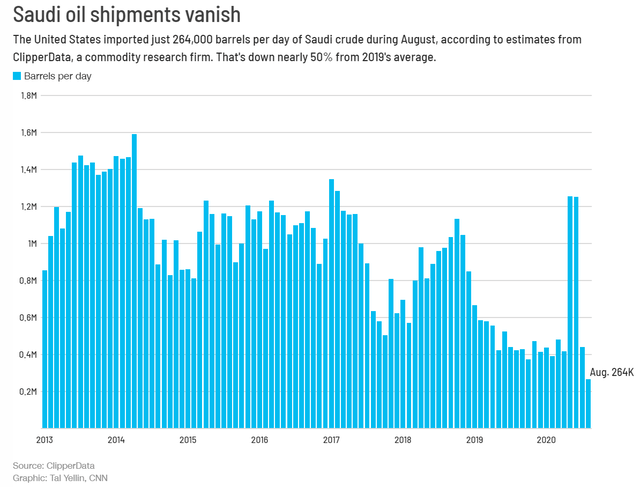 The animal spirits in Q1 seem to have been an anomaly. September Saudi shipments are forecast to plunge even further, marking unprecedented lows in crude oil imports. Given travel times on VLCCs, continued tepid interest in charters over the coming weeks all but guarantees that exports remain low right into the upcoming election season.
Political Motivations
Is the timing coincidental? Unlikely. Beyond helping shore up its own finances via encouraging higher crude oil prices, I think Saudi Arabia has a vested interest in keeping the Trump Administration in power. It drew the ire of Republican lawmakers in the spring and has little interest in becoming China 2.0 via a trade spat, particularly given it does not have the economic flexibility that Beijing enjoys. By leading OPEC+ by example down a path of constraint, I think the Saudis can help guide the markets towards a continuation of current strip prices. That means that Republicans can keep basically everyone happy: lower gasoline prices for consumers, and high enough crude prices to allow profitability (albeit slim profits) for the fossil fuel industry and its workers, many of whom tend to favor the current administration's energy policy.
For energy analysts like myself, our views on Democrat concepts like the Green New Deal boil down to whether the return on investment and taxpayer dollar allocation is proper. While I predominantly cover fossil fuel firms, I'm not against renewables in any form. I'm open as an investor – and you should be too. The end game is to find compelling total return opportunities and make money – not die on some proverbial moral high ground with regard to fossil fuels.
For the Saudis, whether or not substantial renewable investment in North America turns into a boondoggle matters not. Hundreds of billions of dollars – if not trillions – spent on advancing renewable technology and forcing change would inevitably hasten the move away from a resource they count on for revenue and global power. It should be clear where their motivations are.
Takeaways
Politics is not really the message here today though. Instead, it is about market opportunities. There's no question that it has been extremely difficult to make money in the energy sector in recent years. The way to do so has been through being patient and identifying incorrect panic: March and April was one of the better opportunities in the past few years. While there are angles I try to hit hard on, you do not even have to have cutting-edge data or be a financial wizard to do it. All you need was a bit of common sense and some independent thought.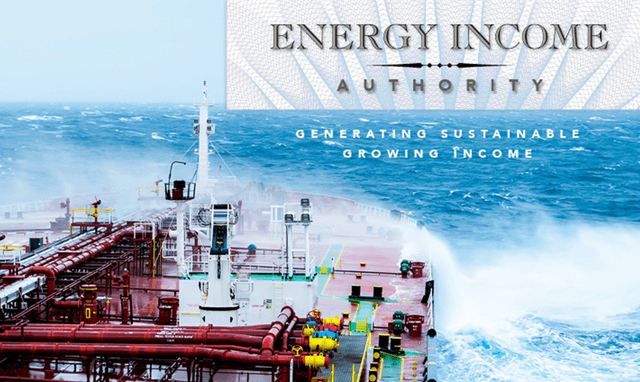 Are you an investor looking for high quality research within upstream oil and gas? Many companies in the energy sector are trading below intrinsic value, even at today's depressed strip prices. At Energy Income Authority, the focus is on finding high quality companies with the asset footprints necessary to survive and thrive in the new macro environment.
Deep dive analysis forms the cornerstone of the platform. Hundreds of companies fall under the coverage universe, from pipelines to refiners to the producers themselves. Members receive actionable research to keep their portfolio thriving. 
Sign up for a NO OBLIGATION FREE TRIAL today to find out more.
Disclosure: I/we have no positions in any stocks mentioned, and no plans to initiate any positions within the next 72 hours. I wrote this article myself, and it expresses my own opinions. I am not receiving compensation for it (other than from Seeking Alpha). I have no business relationship with any company whose stock is mentioned in this article.