Pharma continues to be a sector of interest in light of the pandemic. Although the sector's performance has been somewhat muted, in part by the concerns around the 'most favoured nation' drug pricing approach for drugs covered by Medicare Part B, it still remains the high margin and mission-critical industry that it is. While typically an equity exposure in Pharma will be through a biopharma company that both develops and markets pharmaceuticals, we want to hone in on Royalty Pharma (RPRX), a high ROIC value proposition in the innovative drug space with exposure through its royalty rights acquisition business model. We think that ownership in this PFIC will position investors well for gains under the guidance of royalty billionaire Pablo Legorreta, who made his fortune investing in this space, while also insulating investors from risks involved in less resilient exposures.
Portfolio and Model
The model is fairly straightforward. Rather like private equity, Royalty Pharma endeavors to get exposures to specific drugs sometimes through co-investment-like agreements with developers, but other times after the drug has already advanced through most of its development phases. These royalty rights entitle the company to cash flows as a proportion of the money made on the drug according to differing schemes, usually levered towards better than expected outcomes. This passive, asset and overhead-light business model is what makes the company a passive investment vehicle, a PFIC, with a special tax structure that will require some extra attention by US investors to avoid IRS penalties aimed at its traditional use as a tax evasion vehicle.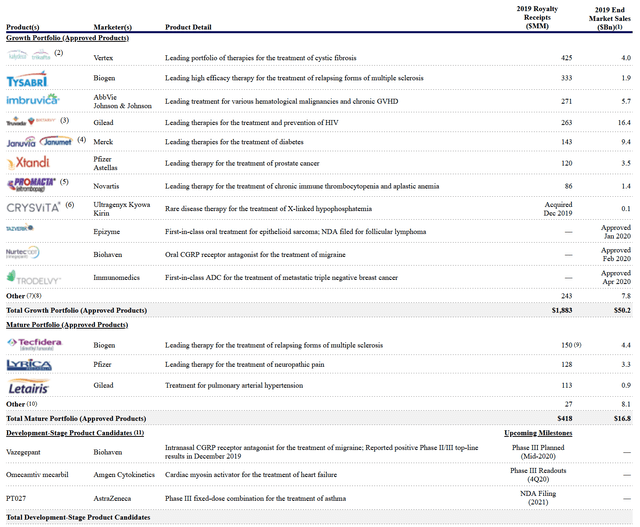 (Source: RPRX Prospectus)
As of now they've quite the line up, with substantial exposure to drugs such as Vertex's (VRTX) cystic fibrosis therapies but also to blockbusters-to-be like Gilead's (GILD) Biktarvy, a drug which has been offsetting much of Gilead's maturing antiviral portfolio. Overall, the line-up constitutes therapies for a variety of treatment markets that range from viral infections to genetic diseases and oncology.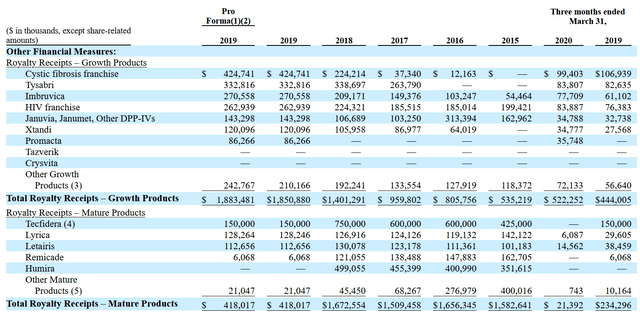 (Source: RPRX Prospectus)
What's more is that around 2/3 of their royalty income comes from growing products. The cystic fibrosis franchise, spearheaded by Vertex's Kalydeco among others, won't be seeing generic competition till the latter half of the decade. Imbruvica's patent will expire in 2026, with the royalty expiration a year after that. Biktarvy which leads the RPRX HIV franchise won't be expiring for many years either since its launch was recent in 2018.
Many of these drugs, including Biktarvy, have royalty deals with RPRX that include sales tiers, awarding RPRX disproportionately the bigger of a success the drug becomes. It is good to see that so much of RPRX's current portfolio sports these kinds of arrangements, creating the potential for big wins. It also stands as a testament to low competition in the markets, evidenced by the high proportion of overall transactions in the space led by RPRX, as the royalty terms seem asymmetrically favourable.
Valuation
The asset-light business model translates into high-performance metrics. Indeed, RPRX ranks quite highly in terms of ROIC relative to biopharma companies. Calculated on the basis of book values, this shows that their investment activities have been resulting in high yields, critical to measure performance in a business that is expressly in investment. Despite comparably high ROIC's relative to biopharma companies, they still trade at a bit of a discount.

(Source: Valkyrie Research, respective 10-K, 10-Q data)
Comparing on the basis of EBIT, which normalizes for the businesses' very different tax status, we see that RPRX trades at a reasonable discount from even Bristol-Myers Squibb (BMY) and Pfizer (PFE), biopharma companies already at the lower range of biopharma multiples.
Final Remarks
Perhaps one can explain the discount to an extent by the PFIC tax status, making it unwieldy for some investors. However, a more business-related reason might be to do with Trump's 'most favoured nation' executive order on drug pricing, which would reduce pricing power for drug companies by capping prices on the basis of what is paid by foreign countries. We have yet to see the details of this executive order, like how exactly pricing will be determined, but we continue to wait to hear developments from conversations that the pharma lobby is likely having with the administration about ways to move forward.
Important to note is that this executive order will only apply to Medicare Part B drugs, but that category is quite large and relevant to RPRX's portfolio. With about 20% of Bristol Myers' portfolio exposed to some extent to the executive order, we can expect a meaningful impact to RPRX's portfolio.
However, there shouldn't be a large divergence between BMY and RPRX in impacts from the new executive orders, maintaining the value proposition. After all, BMY is a business that relies primarily on oncology treatments that require physicians present. If RPRX's exposure to political risk is similar or less, with comparable ROIC they should at least have as high a multiple as BMY.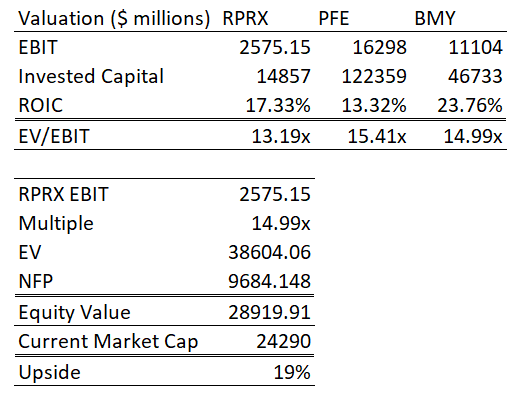 (Source: Valkyrie Research)
Applying that multiple shows decent upside to a company already at the lower end of pharma valuations.
Although there are political risks to pharma, as well as the possibility of rising competition for deals in this space, it is definitely one of the most essential businesses in today's market. We think that Royalty Pharma has a strong portfolio with manageable generic competition incoming, as well as a value proposition interesting enough to give it a look. Moreover, its management has made billions in this line of work, and the quality of their royalty terms are a testament to their deep connections and access in the industry.
However, we would suggest that US investors look further into the PFIC status of RPRX, as it does concern them and could perhaps dictate their investment decision. Nonetheless, RPRX is a company that we will follow closely. At these levels, we would already consider buying.
Disclosure: I/we have no positions in any stocks mentioned, and no plans to initiate any positions within the next 72 hours. I wrote this article myself, and it expresses my own opinions. I am not receiving compensation for it (other than from Seeking Alpha). I have no business relationship with any company whose stock is mentioned in this article.