Investment Thesis
During the second quarter of 2020, Canaan Inc. (CAN) benefitted from a favorable Bitcoin price and surging demand for mining machines post halving, which more than offset the negative impact of COVID-19. CAN stock price reaction was muted on the earnings announcement, and the valuation gap versus Bitcoin and Ebang remains significant.
CAN vs. EBON and Bitcoin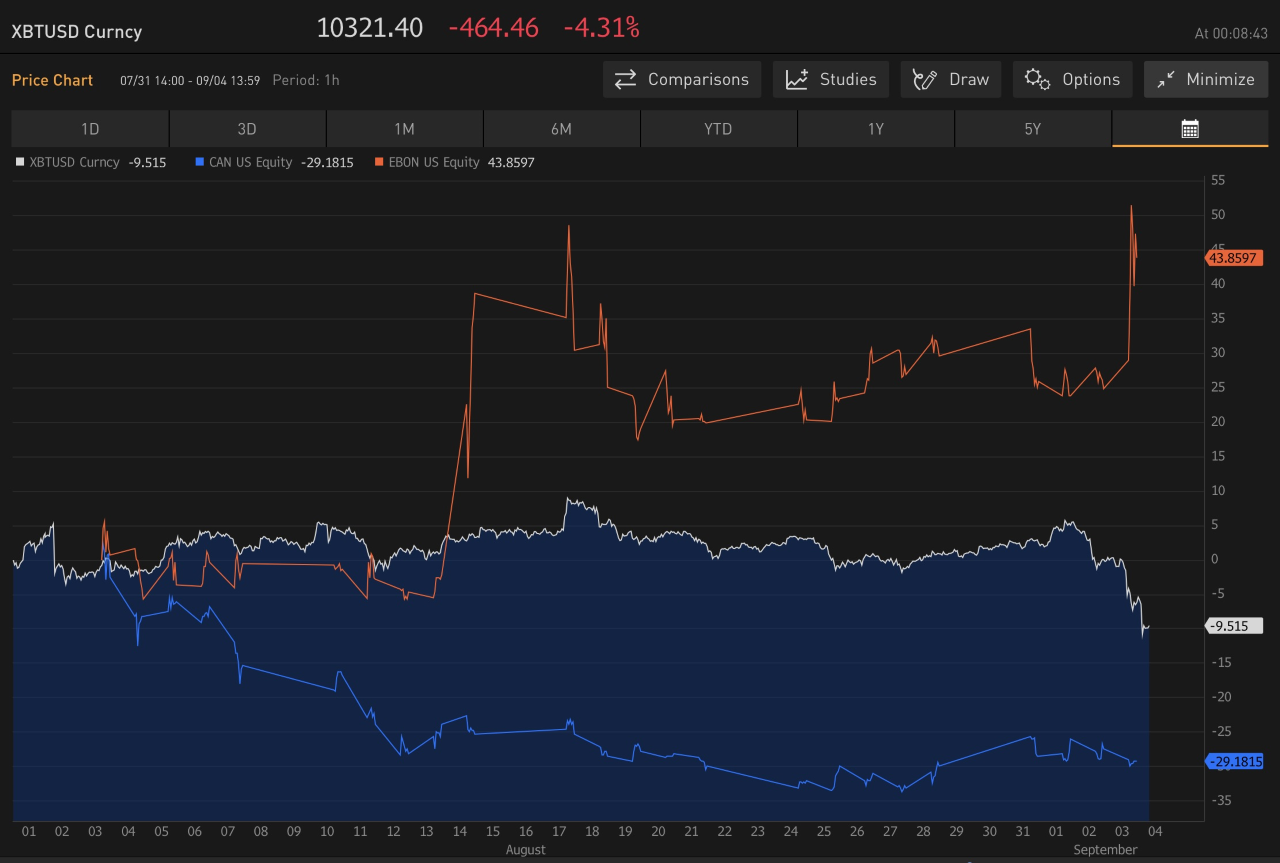 (Source: Bloomberg)
Our bullish thesis for CAN remains intact, as CAN is essentially a significantly undervalued call option on the Bitcoin price. The valuation gap could converge as long as:
1) the Bitcoin price remains at the current level or higher;
2) CAN delivers solid financial results going forward; and
3) CAN significantly improves its IR communications with investors in the US.
Mining Machines: Showing Expected Momentum
As expected, Canaan's second-quarter results showed sequential improvement, as the higher Bitcoin price and subsequent demand surge outweighed the negative impact from the COVID-19 outbreak. The sequential changes are more meaningful this year, as the COVID-19 impact has made year-over-year comparisons less relevant.
1) Sales momentum. Total net revenue increased 162% sequentially to $25 million. Lease revenue was a bright spot, up 1428% to $2 million, or up from 1% to 8% of total revenue. Inventories were down 61% versus the end of the first quarter of 2020. During the earnings conference call, management explained that the company sold out its A10 series machines during the quarter, which explained the significant drop in inventories.
2) Profitability. Gross profit increased 1723% over the first quarter to $6 million with a gross margin of 24.3%, up from 3.5% in the first quarter 2020. CAN still reported a net loss of $2.4 million, but improved 58% from the net loss of $5.6 million in the first quarter of 2020.
3) Trends in 3Q and 4Q. The company did not give any earnings guidance, citing the impact of COVID 19. However, based on the information from the earnings call, the ordering trends so far have been healthy. CAN sold of its A10 series during the second quarter, and any new orders will be its A11 series machines. Deliveries for the third quarter were also full, so the company currently is taking orders for deliveries in the fourth quarter 2020 and first quarter 2021 only. One thing that management did not clarify is exactly how many units have been ordered in the third quarter that filled the delivery calendar.
AI Chips: More Questions than Answers
CAN has been developing its AI chip business to reduce its over-reliance on the mining machine business, which is very vulnerable to Bitcoin price volatility. So far, the revenue contribution from this business is still minimal and not a key factor yet for driving the valuation. Management shared some current progress on its AI chip business, but there are still more questions than answers:
1) CAN has developed an intelligent door lock system with facial recognition capability. This product has been ready for mass production since July, and currently has stable orders from clients. However, management did not clarify the exact quantity of the "stable" orders. We might need to wait until the third-quarter results to gain more clarity.
2) Management also mentioned several companies as potential business partners and potential clients, including VergeSense in the US and UBEtech and DJI in China.
VergeSense is a Y Combinator-backed startup founded in 2017 in San Francisco. It is an AI-powered Sensor-as-a-Service platform for commercial real estate. There is little publicly available information on how many sensors VergeSense could manufacture annually, so it is quite hard to assess the revenue potential for CAN from this collaboration over the next twelve months.
UBTech Robotics is as an artificial intelligence and humanoid robotic company in China. It was founded in 2012 and backed by several high-profile investors, such as Tencent (TCEHY), Haier (HRELF) and CDH Investments. Anecdotally, UBTech's valuation had reached $10 billion in the funding round in 2019, with revenues likely over $800 million. UBTech's products, such as Alpha 1 Pro Robot (for entertainment and education) and Jimu Robot (for kids to build robots), are available in Apple Stores. If UBTech decides to use CAN's AI chips on its products, there should be a meaningful boost to CAN's revenue. We will keep a close eye on any updates on the UBTech project. In the earnings call, CAN did not provide any timetable for the UBTech project.
DJI is the world's largest commercial and recreational drone manufacturer, with a valuation of $15 billion and revenue over $2 billion in 2019. DJI indeed has STEAM products, such as RoboMaster robots and Tello EDU drone, though there is no public information on how much revenue this business generates. CAN expected to provide K210 chips to DJI STEAM products in either end of 2020 or early 2021. Given the size of DJI, it could certainly be a meaningful client if CAN's AI chip makes the cut.
3) The new K510 AI chip is under development, and the company has received a lot of testing requests from potential clients. CAN expects the mass production of K510 to be in the fourth quarter 2020 and first quarter 2021. Again, the information is impossible to quantify.
Key Risks
1) The demand of mining machines could be negative impacted by the Bitcoin price volatility. If Bitcoin sells off significantly, CAN may suffer from a significant decline in orders for its mining machines.
2) The directors who just left the Board own a significant amount of CAN shares and might liquidate their holdings, which could add downward pressure to CAN stock price.
3) The AI chip business might not generate as much revenue as expected so as to diversify CAN's business mix away from the mining business.
4) CAN has no Wall Street sell-side coverage and is also weak in terms of IR communications with investors in the US, which could lead to continued undervaluation.
Conclusion
CAN reported a sequential sales increase during the second quarter 2020 and also showed positive order momentum in the third and fourth quarters of this year. Our bullish thesis remains intact as long as Bitcoin is at the current level or higher for the rest of the year. Relative to Bitcoin and EBON, CAN is still significantly undervalued, and there could be potentially 2x upside if the valuation gap is closed.
Disclosure: I am/we are long CAN. I wrote this article myself, and it expresses my own opinions. I am not receiving compensation for it (other than from Seeking Alpha). I have no business relationship with any company whose stock is mentioned in this article.