We took a brief hiatus from our weekly series Open Insights to update our oil thesis and contemplate inflation. Here are our most recent thoughts. We're now back to looking at the EIA's Weekly Petroleum Status Report ("WPSR") for the week of August 28, 2020.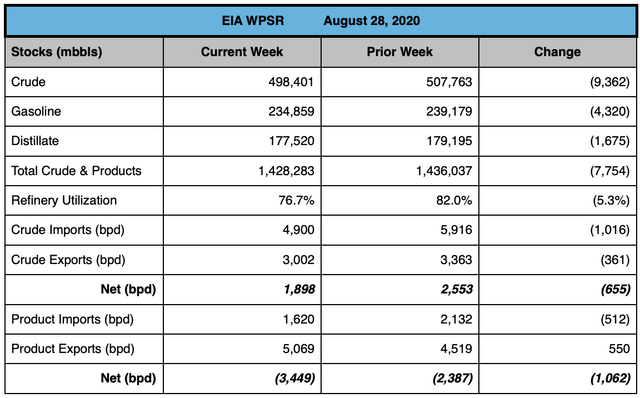 EIA reported a crude draw of 9.4M barrels for the week, but this includes 1.3M barrels of previously stored SPR stock that was withdrawn, so combined, we're actually seeing a 10.6M barrel draw for the week. In addition, this was a hurricane-impacted week as Hurricane Laura whipped through the Gulf of Mexico ("GOM") and made landfall. A total of 14.4M barrels of GOM production was shut in on the crude side.

Refinery throughput also declined as refiners shut in to brace for the weather. Ultimately, those shut-ins (~+2M bpd) exceeded the fall in crude production, translating to heavier product draws. For the coming week, we anticipate production to still be impacted by about 5M barrels in total and refinery outages to persist.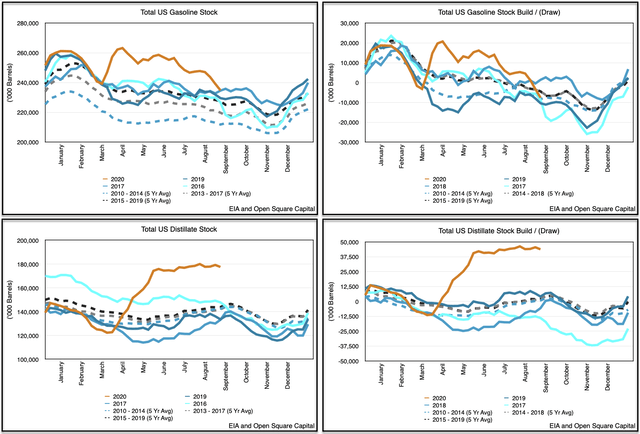 Gasoline inventories declined by 4.3M barrels and distillates decreased by 1.7M barrels. Despite the decline in distillates (more likely caused by the refinery shut-ins), diesel inventory levels continue to represent a massive overhang of 34M barrels from the 5-year average. Overall, products increased by 1.6M barrels as NGLs, propane, etc. increased by 7.9M, which were then eventually offset by the Big 3 (gasoline, diesel, and jet fuel) draws.

As always, we'll leave you with some food for thought.
WTI / Brent prices sold off significantly today, as the placid spot pricing of the past few weeks has given way to the underlying reality that there's a mismatch going on. For crude inventories to draw, we need refiners to pull, and for refiners to pull, we need end-consumer demand to rebound. As the world recovers from COVID-19, economic activity is picking up, but the demand recovery is uneven.
As people avoid public transportation, gasoline demand has surged. It's still down year over year, but only marginally so. In turn, the proliferation of health measures and restrictions means PPE and single-use plastics are in much greater demand, thus spurring petchem product demand.
In contrast though, air travel continues to be severely impacted, and without a large recovery, jet fuel and diesel demand has been lackluster. The number of global flights commercial/non-commercial have plateaued, as has US passenger traffic.
Thus, diesel demand continues to stay muted, and diesel inventories high, which is impacting distillate prices and dragging down overall refinery margins. Without a diesel recovery on the consumer front, refinery demand will continue to wallow (as will "the pull" from crude producers).
So, although fundamentally we're recovering at a decent clip, going forward air travel will increasingly become the marginal driver of diesel demand. It's the largest piece that's yet to recover, and without it, overall refinery margins will have a tough time recovering to incentivize refiners to pull more crude and run harder.
Yet, this "marginal demand recovery" issue is in a foot race with crude production on the other side. Crude production overall continues to deteriorate as rig counts have stayed low, which means decline rates will stay high.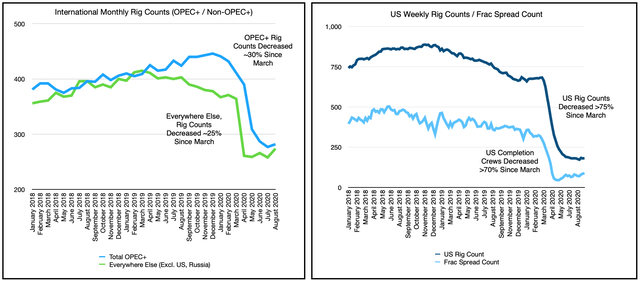 With the sell-off in crude prices, we doubt rig counts and frac spreads in the US, or worldwide for that matter, will be recovering anytime soon.
We're currently drawing approximately 2-2.5M bpd of crude globally, but this will trend lower as we head into refinery turnaround season. It will begin to pick up again in Q4 as refiners restart, but what of supplies? That could continue in the opposite direction.
For the week, here was our global picture:
Weekly inventory data for Aug 28 week? 14M draw. Crude dips 13.5M barrels and products 564K. This week was a Hurricane impacted week, but if we backed out Hurricane impacts (crude prodx'n and refinery shut-downs), we'd still have an 11M draw. #OOTT #oil pic.twitter.com/yfPu1NhoC3

— OpenSquareCapital (@OpenSquareCap) September 3, 2020
As always, we welcome your comments. If you would like to read more of our articles, please be sure to hit the "Follow" button above.
Disclosure: I/we have no positions in any stocks mentioned, and no plans to initiate any positions within the next 72 hours. I wrote this article myself, and it expresses my own opinions. I am not receiving compensation for it (other than from Seeking Alpha). I have no business relationship with any company whose stock is mentioned in this article.