It's been a tough start to the year for the Retail Sector (XRT) but Lululemon (LULU) is one of the few names that's managed to navigate the global pandemic unscathed given the company's strong digital presence. The company reported sales growth of 2% in the most recent quarter despite entering the quarter with roughly 40% of stores closed. The strong results were tied to exponential growth in E-Commerce, with the recent Mirror acquisition being a slight tailwind to revenues. While the recent correction has been quite violent, with Lululemon down nearly 25% in just four days, we've seen minimal technical damage to the bigger picture. Based on the company's industry-leading growth metrics and recent foray into a market with recurring revenue with Mirror, I would view any pullbacks below $289.00 as low-risk buying opportunities.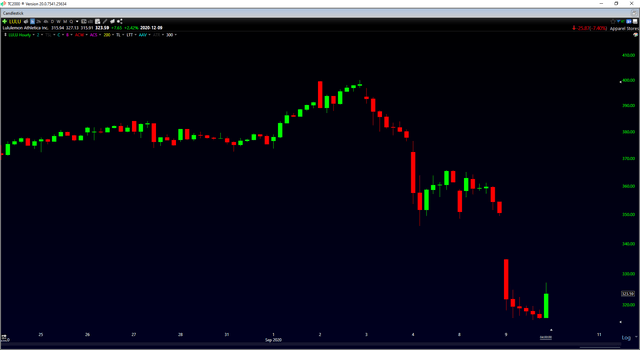 (Source: TC2000.com)
Lululemon released its Q2 results on Tuesday, and it was a solid quarter across the board, given the challenging retail environment we're in. The company reported Q2 revenue of $902.9 million and a massive acceleration in E-commerce growth. While total revenues were up 2% year-over-year, a 1900 basis improvement sequentially from the 17% decline in Q1, E-commerce growth has continued to gain traction. Clearly, the company's investment in its leading digital presence is paying off as E-commerce came in at 61% of total revenues, and up 157% year-over-year. This marked an 8700 basis point acceleration sequentially from the 70% in Q1, and the exceptional E-commerce growth has been broad-based, up triple-digits in Europe as well. Despite unprecedented headwinds related to COVID-19, the only real negative was the 20% drop in quarterly earnings per share [EPS] growth, resulting from some margin compression in the quarter. Let's take a closer look at the results below: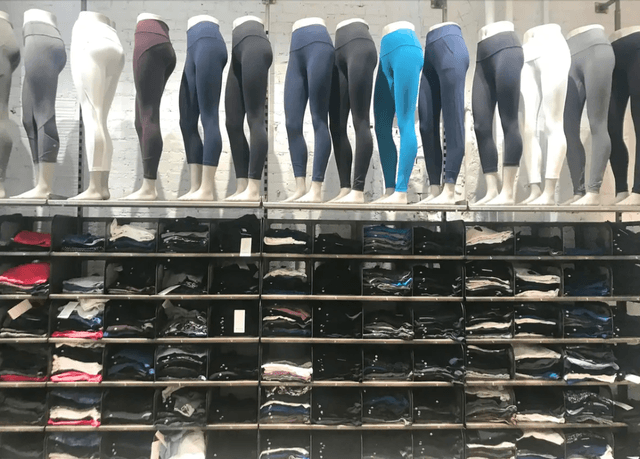 (Source: Bethany Biron, Business Insider)
While most retail companies have been posting negative sales growth and are hamstrung by the widespread closures, Lululemon managed to grow same-store sales by 30% in China and 2% overall. The company noted that 97% of its stores are now open globally, with the majority running at 75% capacity due to social distancing. This should provide a boost to sales in the back half of 2020, but capacity remains an issue given the relatively small footprint of the company's stores.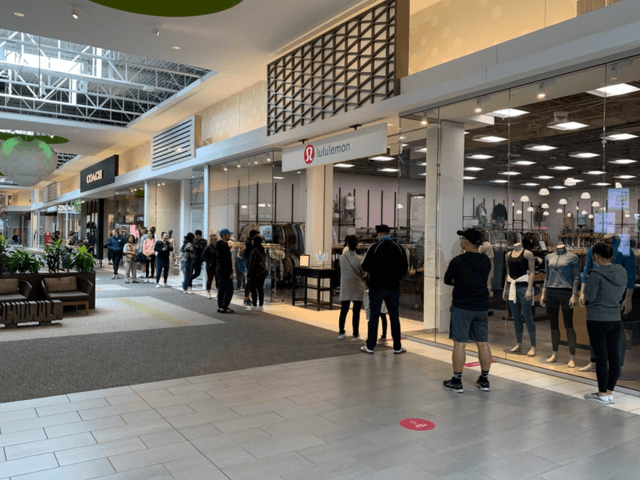 (Source: Andy Shen, Blog.AndyShen.ca)
To combat this headwind, the company has a virtual wait-list in place to allow customers to prevent customers from having to stand and wait. They've also turned their prior BOPIS (buy online, pick up in-store) offering into BOPBC (buy online, pick up by curbside) for those that want to avoid the store altogether. Meanwhile, Lululemon has noted that it will be opening up 70 seasonal stores in Q4 to help with the Christmas shopping craziness so that consumers aren't turned away by long lines at certain stores. While this certainly won't be a normal year for the company by any means, the team has adapted quickly and is on track to grow sales at single-digit levels despite the challenging first half.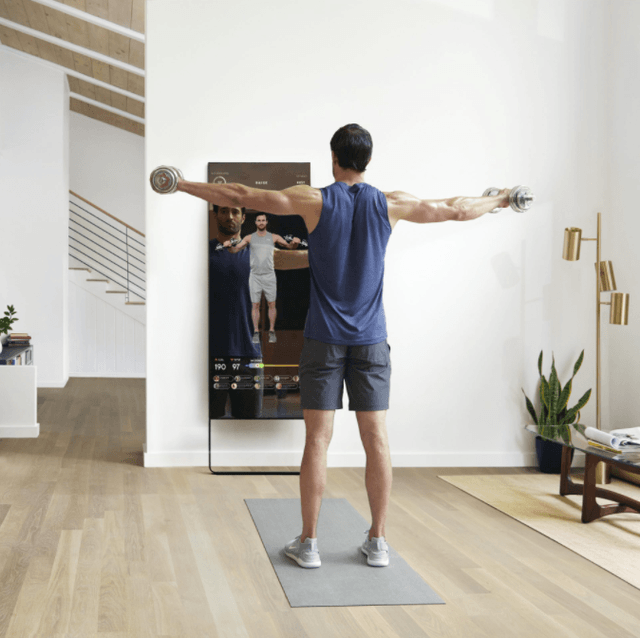 (Source: Mirror, Twitter)
Fortunately, the recent Mirror acquisition closed on July 7th just before quarter-end (August 2nd) and is coming at a time when the company could really use another growth lever as it tries to overcome COVID-19 disruptions. As noted in the Q2 results, Lululemon expects to have Mirror available in 10-15 stores by early Q4 and expects to generate $150 million in revenue in FY2020 from Mirror, up from a previous estimate of $100 million. While this only represents a small percentage on the company's revenue, it's much higher quality revenue as it has a recurring portion to it with monthly subscriptions.
Lululemon noted that the company plans to increase its marketing spend in the second half to take advantage of the trend towards at-home spending and the holiday season. Based on this increased investment, we could see a solid finish to the year for Mirror, and this should be a good test to see what the demand is like out there now that things are getting back to normal with most people back to work. While I am skeptical of the demand for a high-priced offering like Mirror, it's clear that the price-point isn't an issue when it comes to Peloton (PTON), which had seen incredible success. Therefore, my opinion is irrelevant if these products are getting gobbled up by consumers, even in the current economic environment. Let's take a look at the company's growth metrics below:

(Source: YCharts.com, Author's Chart)
As the chart above shows, Lululemon has one of the strongest earnings trends in the Retail Sector and managed to grow annual EPS by 28% last year ($4.93 vs. $3.84). While FY2020 estimates are currently sitting at $4.01, translating to a 20% drop year-over-year, it's important to note that this is not representative of the overall trend. In fact, this shouldn't be anything more than a short-term pause, given the fact that analysts continue to hike FY2021 estimates. Currently, FY2021 estimates are sitting at $6.41, translating to 60% growth year-over-year if it can meet these estimates. This is an incredible growth rate for a retailer, even after factoring in the easy year-over-year comps.
If we look ahead further to FY2022, annual EPS estimates were hiked to $7.95 from $7.57 last month, suggesting that Lululemon's earnings are on track to nearly double from FY2020 levels over the next two years. Typically, the best-performing stocks in the market consistently grow annual EPS by 20% or more each year, and based on these estimates, Lululemon will meet these criteria for the next two years. One of the reasons for the softness in FY2020 is the higher investment in digital and Mirror, some COVID-19 related costs, and some contraction in margins after an online warehouse sale to clear out some inventory in H1. However, the company expects margins to bounce back in Q4.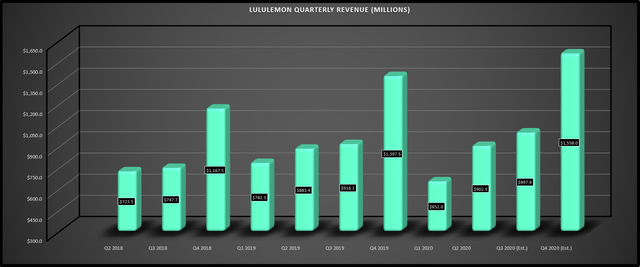 (Soure: YCharts.com, Author's Chart)Moving over to sales growth, the company continues to power ahead with year-over-year growth despite wading through a global pandemic. As we can see above, Q1 revenues came in at $652 million, which was the worst quarter in two years, but revenue came roaring back in Q2 at $902.9 million. Currently, Q3 and Q4 estimates are sitting at $997.9 million and $1,558 million, respectively, and this would translate to single-digit growth in the back half of the year. This is outstanding considering the circumstances as Q4 would mark a new all-time high in revenue for the company. Clearly, the addition of Mirror is a small tailwind to sales, but in the grand scheme of things, the company's execution in E-commerce and brand loyalty is to thank for these results.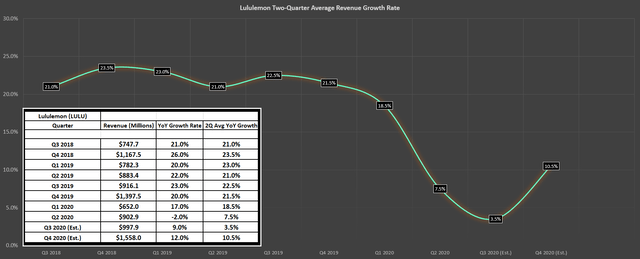 (Source: YCharts.com, Author's Chart)
If we look at the two-quarter average revenue growth rate above, we had a worrisome trend in place here, with growth rates falling off a cliff. However, the two-quarter average revenue growth rate is expected to bottom out in Q3 at 3.5%, and bounce back sharply in Q4 2020 based on current revenue estimates. Given that the market tends to look nine months ahead, the 400 basis point deceleration sequentially in Q3 (3.5% vs. 7.5%) is hardly an issue as the market has most likely already discounted it. Instead, I believe the market is focused on the trough and return to an uptrend in sales growth with further help from Mirror going forward. At a $1,500 price tag for Mirror, this has the potential to be a massive win for Lululemon, as this is more than some consumers spend in a year in store.
So, how's the technical picture look after the recent decline?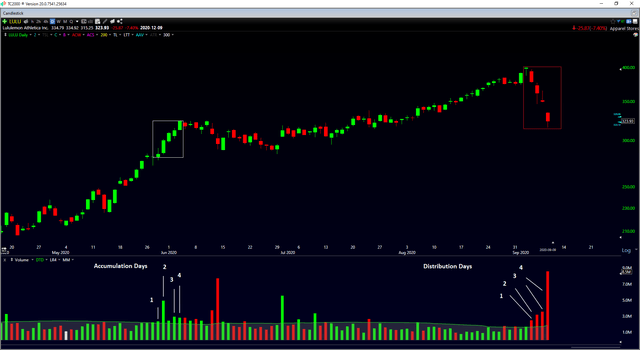 (Source: TC2000.com)
Beginning with volume, we've seen a significant change of character recently, with four distribution days in a row. While we often get a sharp bounce after a decline this deep, I believe it's unlikely that we'll see the stock run back in a V-shaped fashion to new highs. This is because those investors that did not sell as much as they had hoped to above $380.00 where the distribution began are likely to become sellers if we rally back into the $380.00 – $395.00 zone. The good news is that we saw four days of accumulation in late May and early June, and if this drop continues, I would expect institutions to support the stock and defend their positions in this zone.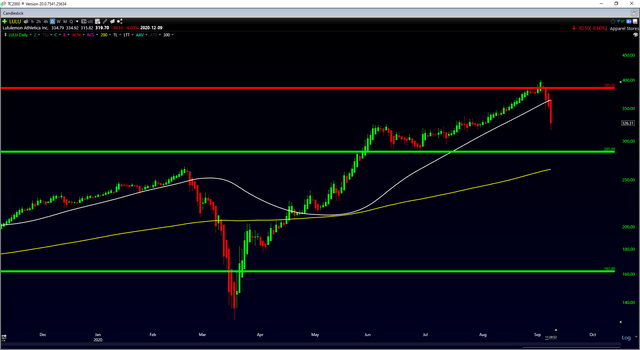 (Source: TC2000.com)
Looking at key levels above, we've now got short-term resistance at $385.00, so I would expect the $385.00 – $395.00 area to be a tough spot for the stock until year-end. However, we are now getting closer to strong support at $285.00 on a weekly close where the accumulation bars showed up, and the reward to risk would shift to favorable if we could see a pullback this deep. Given that Lululemon remains above a rising 200-day moving average and above key support, I see no reason to panic if the stock does pull back further. While I am not long the stock currently, I would begin looking for potential bottoming patterns if we do head below $290.00.
Lululemon had an exceptional quarter, and the company's E-commerce growth and ability to grow sales year-over-year in Q2 is nothing short of outstanding. While the stock was priced for perfection two weeks ago, the recent correction has improved the valuation and has also likely shaken out many of the weak hands. Currently, I do not see a low-risk buy point. Still, I remain bullish on the stock long-term, given the industry-leading growth metrics and ability to grow sales regardless of the unprecedented circumstances. If we were to see Lululemon drop below $289.00, I would view this as a low-risk buying opportunity.
Disclosure: I/we have no positions in any stocks mentioned, and no plans to initiate any positions within the next 72 hours. I wrote this article myself, and it expresses my own opinions. I am not receiving compensation for it (other than from Seeking Alpha). I have no business relationship with any company whose stock is mentioned in this article.
Additional disclosure: Disclaimer: Taylor Dart is not a Registered Investment Advisor or Financial Planner. This writing is for informational purposes only. It does not constitute an offer to sell, a solicitation to buy, or a recommendation regarding any securities transaction. The information contained in this writing should not be construed as financial or investment advice on any subject matter. Taylor Dart expressly disclaims all liability in respect to actions taken based on any or all of the information on this writing.