Back in early 2019, I took a look at what I anticipated would be a furious battle between two big pharma's, AbbVie (ABBV) and Gilead (GILD). The resulting article was titled, "After Humira: AbbVie's Upa Vs. Gilead's Filgo". It assumed that AbbVie's upadacitinib (commonly referenced as "upa") would soon be competing tooth and nail with Gilead's filgotinib (herein, by parity of shorthand, "filgo").
Things have not turned as I expected. At this point AbbVie's upa, hereafter referred to by its trade name RINVOQ, is winning this contest; Gilead's filgo has been momentarily sidelined. I have stakes in both companies. I have been pretty much standing pat; AbbVie appears to be far the better prospect as I will discuss with a particular emphasis on RINVOQ and filgo.
AbbVie has effectively run through its trials in development of RINVOQ, now FDA approved to treat rheumatoid arthritis with other indications in process
I first drilled down on upadacitinib, at the time referred to as ABT-494, in "AbbVie: Home Cooking Is Hard To Beat"; this article included a prescient 2016 graphic projecting 2019 as the expected year for its launch in treatment of rheumatoid arthritis (NYSE:RA). And so it turned out.
The table below lists key facts together with its recent development time line leading up to its FDA approval: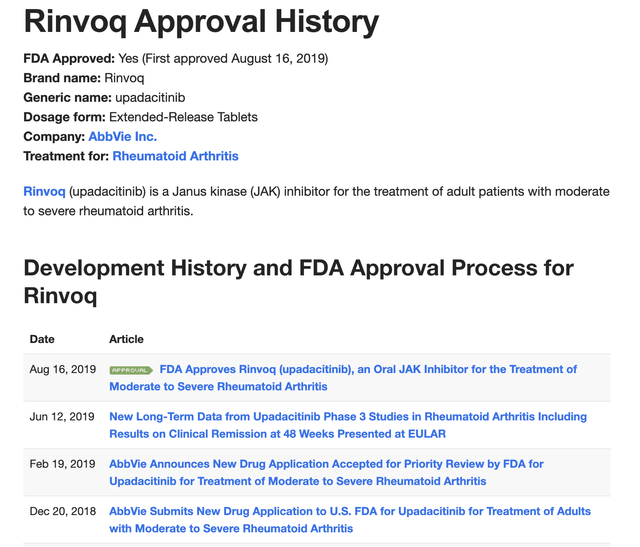 Following FDA approval, AbbVie wasted little time in launching RINVOQ. During its Q3, 2019 earnings call, it announced encouraging RINVOQ RA results for October 2019, the second full month of its market availability. RINVOQ prescriptions, including both paid and program access, totaled 1600. CEO Gonzalez reported the following superlative details: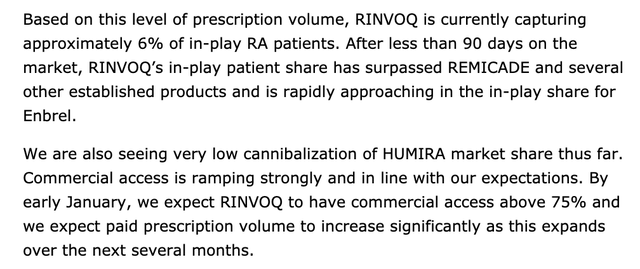 In December 2019 RINVOQ added EC approval to its resume. For Q1, 2020, AbbVie reported the following RINVOQ revenues:

AbbVie reported RINVOQ sales of $149 million for Q2, 2020. CEO Gonzalez offered the following color on RINVOQ's Q2 performance:

This is a highly reassuring series of reports for RINVOQ'S first year post launch. To date it has received FDA approval for RA. However RA is only the beginning for RINVOQ.
As AbbVie makes clear in its Q2, 2020 earnings call, it has big plans for this molecule. In its 2/20 pipeline update slide, AbbVie listed the following as RINVOQ trials in progress: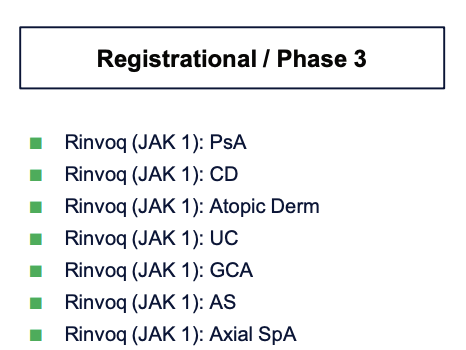 In June it filed for FDA approval of RINVOQ in treatment of psoriatic arthritis. Next in line this year are applications for atopic dermatitis and ankylosing spondylitis.
Filgo, Gilead's attractive JAK1 entry, fumbled its recent round with the FDA
Filgo has been in long development as revealed by the 39 clinical filgo-focused trials recorded on clinicaltrials.gov. The earliest of these dates back to 2010. The study sponsor Galapagos (GLPG) listed the purpose of the study as:
…to evaluate the safety and tolerability of single ascending (SAD) and multiple (NYSE:MD) oral doses of GLPG0634 compared to placebo (with and without food).

Also, pharmacokinetics [PK] and pharmacodynamics [PD] of GLPG0634 after single and multiple oral administration will be evaluated, and, if applicable, the maximum tolerated dose determined.
Back in 2012, when it was still part of Abbott (ABT), AbbVie paid Galapagos $150 million out front for the worldwide rights to commercialize filgo. Then in 2015 AbbVie relinquished its rights, having determined that upa gave it a quicker path to commercialization.
AbbVie's decision turns out to have been prescient indeed. Here we sit with 2020 winding to a close. AbbVie's RINVOQ has blossomed as described above. Where is filgo?
In July 2020, under the name Jyseleca, filgo received recommendation for approval from the Committee for Medicinal Products for Human Use [CHMP] of the European Medicines Agency [EMA] in treatment of moderate to severe active RA in adults who have responded inadequately to or are intolerant of one or more disease-modifying antirheumatic drugs.
Encouraging news, but the big potential lies in the US. It is the US market that offers the largest potential reward. US market potential has motivated Gilead to funnel billions into Galapagos' coffers giving it exclusive access to its full pipeline. Gilead's 7/2019 revised Galapagos deal press release described the US filgo terms as follows:

Gilead followed through on its plan to submit the applications for regulatory approvals later in December 2019 using a priority review certificate with hopes of prompting a speedy FDA review for moderate-to-severe RA. Gilead ultimately ended up with an unremarkable PDUFA date of 8/19/20.
The FDA responded a day early, issuing a disastrous but foreseeable CRL on 8/18/20. Gilead's press release announcing the CRL stated:

Gilead had to know that it was risking a CRL. It had already announced that the FDA would be looking for MANTA data in connection with its filgotinib review. Gilead's release announcing the CRL advised that the MANTA studies were fully enrolled with topline data expected in H1, 2021.
This speaks to a potential that filgo will not receive its FDA approval until 2022.
Filgo's market reception will likely depend to a great extent on its FDA label
Assuming filgo gets its FDA approval, it will be a late entrant in the market for JAK inhibitors in treatment of RA. The senior statesman among JAK inhibitors for RA is Pfizer's (PFE) XELJANZ, FDA approved in 2012 for RA. Next up in 2018, the FDA approved Eli Lilly's (LLY) JAK inhibitor OLUMIANT. The latest, so far, RINVOQ (upa) as noted above was FDA approved for RA in 2019.
In common with these JAK inhibiting predecessors, RINVOQ'S label is marred with a black box warning as follows: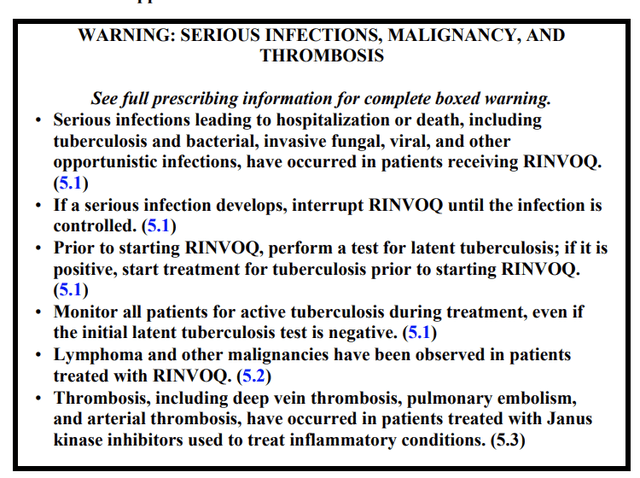 OLUMIANT's black box warning is substantially identical. XELJANZ's label is slightly varied with the following as its final two warnings added to the initial four which are substantially the same for all three therapies:

Will Gilead's filgo come to market as a me-four product sporting the same or substantially similar black box warning as XELJANZ, OLUMIANT and RINVOQ? Over the last year Gilead's management has been emphatic in their assurances that filgo will have a highly differentiated launch. Examples include the following excerpted statements from recent Gilead earnings calls:
Gilead's management has repeatedly expressed confidence on the positive safety and efficacy attributes that filgo has shown during its clinical trials. Nonetheless it has wisely declined to speculate on how such advantages might manifest themselves in terms of its FDA label.
Specifically they have indicated that filgo may get tagged with a JAK inhibitor "class label". During Gilead's Q3, 2019 earnings call, Cowen & Company analyst Nadeau framed the question directly, asking how important filgotinib's label was to commercializing it.
CCO Mercier acknowledged that the FDA has tended towards class labeling of the JAK inhibitors. In this regard Gilead has acted on conservative assumptions. With a class label, she emphasized that the data was important.
She went on to state: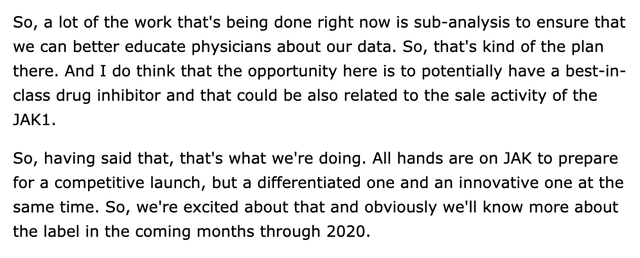 For those interested in evaluating filgo's differentiation on a more granular basis I commend Galapagos' excellent and informative Research and Development Papers on filgo. These include reports on filgo in treatment of RA, IBD, UC, CD and disclose trials initiated for filgo in treatment of sundry other diseases.
RINVOQ's success helps piece together a tapestry to make up for HUMIRA's upcoming challenges
The following excerpt from AbbVie's Q2, 2020 10-Q (p. 35) gives recent slice in time views of revenues of its Immunology franchise.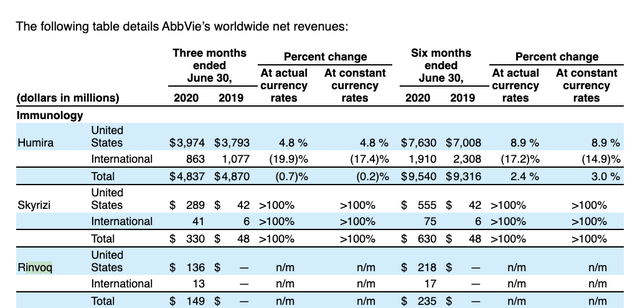 Humira is the slowly fading star having succumbed to generic competition in Europe in 2018 and expected to do so in the US in 2023. It is still too early to tell how much of a deficit from anticipated falling Humira sales AbbVie will be able to recover with the assistance of RINVOQ and Skyrizi.
AbbVie's hometown business journal quotes a Piper Jaffrey analyst estimating that the two will combine to make up $9 billion of Humira's expected $10 billion in losses for 2025. During AbbVie's Q4, 2019 earnings call Vice Chairman & President Severino reported:

Filgo's setback is a nasty shock for Gilead
While AbbVie appears to have an excellent bead on repairing expected Humira deficits in upcoming years, Gilead's prospects of shearing off its portion of the bounty have taken a big hit. Before its CRL it was hoping to be contesting as a differentiated JAK1 therapy for RA as I write.
Instead it will have to wait for the MANTA readouts before it can resolve the FDA's concerns. This is likely not just a problem for RA. Filgo makes up the largest portion of Gilead's choicest near term. Consider its Q2, 2020 earnings presentation pipeline slide below: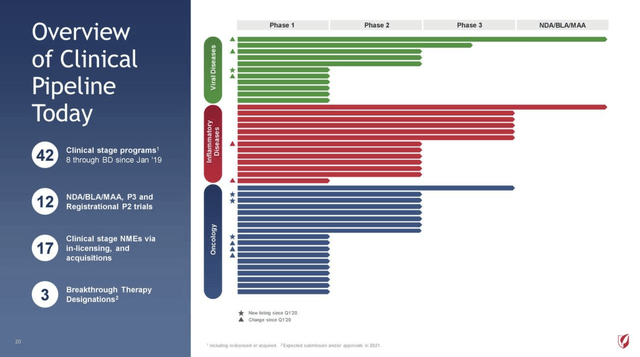 The CRL takes a scythe to its inflammatory disease timelines in the US. Instead of joining in the RA JAK inhibitor melee yet this year, filgo's RA launch will be delayed by at least a year. This scotches any prospect for filgo to significantly boost revenues until 2022. When filgo does finally receive FDA approval its competitors will have had at least an extra year to entrench their positions.
Conclusion
In my most recent Gilead article earlier this year, I took a neutral approach to the stock. Since that time Gilead has proven its strong financial foundations and the power of its core HIV franchise. It has not proven a revenue growth trajectory.
As CFO Dickinson reported during its Q2, 2020 call:
… Product sales for the second quarter were $5.1 billion, down 7% sequentially and down 10% year-over-year. As anticipated, the second quarter product revenues were unfavorably impacted by COVID-19.
Nonetheless, Gilead raised its product sales guidance for 2020 from its original guidance of a range from $21.8 billion to $22.2 billion to a range of from $23 billion to $25 billion.
In its presentation slide 5 accompanying its earnings report, it listed H1 Highlights.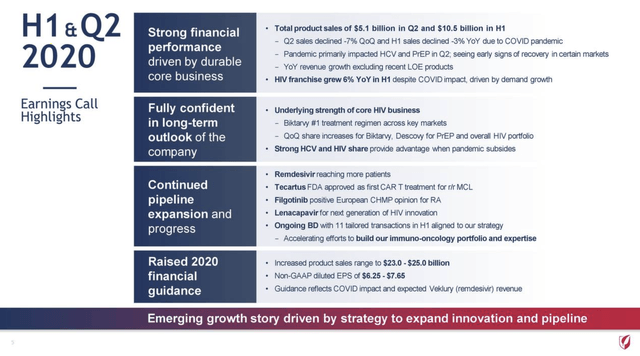 The final highlight called out Veklury (remdesivir) as the expected source of the revenue increase overtaking any impact that COVID-19 might otherwise have on Gilead's earnings. This is certainly encouraging news for Gilead investors; it does not seem to have impacted the shareholders as one might have hoped as illustrated by the stock's share price below: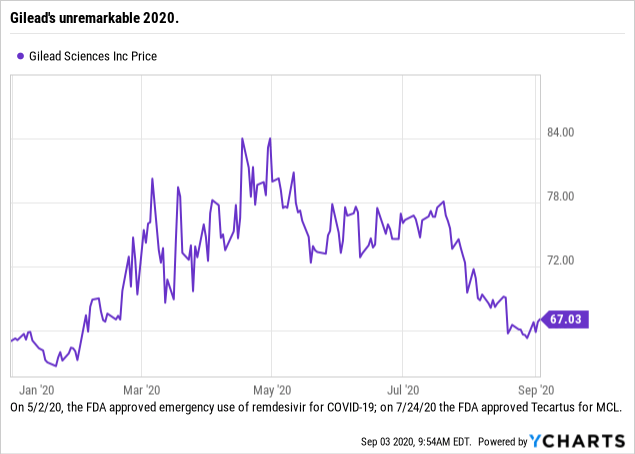 As for AbbVie, its growing success with RINVOQ mirrors its overall success. These days everyone seems to be an AbbVie fan as shown by the cutout below from Seeking Alpha's AbbVie ratings summary: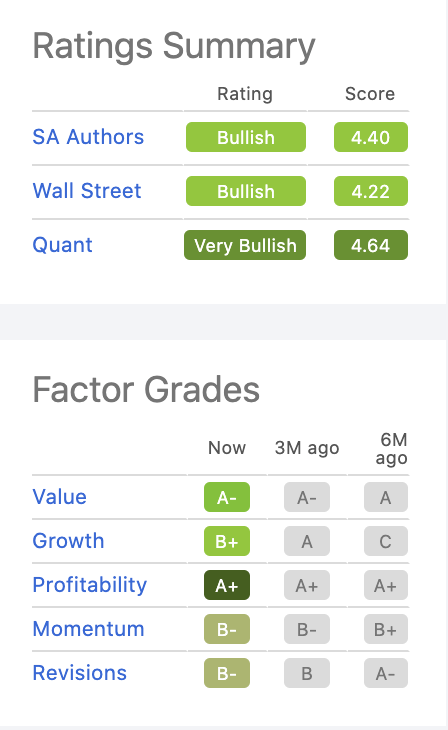 Well it's not quite that uniformly positive. If you go down to another panel on "dividend grades", you encounter a disquieting "F" for "dividend safety". Further there is a recent news report about a House antitrust investigation subpoena directed at AbbVie.
All said I am a satisfied shareholder in terms of future prospects for AbbVie and Gilead. AbbVie is clearly the champion in the battle between RINVOQ and filgo, at the moment and likely for the next year plus.
Disclosure: I am/we are long ABBV ABT AND GILD. I wrote this article myself, and it expresses my own opinions. I am not receiving compensation for it (other than from Seeking Alpha). I have no business relationship with any company whose stock is mentioned in this article.
Additional disclosure: I may buy or sell shares in ABBV, ABT AND GILD over the next 72 hours.