Main Thesis
The purpose of this article is to evaluate the iShares Core High Dividend ETF (HDV) as an investment option at its current market price. I have had a neutral rating on HDV for the entirety of 2020, and that outlook has made sense. As we move closer to Q4, I now feel an upgrade is warranted. While I believe equities as a whole face some serious headwinds, I like HDV now for a few key reasons. One, its yield is quite high, and its growing, which is very attractive. Two, the fund has seen its Energy exposure decline in the short term, which I view favorably. Energy has been a drag on total return, and the lower weighting now provides a more balanced fund that is less "top heavy". Three, HDV offers a nice compliment to broad market funds, as it is underweight the Technology sector that is dominating large-cap, passive ETFs.
Background
First, a little about HDV. The fund is managed by BlackRock (BLK), and its stated objective is "to track the investment results of an index composed of relatively high dividend-paying U.S. equities". The fund currently trades at $83.73/share and yields 4.08% annually. I had a cautious outlook on this fund for a while, and I reiterated a neutral rating back in June. In hindsight, this call appears to have been vindicated, as HDV has dropped about 6% in the interim while the broader market has risen: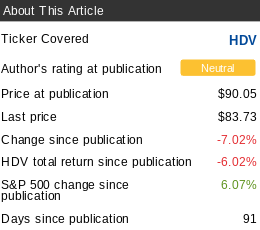 Source: Seeking Alpha
With equities coming under some pressure heading in to the holiday weekend, I thought now was a good time to do another review of HDV. After taking a careful look at the fund, I see a more attractive risk-reward proposition than I did a few months ago. While I am still generally concerned with how far equities as a whole have rallied, I believe HDV is positioned to perform relatively well heading in to 2021. This outlook has led me to increase my rating to "bullish", and I will explain why in detail below.
Income Seekers Should Be Content
My first point on HDV has to do with how well the dividend stream has held up this year. Clearly, this is important to me as a "Dividend Seeker", but I imagine it is important to most investors who are considering a high dividend fund, whether it is HDV or any other product. As 2020 has gone on, many high dividend stocks and funds have come under pressure, especially in the Real Estate, Consumer Discretionary, and Energy sectors, as the Covid-19 pandemic has been responsible for sharp drops in revenue and profits in corporate America. Therefore, many "high" dividend plays turned out to be not so high all at, as dividend cuts, suspensions, and even eliminations made headline news.
While there are still plenty of headwinds facing the broader market right now, I am encouraged with how well HDV's dividend held up in 2020 so far. With some of its peer funds seeing drops to their distribution rates, HDV has managed to deliver two strong distributions in March and June. In fact, HDV's income stream has exceeded my expectations, as it has registered a double-digit gain in the first half of the year, as shown below:
| | | |
| --- | --- | --- |
| 2019 Jan – June Distributions | 2020 Jan – June Distributions | YOY Change |
| $1.57/share | $1.79/share | 14% |
Source: iShares
My takeaway here is simple, and positive. While HDV has seen a drop in its share price, along with most of the market, it has continued to deliver on its core dividend objective. With interest rates at historic lows, HDV's 4% yield looks very attractive on the surface. But once we couple this with the fact that HDV has seen 14% growth to its dividend this year, the story looks even better. Much of this has to do with the reliability of its top holdings, such as AT&T (T), Verizon (VZ), and Exxon Mobil (XOM), which have all been able to maintain or increase their dividends this year and make up almost a quarter of HDV's total assets. In fact, VZ just announced a 2% increase to its distribution on September 3rd, which is a sign that helps give me confidence HDV's income stream will remain competitive going forward.
Portfolio Is Now More Balanced
A second reason why I like HDV more this time around has to do with its underlying holdings. While the fund's top three sectors remain the same, the weightings are noticeably different. While this is not "good" or "bad", I view it positively because the fund is more balanced. To illustrate, consider HDV's holdings report that was current back in my June review, as shown below: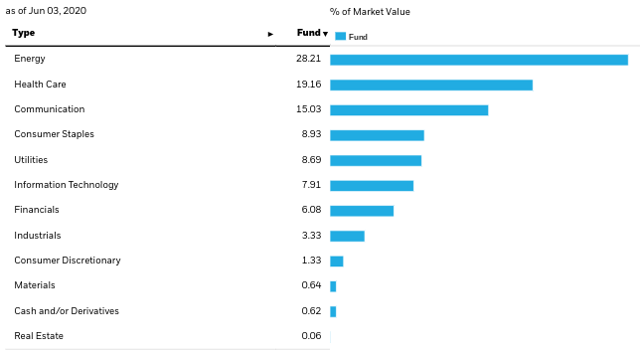 Source: iShares
Fast forward to today, and HDV's top sectors continue to be Energy, Health Care, and Communications, but in a different order and with different weightings, as seen below:
Source: iShares
As you can see, the Health Care and Communications sectors each saw their weighting rise slightly over the past few months. But the real story is the drop in Energy's weighting, which I view favorably. While I see merit to owning the sector here, I simply don't want a dividend ETF to be so reliant on one particular area. In HDV's case, Energy made up almost 1/3 of the fund's total exposure back in June. I believed this would pressure the fund's total return in the months ahead, and that turned out to be the case. To illustrate, consider the three-month return of the Energy Select Sector SPDR Fund (XLE), compared to the broader market, as shown below:

Source: CNBC
As you can see, XLE has dramatically under-performed, and Energy's poor performance has been a drag on HDV.
My point here is I see value in HDV's re-balancing. While I personally think the Energy sector offers some value right now, given how overbought many of the leading market sectors seem, I don't want to get too carried away with my exposure. With most economies around the world still struggling with the Covid-19 pandemic, demand for energy will probably not reach pre-crisis levels until at least next year. Therefore, I find it preferable that HDV's weighting to this area has become more in-line with the other top sectors in the fund. The fund is now more properly diversified, which should assist with keeping a lid on volatility moving forward.
The S&P's Rising Price Makes HDV Look Cheap
As my readers are already aware, I have been generally cautious on equities as a whole for a while. With the sell-off to end this past week, this sentiment has not changed much. Simply, I expect plenty of volatility to round out the year, and I am reluctant to add much new cash to my equity positions right now. With that said, I view HDV more favorably than the broader market primarily because the cost to own it is dramatically lower. This should help buffer against downside losses, at least compared to the S&P 500.
To see why, consider the chart below, which shows a clear differential between HDV and the broader large-cap market:
| | | |
| --- | --- | --- |
| Fund / Benchmark | Current P/E | Dividend Yield |
| HDV | 17.9 | 4.1% |
| S&P 500 | 29.5 | 1.7% |
Source: iShares; Multpl.com
My point here is HDV seems reasonably priced, and the broader market has challenges of its own, such as high unemployment, continued partial economic shutdowns, and rising trade tensions between the U.S. and China. When we consider what a broad market funds offers in terms of risk and reward right now, HDV may seem like the safer alternative. This valuation gap between the two is a positive attribute in my view.
Holdings Provide Some Diversification
My final point on why I would consider adding HDV to my portfolio right now has to do with what the fund lacks, in terms of sector holdings. Specifically, HDV is lacking in its Technology exposure, which makes sense because that is a sector that has been leading the market for years (depressing the yields). Now, I am not saying avoiding this exposure is necessarily a good idea, and Technology is an area I am long through the Invesco QQQ ETF (QQQ). But what I want to illustrate here is investors who are "diversified" through a broad large-cap fund, such as the SPDR S&P 500 Trust ETF (SPY), may not be as diversified as they expect. To be fair, a fund like SPY does hold around 500 stocks, but it is heavily weighted towards the market leaders right now. As a result, the fund is very heavily weighted towards Technology. By contrast, this is an area HDV is lacking, and it makes up for it by being disproportionately long on the sectors that are less represented in SPY. Therefore, HDV could be a reasonable compliment to SPY. To illustrate why, see the chart below:
| | | |
| --- | --- | --- |
| Fund | Information Tech Weighting | Combined Energy/Communication/Health Care Weighting |
| HDV | 7% | 57% |
| SPY | 28% | 27% |
Source: iShares; State Street
The principle takeaway here is HDV allows investors to gain more exposure to the areas that may be underweight if they are primarily long funds like SPY. With broad market funds getting concentrated in Technology, and the top five or six stocks in that space in particular, HDV could be a valid compliment.
Bottom Line
Dividends will be king for me to end 2020, and moving in to 2021. While I am letting my broad market funds, such as SPY and QQQ, ride higher for now, I am not adding to them either. As such, I am building on my fixed-income positions and my dividend ETFs. With this in mind, I am considering a move in to HDV, as the fund's income stream, relative valuation, and differentiated holdings look appealing. Therefore, I am now placing a bullish rating on HDV, and would recommend investors give the fund some consideration at this time.
Disclosure: I/we have no positions in any stocks mentioned, but may initiate a long position in HDV over the next 72 hours. I wrote this article myself, and it expresses my own opinions. I am not receiving compensation for it (other than from Seeking Alpha). I have no business relationship with any company whose stock is mentioned in this article.
Additional disclosure: I am long SPY and QQQ