For most investors, convertible bonds are a less popular fixed-income asset class. These are bonds that offer conversion to stocks given a significant rise in the underlying equity's value. This is very similar to an out-of-the-money call option and comes with the cost of a generally lower yield.
Most convertible bonds, such as those in the popular ETF (CWB) are in younger technology sector companies since many of those companies have poor cash-flow, but high equity growth potential. Tesla's bonds are one of the largest and makeup about 10% of CWB's holdings. Other significant holdings in CWB include Wells Fargo (WFC), Broadcom (AVGO), and (AMD). Many of these companies (particularly chip-stocks and Tesla) have risen dramatically this year which has led to stellar performance for CWB and other convertible bond funds.
See CWB's performance compared to the S&P 500 (SPY) below: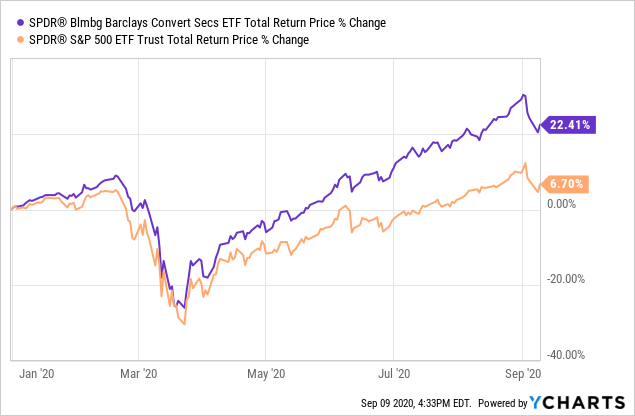 The strong performance of CWB over the past few months has been met with a significant correction over the past week. Much of this was due to the 30% price drop in Tesla which makes up a sizeable portion of CWB's holdings.
Indeed, the current yield on CWB is very low by historical standards at 1.95%. As you can see below, the TTM dividend yield is a bit higher at 2.55%, but still far below historical norms: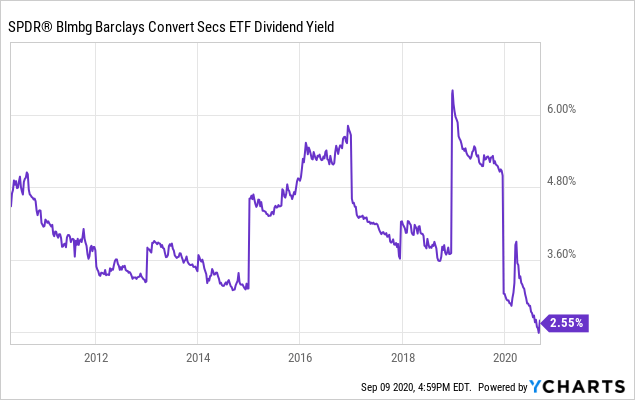 This begs the question, is CWB overvalued? It pays a yield that is nearly equal to the inflation expectation rate meaning it is not likely to increase purchasing power. Quite frankly, it is entirely dependent on equity prices of high-flying technology stocks like Tesla and AMD and valuations suggest those companies are in a bubble. If the bubble has reached its end, CWB may be headed much lower.
Large Gains Trigger Profit Taking
CWB is exposed to many different companies including banks, telecommunications, and airlines. Equities in these sectors have generally low valuations and lower credit ratings which improve bond yields. That said, they come with higher credit risk with airlines being a particular concern.
The more immediate risk is CWB's exposure to Tesla and semi-conductors which have risen in a bubble-like fashion this year: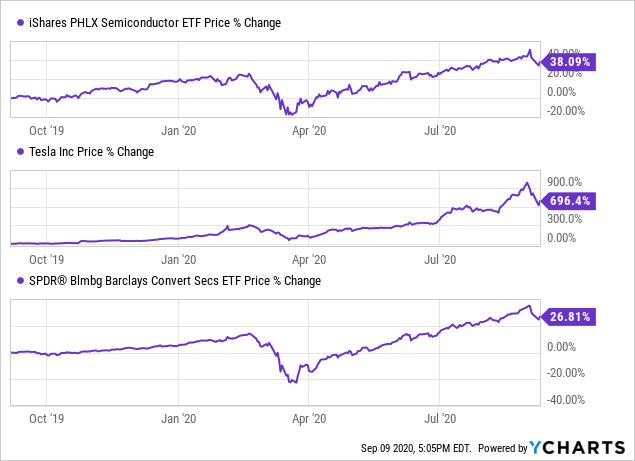 Tesla is the largest vehicle producer by market capitalization, though it produces among the lowest number of vehicles and has not seen material delivery growth over the past year. Semiconductor stocks are generally profitable and have benefited from work-at-home computer sales, but have very extreme valuations with the chip ETF (SOXX) having a weighted-average "P/E" of 30X.
The Option Bubble and Convertible Bonds
There is evidence that the recent rise in technology stocks like these have been due to a "gamma short-squeeze". This is because many newer traders have entered the options market and bought calls on companies like Tesla. Remember, in order to hedge one call a broker must purchase 100 shares of a company and a put option or else be stuck in "negative gamma" which can create massive short-squeezes. There is an active debate whether this has fueled the technology rally, but I'll side with the evidence.
As you can see below, call volumes have been far higher than historical norms over the past few months: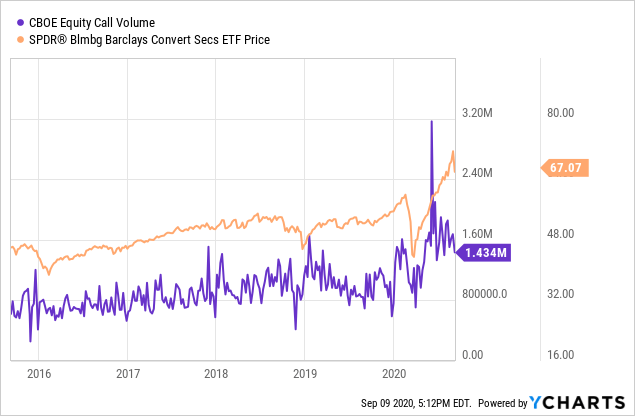 The put/call ratio has also been far below historical norms (suggesting abnormally high call-purchasing) while the SKEW index has been generally high (suggesting out-of-the-money options have been favored):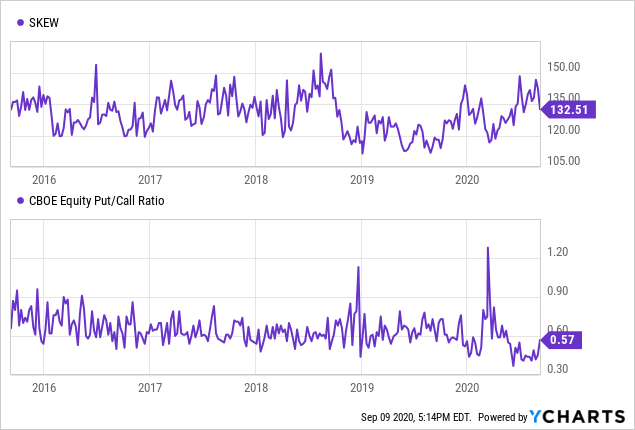 This gives considerable direct evidence that call option speculation has been a major factor pushing equities higher. The rise in call option volume has been most extreme in single-stock calls with high volumes. This is favorable to popular names like Tesla, AMD, and even other companies in CWB like Bank of America (BAC) and Carnival Corp (CCL) which are also among the most popular among Robinhood traders.
Importantly, Google Trends search volume data suggest there has been an extreme rise in the number of Robinhood users interested in buying options since January 2020 (Robinhood has had option capability since 2017):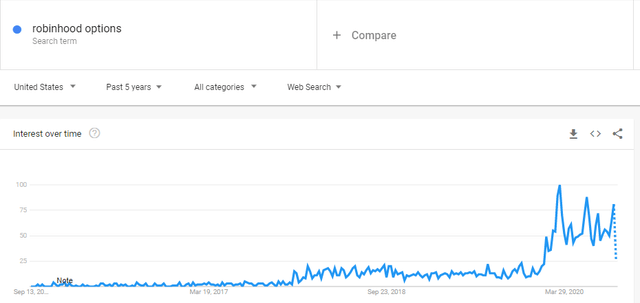 The options market is very important to the convertible bond market since there is an implicit call option in every convertible bond. If there is a bubble in the options market, it follows that there is a bubble in the convertible bond market.
The Bottom Line
In the short-run, it is probably best to avoid convertible bonds. This includes the ETF (CWB) as well as iShare's (ICVT) and to a lesser-extent convertible bond CEF's like (CCD), (ACV), and (CHY). The CEF's are generally preferable to the ETFs like CWB since most of them currently trade at discounts.
The most notable issue with convertible bonds today is their high exposure to two types of firms: speculative high-flying technology companies like Tesla, AMD, and Sea LTD (SE) (all three of which are in CWB's top-ten holdings) and high bankruptcy risk companies like Southwest Airlines (LUV), Dish Network (DISH), and Carnival Corp (CCL) (the first two are also in CWB's top-ten).
In my opinion, this gives the worst of both worlds. The high-flying technology companies are overvalued and, in the long-run, are likely headed lower. If the option-bubble theory is proven correct (as the evidence suggests), then these speculative technology companies may be headed much lower over the coming weeks. On the other hand, companies like Southwest and Dish are struggling with profitability in the COVID environment and have limited equity upside as well as high credit risk. CWB's record-low yield today does not adequately compensate for these significant risks.
Indeed, CWB may even be a short opportunity. The fund is highly liquid and has a borrowing fee of 30 bps which is lower than that of many other ETFs with the bubble pattern. Of course, these companies could continue to speculative break to the upside which means a tight stop at the last high of $71 would be wise. In my opinion, CWB will likely head back to its 2017-2019 level of $50-$60 as technology stock prices decline and undo CWB's conversion value.
Interested In More Alternative Insights?
If you're looking for (much) more research, I run the Conviction Dossier here on Seeking Alpha. The marketplace service provides an array of in-depth portfolios as well as weekly commodity and economic research reports. Additionally, we provide actionable investment and trade ideas designed to give you an edge on the crowd.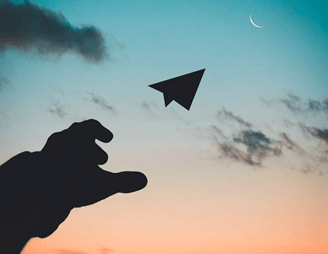 As an added benefit, we're allowing each new member one exclusive pick where they can have us provide in-depth research on any company or ETF they'd like. You can learn about what we can do for you here. 
Disclosure: I am/we are short TSLA. I wrote this article myself, and it expresses my own opinions. I am not receiving compensation for it (other than from Seeking Alpha). I have no business relationship with any company whose stock is mentioned in this article.