Civeo Corporation (NYSE:CVEO) provides lodging and catering facilities to the natural resource extraction industries in the US, Canada, and Australia. In the fall of 2018, the stock was trading at over $4.00/share before a plunge in energy prices brought the stock down under $1.00/share.
On July 29, before market open, they reported results for 2Q20, and investors rewarded the company's performance with a 43% surge in the share price. But a very large risk remains.
As of June 30, CVEO only had $7M in cash, and total debt stood at $299M. Management has done a good job focusing on debt reduction, bringing total debt down from $357M at the end of December 2019.
On September 8, they announced amendments to their credit agreements, which included an 18-month extension to the maturity date of the revolving credit facilities and term loan. This gives them some additional breathing room, though the interest rate spread did increase slightly.
Even though debt levels are moving in the right direction, the low valuation indicates that the highly leveraged balance sheet is still a concern. But we think this is an acceptable risk, given the operating performance.
In 2019, CVEO generated an adjusted EBITDA of $108M. When 4Q19 results were announced, management guided for (at the midpoint) 2020 adjusted EBITDA of $104M. Due to the COVID-19 slowdown, this guidance has been withdrawn, and they now expect (as of July 29) an adjusted EBITDA of $83M.
To be conservative, let's assume that the 2020 COVID-19-impacted adjusted EBITDA guidance of $83M is the new normal. This amount actually includes $7M in one-time gain items from the Canadian territory (discussed on the earnings call), so let's go with $76M.
In 2019, depreciation and amortization expense was $124M, but we will use capex to more accurately reflect the actual cash expenses. In 2018, capex was $17M, but then increased to $30M in 2019. This jump was primarily related to the completed expansion of the Sitka Lodge in Kitimat, British Columbia. For 2020, initial capex guidance had been for $20M, but has since been lowered to $15M. Let's use the original $20M figure.
They are consistently paying down debt each quarter, though the savings from the lower outstanding balance will be roughly offset by the slight increase in the interest rate spread. We will annualize 2Q20 interest expense of $3.9M and use $16M as our annual interest expense.
Below, you can see our estimate of earnings to common shareholders (net of noncontrolling interests). We assume that the Preferred Shares will be converted to common shares at some point, and so no longer include the $1M spent per year on the Preferred Shares dividend.
Earning Estimates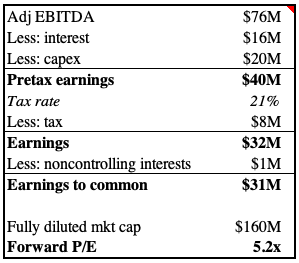 Source: Elle Investments
Fully Diluted Market Cap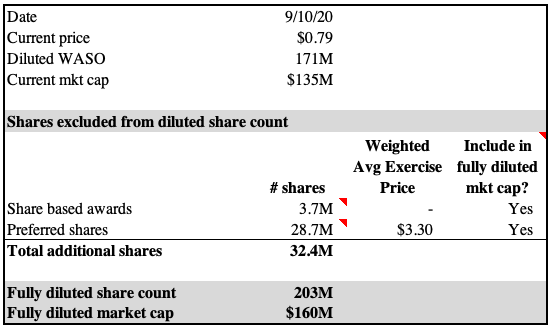 Source: Elle Investments, Yahoo Finance, Company Filings
(Note: We have included the 3.7M share based awards in our fully diluted market cap. These awards were excluded from 2Q20 results as their effect would have been anti-dilutive. The Preferred Shares have a conversion price of $3.30/share, which is much higher than the current price. Normally, we would not include them in our fully diluted market cap calculation. However, holders of the Preferred Shares have the right to convert them into common shares at any time after 2 years past issuance, which was April 2, 2018. Also, at 5 years past issuance, they convert automatically. For this reason, we include the extra 28.7M shares in our calculation.)
Even after these conservative assumptions, we still arrive at an attractive forward P/E. Our thesis is simply that, as debt is paid down, the market will realize that it has overly-punished CVEO for its leveraged balance sheet and will reassign it a more favorable P/E. And since our inputs are very conservative, should adjusted EBITDA return to 2019 levels, then the upside would be much greater indeed.
We think it's also worth mentioning that there have been multiple insider buys since March 6 of this year, when the stock began to tank from the pandemic fear. These purchases by insiders were at prices ranging from $0.63/share to $1.08/share, and most were for amounts over $100k. It's always a good sign when insiders purchase shares, and at the current price, we are entering at a similar price point.
Even just a return to pre-COVID-19 levels would garner investors a return of 35%+. But we think CVEO was unfairly punished even before the pandemic sell-off, and as management continues to pay down debt, the market will realize that the risk here is not as great as feared. The low cash balance (and thus, very small room for error) keeps this from being a top pick. But given the financials in front of us, we think CVEO is a Buy.
Disclosure: I/we have no positions in any stocks mentioned, but may initiate a long position in CVEO over the next 72 hours. I wrote this article myself, and it expresses my own opinions. I am not receiving compensation for it (other than from Seeking Alpha). I have no business relationship with any company whose stock is mentioned in this article.
Additional disclosure: Disclaimer: The Elle Investments portfolio is managed utilizing a "quantamental" approach where each position, while based on Fundamental Analysis, is sized as part of a larger quantitative portfolio. The commentary presented here is for research purposes only and is not to be taken as investment advice. Readers are expected to perform their own due diligence and/or hire an investment professional prior to entering/exiting positions. Published research ideas are related to the specific market price and publicly available information at the time of research submission/publication. Elle Investments will enter/exit positions without notice.