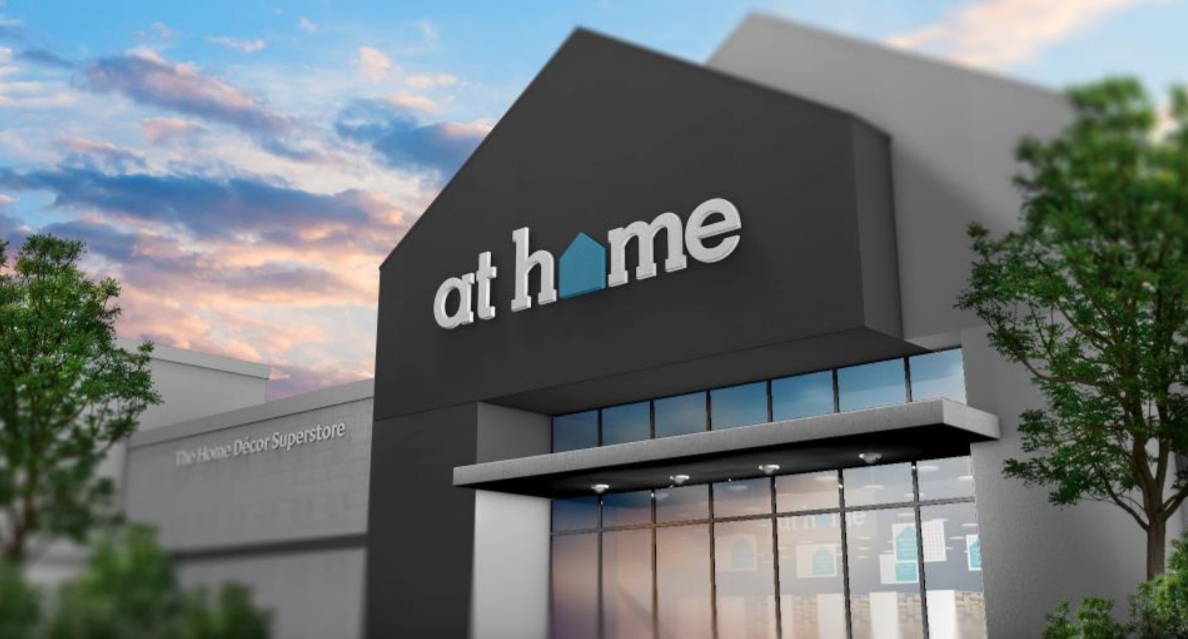 Home furnishings has been just about the hottest growth sector in the pandemic rally this year. Stocks in the group have flown higher as consumers spend heavily to improve their residences during the pandemic. At Home (HOME) is a stock I've liked for a long time, and it has been a huge beneficiary of the pandemic.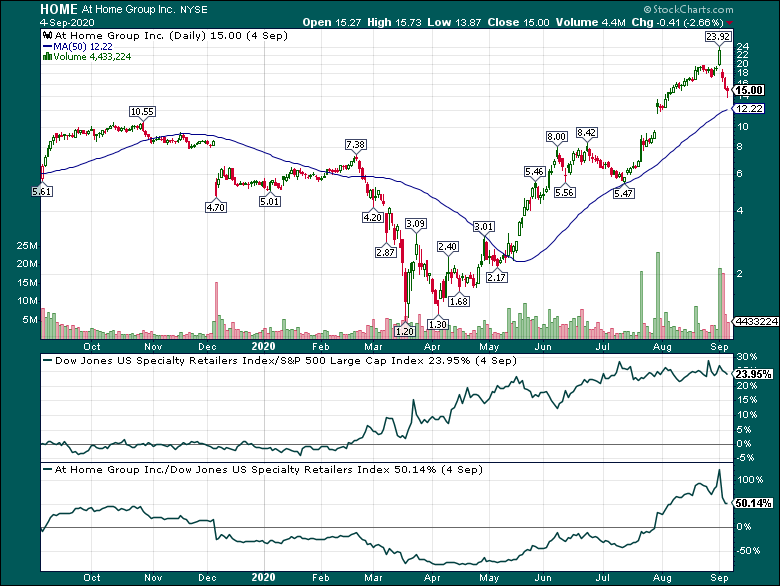 Shares were able to be had for just over a dollar in March and April, but have since rallied to $24 before falling back to $15, where they are today. In other words, the market figured out some months ago that At Home was positioned well for today's conditions.
As we can see in the middle panel above, the specialty retailers have blown away the S&P 500 this year, outperforming by about 25% in that period. In addition, At Home has outperformed its peer group, meaning it has been one of the best performers in a group that is one of the best performers. If you're trying to beat the market, that is exactly the kind of stock you should be looking for.
With the pullback, At Home looks like it offers a compelling value proposition once again, and I'm bullish.
2021 demand pulled forward, but plenty of runway left
At Home has been one of my favorite growth retailers for a long time because it has a differentiated model and because it has plans to ~3X its current store base. At Home was punished earlier this year because its model has purposefully been built without strong digital capabilities, in order to get people to walk the stores. When stores were locked down, that sort of model wasn't exactly popular with investors. However, At Home has proven exceptionally resilient in recent months, and while the easy money has been made, I think the rally has legs.
Revenue has moved steadily higher over the years because of new store openings.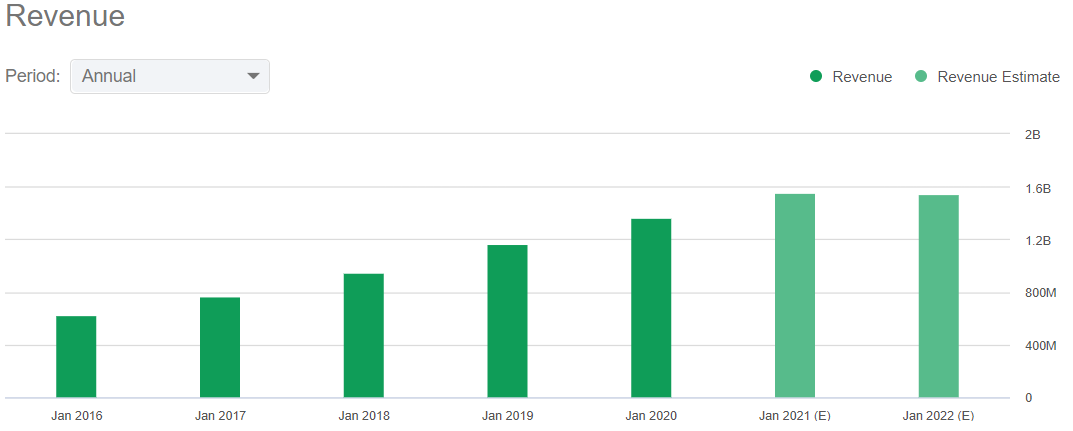 Source: Seeking Alpha
Revenue is soaring this year for obvious reasons, but next year should be roughly flat to this year. The good news is that At Home should resume its store openings in 2021 in earnest, getting back to more or less the same path it was on pre-pandemic.
At Home has just over 200 stores today, and management continues to reiterate its long-term guidance of 600+ stores. That means we should see close to three times the store base we see now over time, and while that will take a while, the important thing is that the model has been proven to work, even in an environment where going into stores is actively discouraged in some parts of the country.
Investors have been rightly concerned in recent quarters because At Home has been weakening from a comparable sales perspective.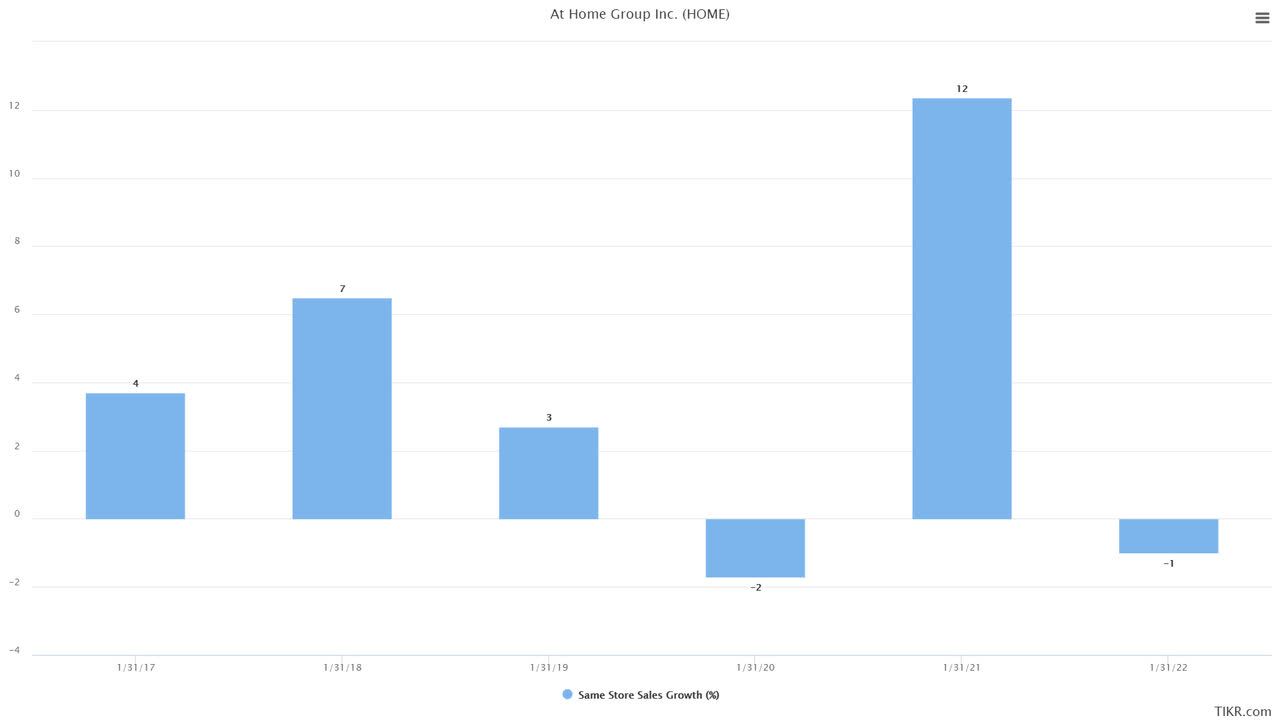 Source: TIKR.com
Torrid growth in calendar 2017 gave way to weaker growth in calendar 2018, followed by a negative performance last year. This year is slated to see a 12% gain, after Q2 came in with a 42% comparable sales gain. I think there's some upside potential to the 12% given Q2 alone will be responsible for a 10.5% gain for the full year (42% divided by 4 quarters), but we shall see.
The thing is that when a company destroys expectations, subsequent expectations are raised. Next year, At Home is likely to produce a negative comparable sales number as demand is being brought forward. However, the important thing is that even if comparable sales are down a percent or two next year, the two-year stacked number will be up huge. Thus, even if demand is being brought forward, the stock isn't necessarily priced that way right now.
The other thing is that At Home is seeing a spike in margins this year due to soaring revenue, but current estimates are for much weaker profitability next year.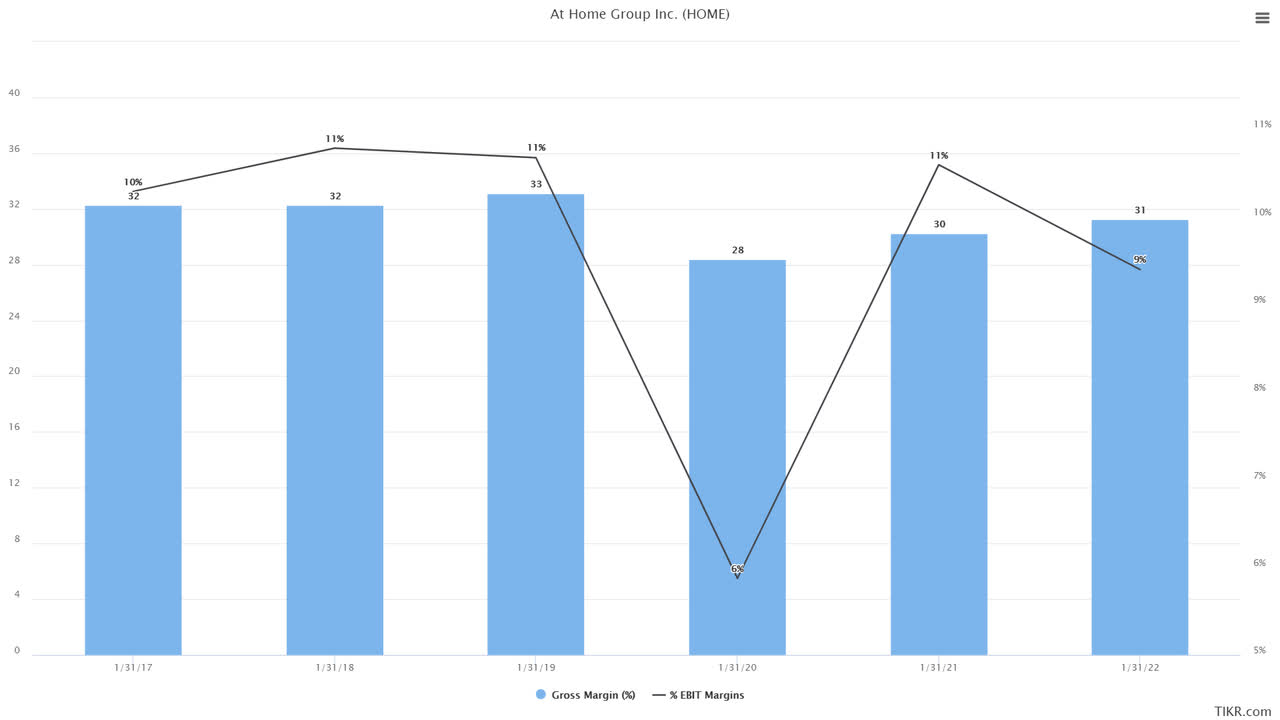 Source: TIKR.com
EBIT margins plummeted last year as At Home worked to clear dead inventory, which it did, but at great cost to profitability. This year is seeing a reflation of margins to the low-double digits, while next year – curiously – is slated to see a meaningful decline in EBIT margins. If comparable sales are going to be roughly equal to this year, why would margins tank in 2021? I don't see any reason for that, and I think these expectations are overly bearish. That creates upside potential should At Home figure out a way to produce 10%+ EBIT margins next year.
A bit of caution, but still bullish
One thing At Home hasn't done so well in the past is finance itself, which has led to a lot of debt. The downstream impact of that is lots of interest expense, which we can see below in relation to EBIT.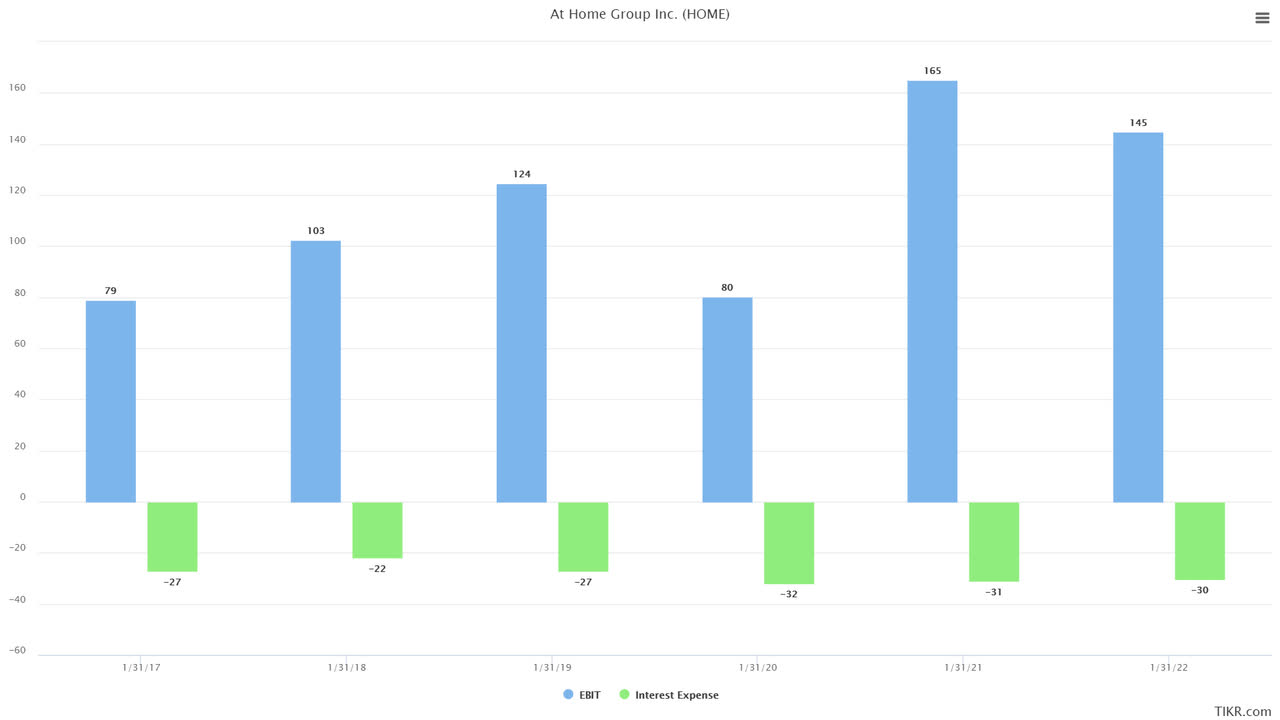 Source: TIKR.com
At Home's EBIT is slated to be $165 million this year, which is double what it was last year, making the $30 million or so it will spend to service its debt relatively less expensive. Still, next year's EBIT expectation of $145 million means At Home will still spend ~20% of its operating income servicing debt. That's a huge amount for any company, and investors should not ignore this problem. Keep in mind it becomes exacerbated the lower EBIT goes as the percentage interest expense consumes rises. At Home will almost certainly continue to increase its debt to fund store openings in the future, so this problem likely isn't going anywhere. This doesn't derail the bull case, but it is something to keep in mind.
At Home's EPS, as you might imagine, has been somewhat volatile.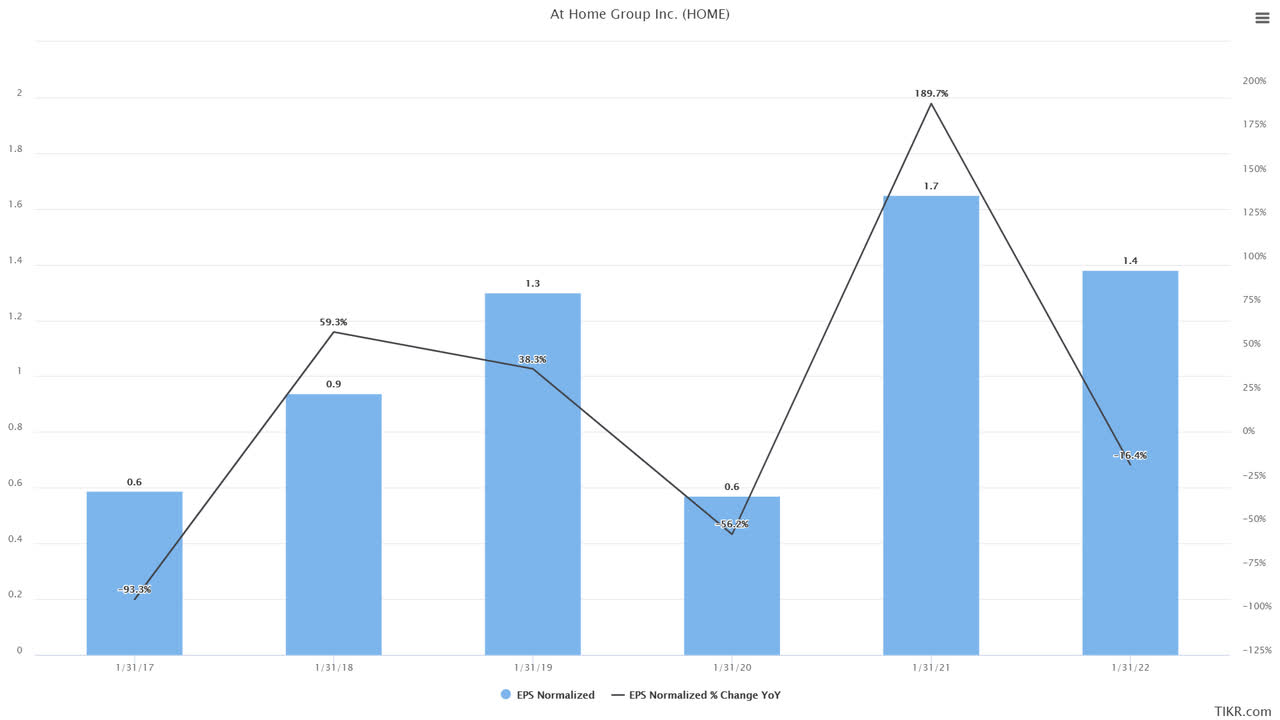 Source: TIKR.com
Rapid EPS growth saw the share price soar in recent years, but similarly-quick declines last year pushed the stock much lower. EPS is slated to be much lower next year than this year, but for the reasons I outlined above, I think next year's EPS number is a bit low at this point.
Even if we take the current estimate at face value, shares trade for just ~11 times next year's earnings. Next year may be a bit of a reset of expectations given this year has been gangbusters due to a pandemic, but long term, At Home's model is intact and should continue to thrive.
The stock also has short interest of about 20%, meaning there are a lot of people betting against the stock. That can make it more volatile, so another factor to keep in mind.
Still, given all of this, I'm bullish long term on At Home for its upside potential on next year's estimates, its cheap valuation, and its model that has proven resilient in a very challenging environment.
Disclosure: I/we have no positions in any stocks mentioned, but may initiate a long position in HOME over the next 72 hours. I wrote this article myself, and it expresses my own opinions. I am not receiving compensation for it (other than from Seeking Alpha). I have no business relationship with any company whose stock is mentioned in this article.