Amarin (AMRN) is substantially de-risked at its current price well under $5/share after losing its appeal.

Figure 1: Amarin Stock Chart (source: finviz)
Amarin's market cap is about $1.66 billion now, but the company reported having $611.3 million in cash and equivalents on hand at the end of Q2. Unlike with many biopharmas where cash shouldn't be fully counted due to a high cash burn rate, Amarin's net loss for the first half of 2020 was just $16.1 million. Add to that the fact that Amarin is likely to be cash-flow positive in the second half of 2020 and you have well over a third of the current market cap supported by the company's cash balance.
We're also talking about what will likely be a hugely successful drug. Vascepa is now the most effective approved therapy for what is often referred to as residual cardiovascular risk, that is the risk of cardiovascular events that remains even after a patient's LDL-C is controlled, usually via statins.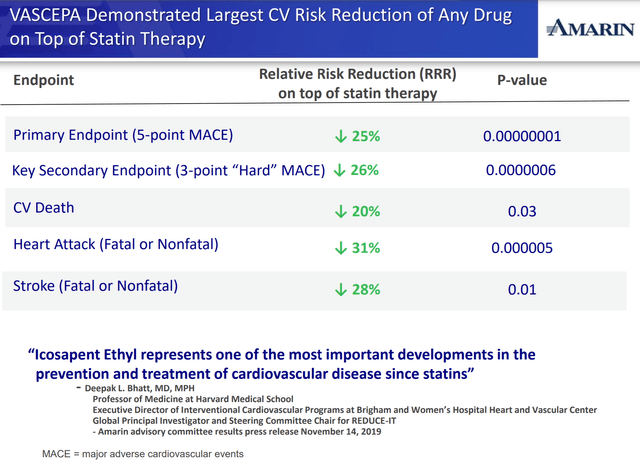 Figure 2: Vascepa's Efficacy On Top Of Statins (source: Amarin's September 2, 2020, Investor Presentation)
Based on the label expansion into this residual risk area, the potential market for Vascepa has tremendously increased. Amarin estimates that more than 56 million people in the US could now benefit from using Vascepa, with 12 million already on statins and 44 million+ that are either statin-intolerant or statin refusers.
Amarin Will Likely Still Be Very Profitable In The US Even With Generic Competition
Even with the launch of generics, Amarin will likely still make money on Vascepa in the US. If even 10% of the people that in Amarin's view would benefit from taking Vascepa end up on the drug, that would be over 67 million total Vascepa prescriptions per year at maximum market penetration. That number seems realistic, and maybe even conservative, given that Amarin continues to release data showing a plethora of cardiovascular benefits for the drug.
Most recently, Amarin reported results of its EVAPORATE trial which provided coronary plaque data in patients taking Vascepa.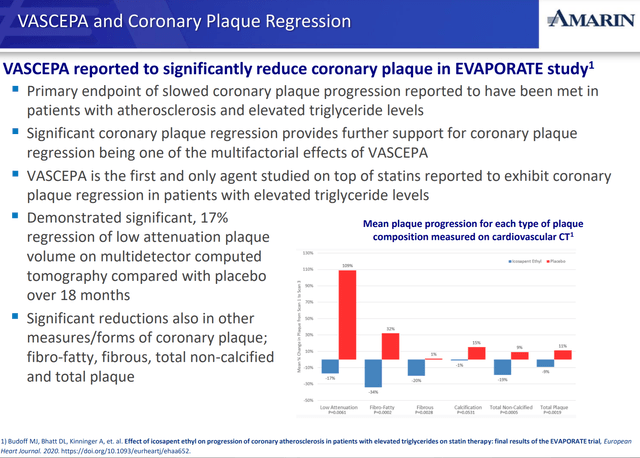 Figure 3: Vascepa Results On Coronary Plaque Regression (source: Amarin's September 2, 2020, Investor Presentation)
Again, this study's patient population was solely comprised of statin users, so the results you can see in Figure 3 represent a clear additional benefit. Coronary plaque regression is particularly significant, given that there is always some question as to the ultimate clinical relevance of reducing biomarkers like LDL-C and triglycerides. Like the reduction of cardiovascular events previously seen with Vascepa use in the REDUCE-IT trial, a reduction of coronary plaques represents a measure of tangible progress in keeping patients safe.
From my research, it seems that investors can expect Amarin to have to drop the list price of Vascepa somewhere in the neighborhood of 50% to stay competitive with generics. In addition, Amarin will obviously face a huge decrease in Vascepa market share. We've already seen ANDAs filed from Hikma (OTCPK:HKMPF), Dr. Reddy's (NYSE:RDY), and Teva (NYSE:TEVA), but given the complexity of manufacturing Vascepa, we may not see many other generic manufacturers jumping onboard beyond these major players, at least for a while. In my modeling, I show Amarin dropping to just 25% market share in the US by 2023, but this decline in share will be somewhat offset by what will likely be a rapidly increasing overall market.
Given that Amarin is on track for $600 million+ in sales in 2020 with a gross margin of about 79%, there's room for the company's US business to survive even with the new market entrants and likely steep price cut. As I will discuss in more detail below, my modeling shows that the price of the US opportunity alone appears to be worth modestly more than the current market cap with shares trading for barely over $4.
Amarin's Huge European Opportunity Is Still Completely Intact
Before discussing my valuation on the US business after recent developments, I wanted to give a brief overview of Amarin's potential business in Europe. The European opportunity for Vascepa is still huge as patent protection there remains strong, with marketing exclusivity typically being 10 years after approval. In addition, Amarin is in the process of trying to shore up its market exclusivity with an extension until 2039.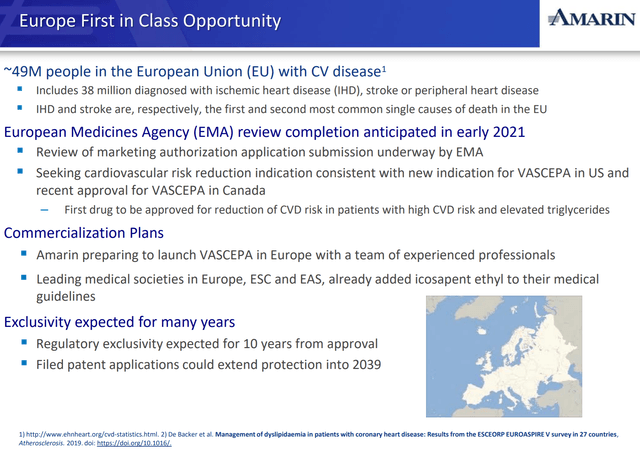 Figure 4: Vascepa's European Opportunity (source: Amarin's September 2, 2020, Investor Presentation)
Europe adds another market with tens of millions more patients that could potentially benefit from Vascepa, and most commentators I've seen view Vascepa as a likely blockbuster in Europe. Amarin, to its credit, has been making a clear pivot towards Europe to maximize the opportunity.
The company recently issued a press release detailing aspects of its strategy, and I like the hire of Karim Mikhail to spearhead the European commercialization. Mr. Mikhail was most recently the global commercial leader for Merck's global lipid business as well as previously Merck's chief marketing officer for Europe. That kind of experience will go a long way towards a successful European launch.
Amarin also has other areas targeted like Canada, China, and the Middle East, but these will all be through commercial partners, meaning Amarin will likely just receive royalties on sales.
Amarin's Post-Appeal Sell-Off Creates A Wide Margin To Fair Value
I undertook a discounted cash flow analysis of Amarin's US business through 2030 to try to get a handle on how much of the current share price it could support.
Amarin has stated that it sold 3.23 million prescriptions of Vascepa in 2019, which generated total revenue of about $427 million and COGS of $96 million. This results in a per prescription price of about $132.28 and per prescription COGS of $29.72. I used the assumptions stated above that Amarin will have to drop its price by half by the start of 2021 and that Amarin will be down to just 25% market share by 2023 and just 17% towards the middle of the decade. I held COGS constant, although it seems possible that number could go somewhat lower if volume rises more.
I started with the expense level Amarin is showing this year, and scale that up with SG&A expenses being 34% of net sales and with R&D starting to pull back after this year. I also show the market for Vascepa growing to a peak of 5.6 million patients or 10% of the total potential US market Amarin has estimated for the drug. I think this is likely a very conservative figure because, ironically, the drug going generic so early will likely boost market uptake.

Figure 5: Amarin US Business Present Value Estimate
As you can see in Figure 5, with the assumptions as stated above, I got a present value estimate somewhat above where the stock is trading now. Again, this in no way factors in the European or any other international opportunity. While Amarin's outlook certainly looks worse than it did before the appellate loss, it appears to me that the sell-off is overdone and has created a valuable opportunity for long-term, patient investors.
This opportunity is not without risk. Amarin could have to cut its price further than I modeled or could drop to a lower overall market share. Vascepa sales amongst all manufacturers could also not pick up as rapidly as I modeled. Also, Vascepa still doesn't have European approval, and there's no guarantee it will happen. Despite that, Amarin's high level of cash and certainty of making some continued revenue in the US suggest to me that downside potential is limited from here, even in a downbeat scenario.
This sort of contrarian value pick is exactly the type that I will be covering in my soon-to-be-launched Marketplace Service, Biotech Value Investing. With a target launch date of October 1, this service will provide in-depth coverage of my approach to finding high-quality, value-oriented companies in the biotech sector. Subscribers will get my weekly newsletter on value opportunities in the sector as well as a more detailed look at my research, including access to all my articles and valuation models like the one used here, and options strategies like the one I used to take a long position in Amarin this week.
Disclosure: I am/we are long AMRN. I wrote this article myself, and it expresses my own opinions. I am not receiving compensation for it (other than from Seeking Alpha). I have no business relationship with any company whose stock is mentioned in this article.
Additional disclosure: I'm not a registered investment adviser. Please do not mistake this article, or anything else that I write or publish online, as any type of investment advice. This article and anything else that I post online are for entertainment purposes only and are solely designed to facilitate a discussion about investment strategy. I reserve the right to make any investment decision for myself without notification except where required by law. The thesis that I presented may change anytime due to the changing nature of information itself. Despite the fact that I strive to provide only accurate information, I neither guarantee the accuracy nor the timeliness of anything that I post. Past performance does NOT guarantee future results. Investment in stocks and options can result in a loss of capital. The information presented should NOT be construed as a recommendation to buy or sell any form of security. Any buy or sell price that I may present is intended for educational and discussion purposes only. My articles should only be utilized as educational and informational materials to assist investors in your own due diligence process. You are expected to perform your own due diligence and take responsibility for your actions. You should consult with your own financial adviser for any financial or investment guidance, as again my writing is not investment advice and financial circumstances are individualized.