Africa Oil Corporation (OTCPK:AOIFF) has a market capitalization of $400 million, making it a small company by nearly any standard. However, the company has focused on building out a conglomerate portfolio of top-tier assets. As we'll see throughout this article, the cash flow potential of these assets means the potential for strong future shareholder rewards.

Overview
Africa Oil Corporation has taken advantage of low oil prices to build a portfolio of top-tier oil assets.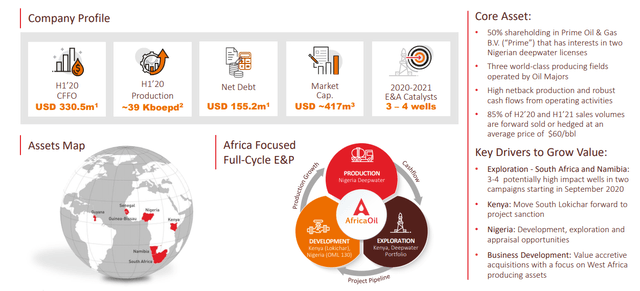 Africa Oil Corporation Profile – Africa Oil Corporation Investor Presentation
Africa Oil Corporation had 1H 2020 CFFO of $330.5 million with $155.2 million and market capitalization of less than $400 million. The company had production of 39 thousand barrels per day and 3-4 catalyst wells over the remainder of the year and the next year. The company's largest asset is a 50% POGBV asset that we'll discuss in more detail later.
The company has a number of exciting value drivers. The company is continuing to develop its Nigeria assets with incredibly low breakevens. The company is looking to develop its Kenyan assets, moving South Lokichar forward, meaning the company could have steady cash flow through the 2030s.
Financial Results
The company's overall financial results on the basis of its asset portfolio are incredibly exciting.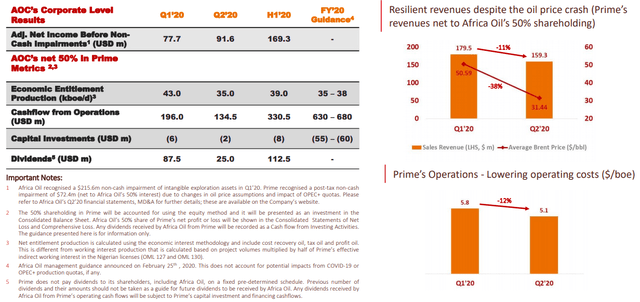 Africa Oil Corporation H1 2020 Performance – Africa Oil Corporation Investor Presentation
Africa Oil Corporation had 1Q 2020 adjusted net income of $77.7 million below non cash impairments and $91.6 billion for the 2Q. The company's production has remained strong and its capital investments have been quite minimal. The company's POGBV investment has continued to pay dividends and it recently paid out another $25 million dividend.
It's also worth noting that POGBV has hedged the majority of its production, meaning its cash flow has remained strong through the collapse. The company earned $112.5 million in dividends in 1H 2020 and has only $155.2 million of debt due in Jan. 2022. That means the company's EV/POGBV dividend alone is less than 3.
The company's BTG loan is its loan to finance the acquisition that it took out in January for $250 million. At the end of 2Q 2020 it was $194.6 million and the most recent dividend pay down took it to $176.9 million. However, these things mask the true strength of the company's cash flow numbers and its ability to reward shareholders.
Specifically, POGBV had nearly $2 billion in debt when it was acquired (nearly $1 billion attributable to Africa Oil Corporation) – in a sense that hidden debt was the majority of the company's enterprise value. Since then, the company's attributable POGBV portfolio has paid out $225 million in debt, decreased net debt to $662.6 million and net debt/EBITDA 0.9x.
With 17 of the next 20 cargoes over the next year hedged at an average price of $60/barrel, the company's cash flow over the next year can be expected to remain strong.
Nigeria Deepwater
Specifically, diving into Nigerian deepwater, Prime Oil and Gas is a peer-leading company from a number of exciting standpoints.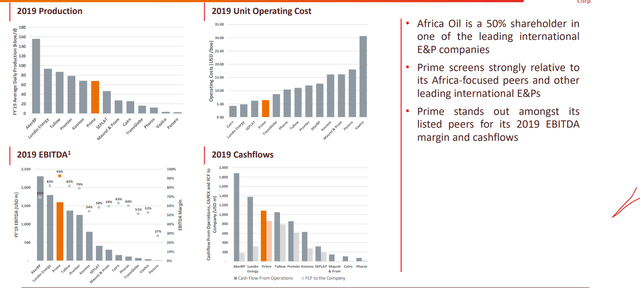 Prime Oil and Gas Assets – Africa Oil Corporation Investor Presentation
Prime Oil and Gas has 2019 production of more than 60 thousand barrels/day with unit operating costs of $6/barrel. The company's 2019 EBITDA was more than $1.5 billion, representing a 93% conversion ratio. Net 2019 cash flow for the company was more than $800 million (FCF post capital expenditures and operating expenses).
That $800 million is incredibly significant. It means $400 million/year. With the combined company net debt of more $817 million (counting attributable POGBV debt), that means in 2 years net debt can nearly completely be paid off. In the third year, the company will earn enough to buy back all of its outstanding shares.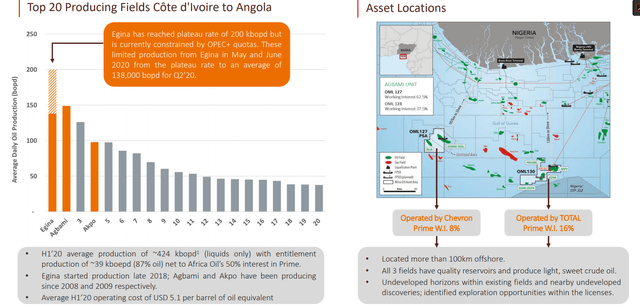 Africa Oil Corporation Projecting Fields – Africa Oil Corporation Investor Presentation
Africa Oil Corporation has, through Prime Oil and Gas, an 8% stake in OML 127 (Agbami Field) and a 16% stake in OML 130 (Egina/Akpo). The operating costs are a mere $5.1/barrel and the larger Egina field was recently started up. However, it is worth noting the Egina field is also constrained 33% below max production due to OPEC+ quotas.
The company's assets have significant production growth potential. The company is continuing to develop its impressive portfolio of assets and can tie back to other nearby assets from FPSOs. These opportunities can generate significant longer term cash flow for Africa Oil Corporation. These opportunities are worth paying close attention to.
Kenyan Assets
At the same time, Africa Oil Corporation is continuing to work on its Kenyan assets, recently ending a Force Majeure.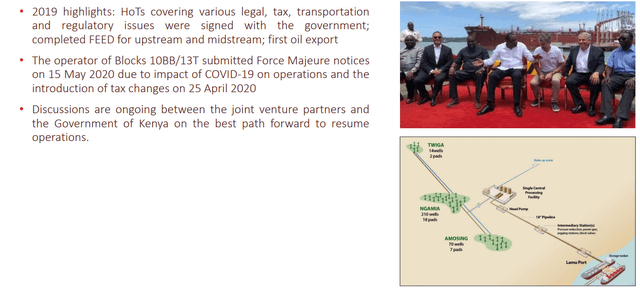 Africa Oil Corporation Kenyan Assets – Africa Oil Corporation Investor Presentation
Africa Oil Corporation is already producing from its Kenyan assets, although negotiations over pipelines have delayed ramp-ups over the assets. Still Kenya as a country remains very committed to the potential asset development and the Force Majeure recently being lifted means a continuation of production from these assets.
A recent deal was signed to develop the pipeline; however, work is still continuing on negotiating financing.
Investment Portfolio
Additionally Africa Oil Corporation has an impressive portfolio of international developments with a number of catalysts it's continuing to focus on.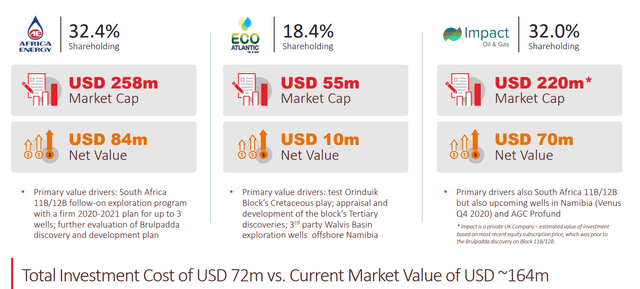 Africa Oil Corporation Investment Portfolio – Africa Oil Corporation Investor Presentation
Africa Oil Corporation has spent $72 million on its investments, growing to a current value of $164 million. That's despite a difficult time that some investments like Eco Atlantic & Gas have had recently. That's one investment that can appreciate significantly if its exploration plays plan out. That can help the company significantly financially.
Africa Energy, for example, has discovered a minimum field commercial size of 350 million barrels at $60/barrel. Next prospect sizes have the chance to expand the size of the discovery past a billion barrels. Even if one of these three subsidiary companies starts producing, it stands to benefit Africa Oil Corporation dramatically.
Risk
Africa Oil Corporation's risk, like all oil companies, continues to be a lack of successful developments or a collapse in oil prices. Fortunately, the company has hedged the most important aspects of its production, protecting its cash flow. As the company continues to execute towards the path of success, while risks remain, they're fairly insignificant to the company.
Conclusion
Africa Oil Corporation has an exciting and impressive profile of assets. The company's Nigerian assets continue to have an incredibly low breakeven as the company continues to focus on growing its production. The company has received multiple exciting dividends from these assets and will continue to generate strong cash flow.
The company has ended its Force Majeure on its Kenyan assets, and is progressing towards future development. The company's holding portfolio of assets is worth more than double what the company invested and has a number of catalysts. We can see the company being worth 2-3x what it is currently by YE 2022 because of these things.
Create a High Yield Energy Portfolio – 2 Week Free Trial!
The Energy Forum can help you generate high-yield income from a portfolio of quality energy companies. Worldwide energy demand is growing and you can be a part of this exciting trend.
Also read about our newly launched "Income Portfolio," a non-sector specific income portfolio.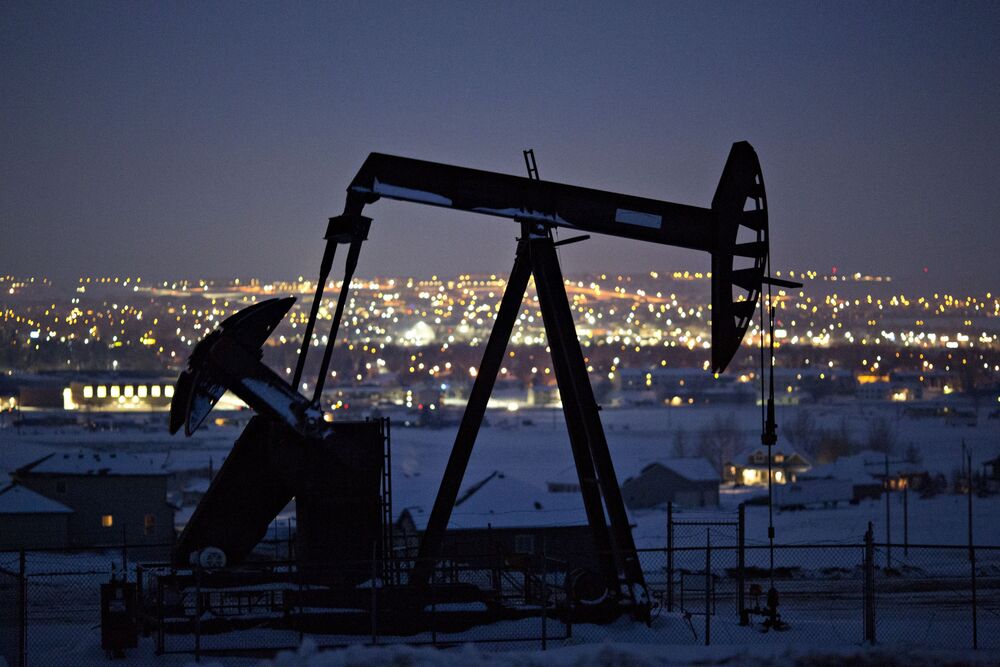 The Energy Forum provides:
Managed model portfolios to generate high-yield returns.
Deep-dive research reports about quality investment opportunities.
Macroeconomic market overviews.
Click for a 2-week free trial, with an unconditional money-back guarantee and 47% off of our popular annual plan! There's nothing to lose and everything to gain!
Disclosure: I am/we are long AOIFF. I wrote this article myself, and it expresses my own opinions. I am not receiving compensation for it (other than from Seeking Alpha). I have no business relationship with any company whose stock is mentioned in this article.