I have talked about eBay (EBAY) in a bullish manner since the stock broke out of its multi-year base pattern in early May. My initial article effort and argument for ownership is linked here. The company has undertaken a major business reorganization, with some financial engineering sprinkled into the mix since 2019. Specifically, a new CEO, selling parts of the business, and large share buybacks have been the recipe for success in the stock quote, doubling in price from its March low.
I have traded in and out of eBay three times for a profit the last four months, and opened another starter position in the $51 per share area on Friday. I am not optimistic on the overall U.S. stock market's near-term future going into the hotly contested November election. Plus, I am also expecting another ramp higher in coronavirus case spread into the fall, as schools reopen and cold weather keeps everyone indoors. However, eBay's value proposition is just too good to ignore. Could the price fall another 10-20% in a market crash scenario? Sure, but I think it is so cheap today, the stock will start to sharply outperform the S&P 500 and Nasdaq online retail competitors from this point forward.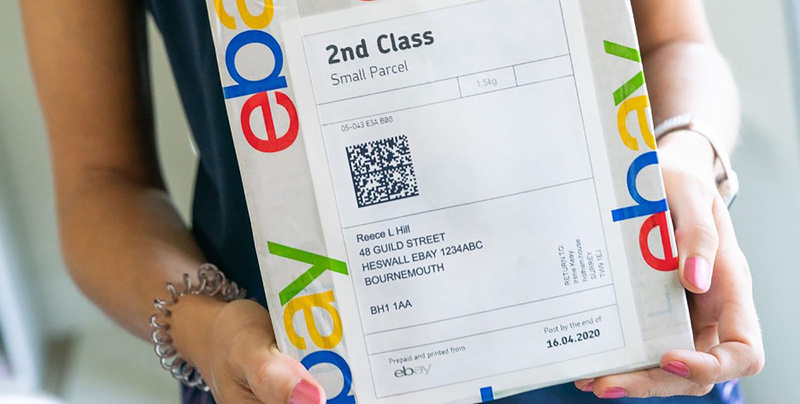 Image Source: Company Blog
Today the company's website is one of the top retail marketplaces for both used and new items. EBay is capturing 81% of gross sales volume (and its cut for listing fees) through the regular online marketing and transaction flow of "new" items with larger retail partners, individual users and small businesses. The company reported 182 million unique buyers during Q2 ended in June, a +5% sizable jump over Q1 and nearly +6% rise over Q2 2019. Without doubt, the coronavirus push to buy/sell goods from home has benefited eBay's business model.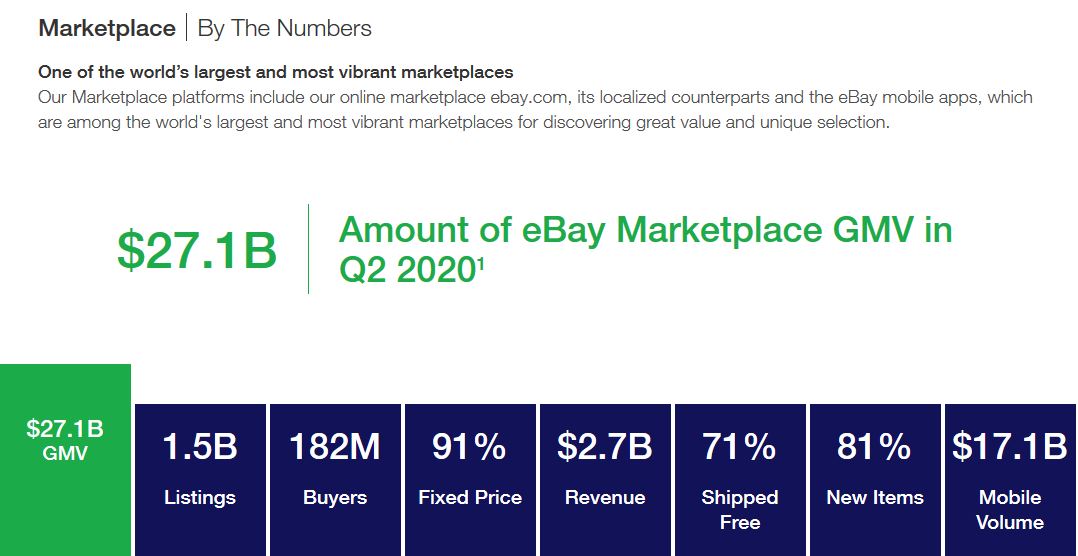 Image Source: Company Website
Years of stagnation in both revenues and profits had pulled the rug under investor optimism, until 2020. This year, the combination of dramatic cost cutting, assets sales, stock repurchases and an uptick in sales at the core ebay.com Marketplace segment from the coronavirus pandemic situation is causing a rethink of eBay's long-term business worth on Wall Street.
Believe it or not, eBay's bullish foundation for ownership is still not resonating with investors. Its stock price gain has been muted vs. peers. But as time passes, and earnings/sales continue to surprise on the upside, a larger period of outperformance against the S&P 500 index looks to be at hand. Below you can review the lagging performance in the stock vs. peers and competitors in the online retail space. The list includes Amazon (AMZN), Wayfair (W), Etsy (ETSY) and Best Buy (BBY). I am including Best Buy to compare the group to a hybrid online/physical store business model, where roughly 50% of 2020 sales have occurred online during the COVID-19 pandemic, and the other half was initiated at brick-and-mortar store locations.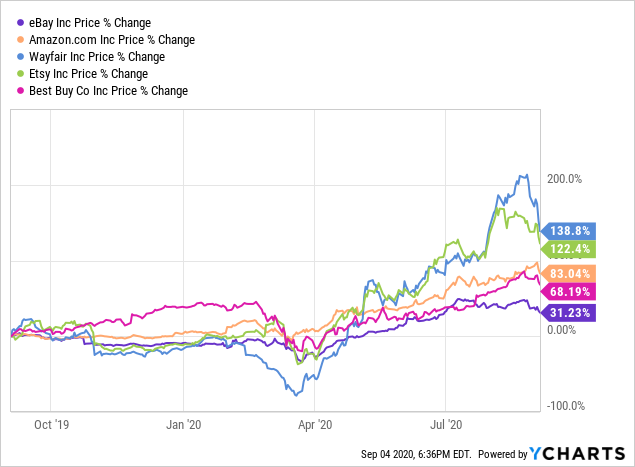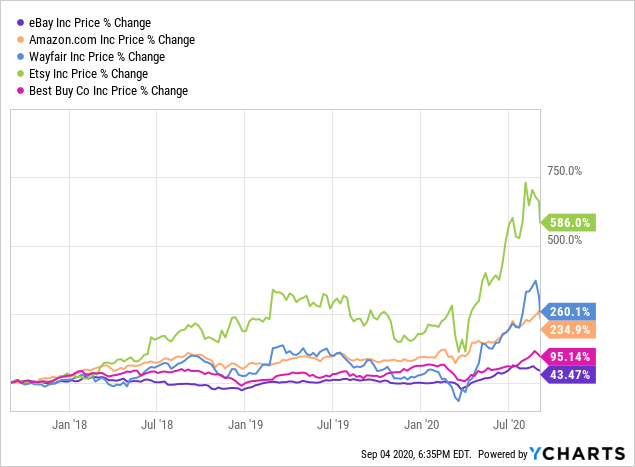 Despite a sharp reversal in business fortunes during 2020, eBay's stock advance has lagged this group of competitors and peers by a rather wide margin over 1-3 years. This article will take a quick look at the company's underlying improvement in already industry-leading returns and margins, and describe why the equity appears to be one of the few bargains available to investors during this summer's push to all-time record overvaluations in the U.S. stock market.
As part of a diversified long/short portfolio design, eBay is a Strong Buy from my perch. Here is a quick explanation why.
Refocus on High-Margin Core Operations
In February eBay completed the previously announced sale of its StubHub business to an affiliate of viagogo for $4 billion. The company used proceeds to buy back stock and repay debt. The company just announced in July its divestiture of the classified ad business to Norway's Adevinta (OTCPK:ADEVF) for $9.2B in cash and stock. The new Adevinta business will be the largest online classifieds company globally. EBay will receive $2.5B in cash and approximately 540M Adevinta shares, representing 44% ownership of the new company and a 33% voting stake. The company will be the biggest shareholder of Adevinta, and can still participate in the upside from its former division. Plus, eBay can find liquidity to either pay down debt or fund future Marketplace growth by selling shares of Adevinta over time.
While many investors were hoping for an all-cash deal for the Classifieds segment, and some disappointment in the transaction terms may have been the catalyst for a late summer stock price sell-off, the division's sale price is higher than expected and a sizable cash chunk is part of the deal. After this final major divestiture, eBay will be left with its original operating business. Activist hedge fund investors have been forecasting a renewed focus on the eBay platform would produce organic growth at improved margins, and an even higher Wall Street valuation of the remaining business. We will soon see if sharply better operating margins and returns into 2021 grab the attention of Wall Streeters.
Graphs of eBay's leading profit margin and cash flow returns in the quickly expanding online retail demographic are something of an eye-opener. The truly good news is 2021's operating returns will be even better than 2019-20, and sales are growing again from the coronavirus stay-at-home consumer push. You can review the 5-year graph of cash flow to sales below. Ebay's current data point of 31.5% on a trailing basis is turning higher with the asset reorganization and should retake the top spot in 2021 out of its peer group.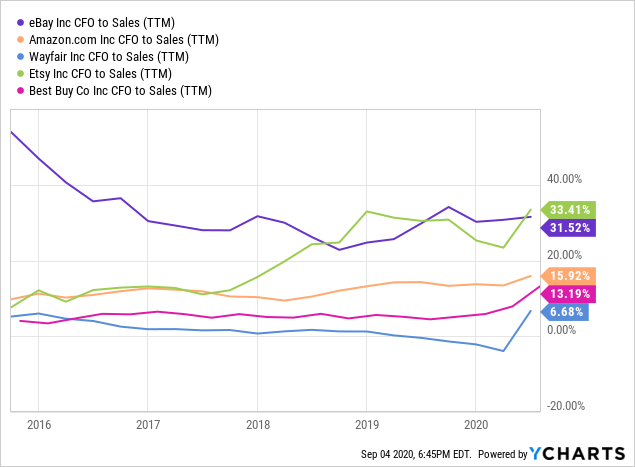 Net profit margin is hands down the best of the online retail group at 47% the past year from extraordinary gains during the asset sell-off phase. It's long-term 10-year average of ongoing operational profit margin around 25% is both sustainable, diversified in origination from consumers and businesses all over the world, and may even rise some as online retail demand pushes to new plateaus going forward.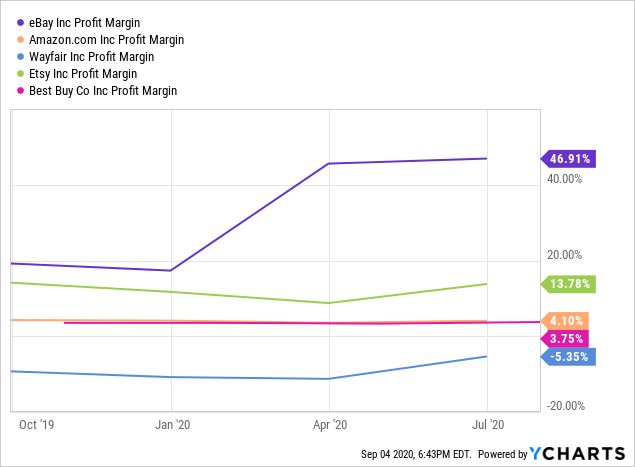 As a result of the restructuring, reported accounting assets are falling at the same time as profits and sales are on the upswing at the remaining Marketplace platform. Below you can review eBay's best-in-class return on assets in 2020, likely to improve yet again during 2021.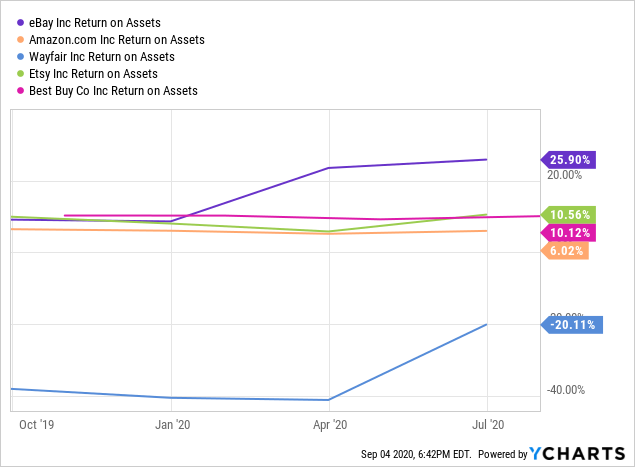 Net income per employee runs circles around other online retailers. Below you can contrast the company's $130,000 profit generation per worker during 2019-20, with Amazon's reported $16,000, and Best Buy's productivity a little over $12,000 per head.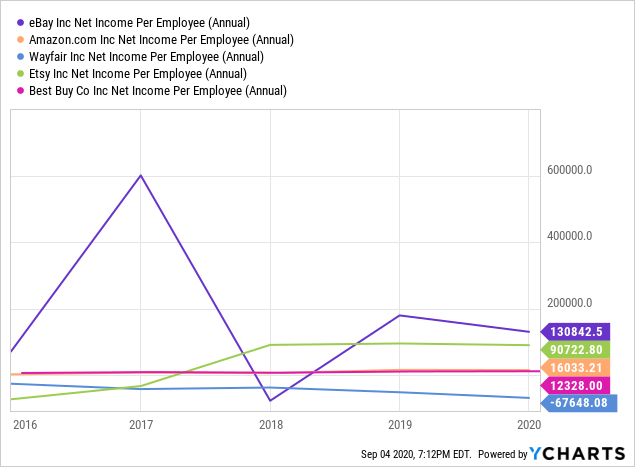 The June quarter's results came in much better than anticipated by Wall Street, and the company smartly raised guidance for the rest of 2020. If the COVID-19 shift in consumer buying online remains at elevated levels as the new normal, eBay is in an enviable position for its owners. And, this recession is causing more people to look for deals on their money and ways to liquidate assets to raise cash. If government stimulus payments disappear into 2021, many consumers and businesses will live off the sale of existing assets to pay bills and remain solvent. All told, eBay may be entering a win-win position for stakeholders the next several years.
Below are highlights from the company's Q2 investor presentation.
Image Source: Company Q2 Presentation
Finally, Wall Street analyst estimates are calling for a DOUBLE in EPS during a recessionary period between 2019 and early 2023! The number of businesses expected to see similar stellar growth in income per share is very small, and the number of those enterprises publicly-traded is an even smaller group. Overall, eBay's intermiediate-term business growth curve is a top 10% proposition in the S&P 500 index.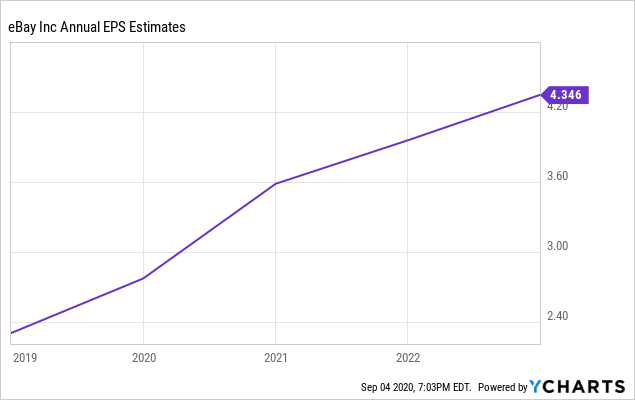 Valuation Too Low
Considering eBay's industry leading returns/margins, and the resumption of above-trend growth vs. the economy and its recent past, the stock is simply priced too low for reality. Given the huge run in prices and valuations in other big tech names from the coronavirus panic low in March as your sort group (think FAANNG stocks), eBay is a unique bargain in early September.
The easiest way to view the worth of a business is through an earnings yield chart. You can stack up the money a single owner could put in his/her pocket each year, as a function of the current market quote for ownership. Below is a graph of the peer group's earnings yield using their projected 12-month forward earnings estimates.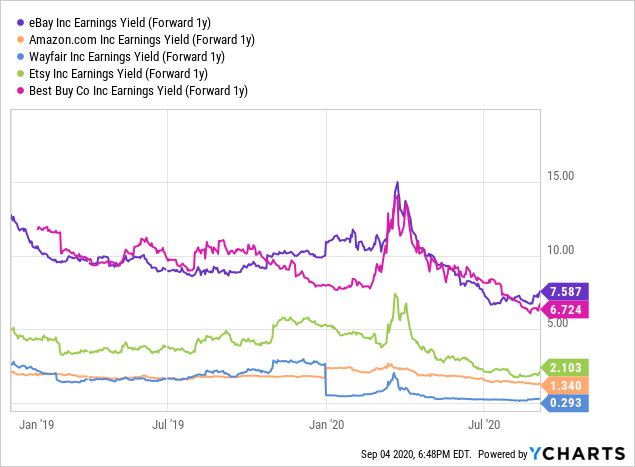 An investor at $52 a share could pocket 7.59% this year, and likely much more in 2-3 years, per annum. This number again runs circles around the online-only retail industry. The rest of the industry is at 2% or lower! And, Best Buy holds less value, lower margins and higher execution risk if coronavirus spread reappears during the autumn/winter months. If you are searching for an extremely cheap valuation in the U.S. blue-chip universe, eBay may be a great fit for your portfolio.
The S&P 500 earnings yield on a trailing basis is closer 3.5% presently, and on a 1-year forward basis still under 4%. Then compare 7.59% annually with alternative investment, corporate bond yields under 5% and risk-free Treasury yields under 2%! Using the earnings yield data point alone, I can argue eBay is worth serious consideration for your investment capital. Based on earnings yield, Wall Street is saying eBay's long-term worth is HALF of the average S&P 500 business yield for investors. That's complete nonsense – eBay is absolutely worth MORE than the typical U.S. business with revenues, earnings and cash flow per share rising sharply during this recession.
On price to trailing free cash flow, a favorite yardstick on Wall Street, eBay is an even bigger bargain today vs. its peer sector. The 13.8x ratio is far, far away from the online-only retail crowd in the 38-72x range, after the amazing technology-centered stock market run of 2020.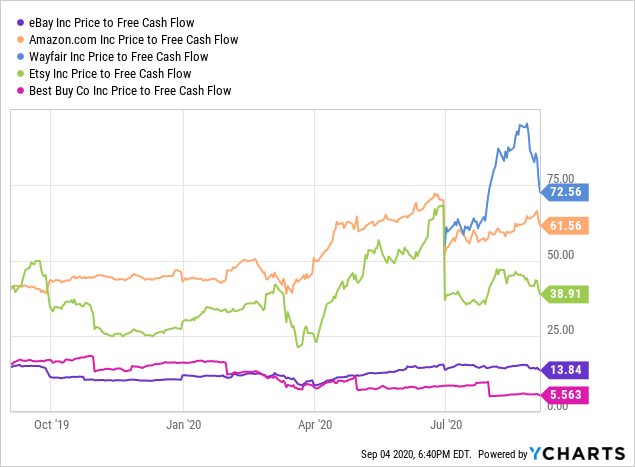 Price to sales is also below the industry average, mind you with competitors generating dramatically lower margins on sales. Under normal trading circumstances, businesses with super-high profit margins and returns on invested capital are typically valued at well ABOVE-NORMAL ratios of sales.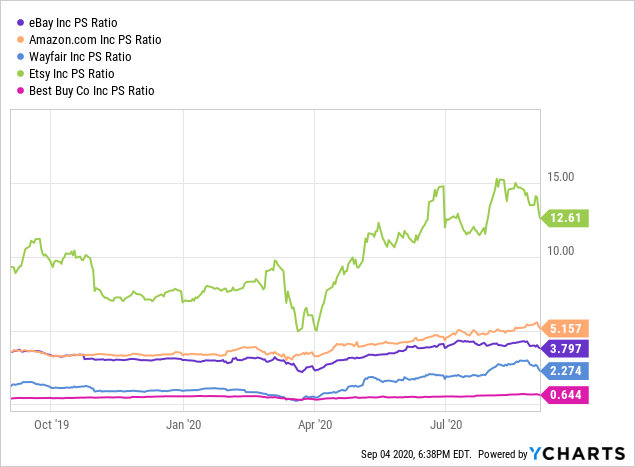 In addition, the company started paying a dividend last year for the first time. This move is a unique show of confidence in the company's long-term free cash generation prospects, as no other online retail firm has felt comfortable returning cash to shareholders. In fact, the opposite is true. Many online retailers continue to issue shares to grow scale, and "hopes" of future profitability.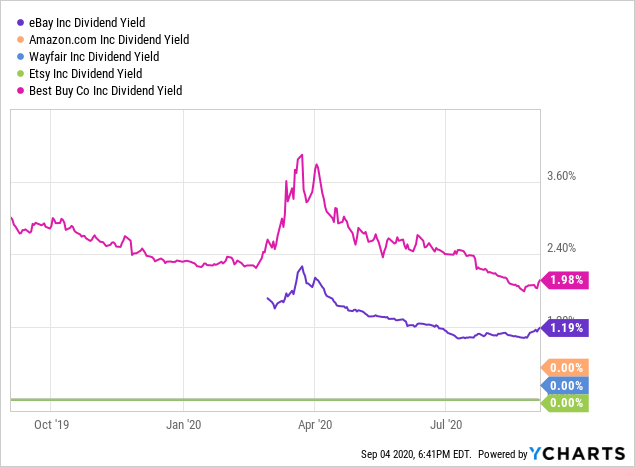 Finally, Wall Street's rule of thumb is to buy companies when Price to Earnings Growth [PEG] scores are under 1.0. Unfortunately, Wayfair still isn't profitable as an operating business, so it fails this calculation. And, Amazon is so darn expensive after rising straight up in price for years, little upside remains in the stock. Despite slightly higher projected growth rates in income vs. eBay the next three years, this main online retail competitor has already discounted a bright future that may or may not happen as expected. Best Buy has a low upfront valuation, but that matches up with slower expected expansion in operating earnings. In the end, only eBay and Etsy have ultra-low PEG valuations, pictured below. Both enterprises are expected to undergo greater than typical bumps to earnings for various reasons in 2020-21, restructuring gains being one reason for eBay. Nevertheless, the idea eBay is priced at a low level vs. income growth is accurate. Below is a comparison of trailing P/Es to forward 12-24 month growth rates in estimated EPS by YCharts.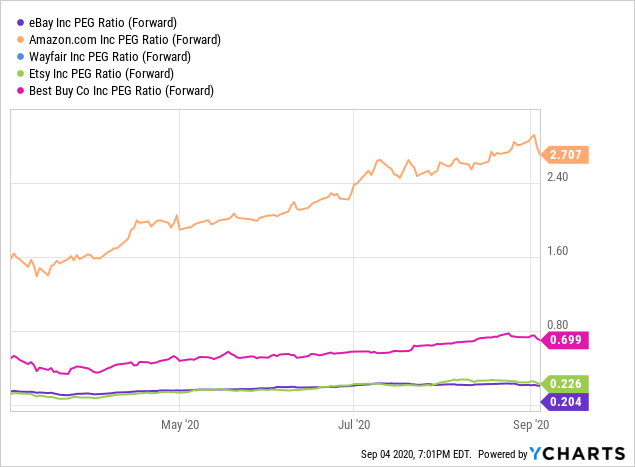 Technical Buying Continues
Yes, large share buybacks are part of the reason for eBay's strong performance the last 12 months. Having this wind at your back as an existing shareholder is definitely preferable to a company constantly issuing shares to keep the lights on. Overall, using nine different momentum and technical signposts for trading health, eBay scores quite well in my computer sort system. Today's technical checkup reveals a top 25% position in the S&P 500 for shorter-term health. For reference, in the middle of its early summer advance, it reached a top 5% score.
EBay's primary technical positives are pictured below. The Accumulation/Distribution Line [ADL], Negative Volume Index [NVI] and On Balance Volume [OBV] indicators continue to zig-zag higher in a very desirable pattern move. The purple circle marks the breakout to multi-year price highs and the timing of my first bullish article on the stock.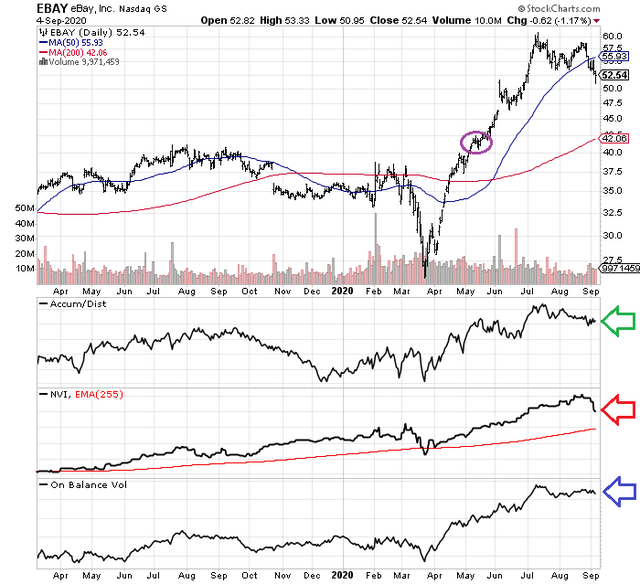 ADL measures intraday buying trends, marked with the green arrow. When the stock closes each day nearer the high trade vs. the low of the session, the line is rising. NVI looks only at falling volume days vs. the previous session, marked with the red arrow. eBay's NVI has been quite strong the last 12 months, an indication of material buying interest on slower news days. Lastly, OBV failed to confirm the March swoon in price as having long-term significance, holding above the April 2019 low values (likewise with the NVI). The overly-powerful OBV uptrend since the pandemic fear-trade bottom is also noteworthy, marked with the blue arrow.
Final Thoughts
EBay holds great value upfront for new investment. A well-placed business model during the pandemic, industry-leading operating margins and returns, and the resumption of above-average business growth each argue for investor research attention. The upside story in the stock is bascially a function of investors realizing the mispriced nature of the stock vs. ultra-bullish underlying business trends.
To illustrate the lack of investor/advsior focus on eBay's successful transition into a more profitable, more robust growth story, take a look at Seeking Alpha's comparison of slow-to-thaw author ratings and Wall Street analyst views of the business below. The eBay of 2021 is a far more productive animal than existed in 2018. While the SA Quant rating is super-constructive based on momentum trading, earnings revisions, and fundamental research data, "people" making the buy and sell decisions have not yet fully appreciated the eBay turn in operations. My read of the situation is plenty of buy capital could move into the stock soon and provide a foundation for future price advances into 2021-22.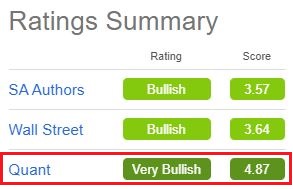 Starboard Value sold the majority of its position last quarter. This fund was one of the main instigators of the restructuring effort, an activist investor by trade. (In January 2019, Elliott Management pushed for the restructuring today almost completed, and still holds a considerable stake of $500 million invested.) Exactly why Starboard managers would sell out most of their shares in the $50s, with the stock about to double in price again, is above my pay grade. I think the fund will regret this decision as the coronavirus situation has permanently changed consumer purchasing behavior in favor of the online retail model. With eBay's leading used goods, collectible resale, and hard-to-find item retail position, the outlook for the brand's earnings stream is uniquely strong, if the U.S. economy finds it difficult to recover in coming years.
In my mind at least, eBay should be valued at a similar if not higher, premium growth multiple vs. competitors on sales, cash flow and profits. Given today's large discount on various financial metrics, enormous upside is inherent in the $52 share price. If the company continues to report solid earnings and sales growth beats, turbo-charged buying enthusiasm should propel the equity price significantly higher. Revenues per share grew +44% in Q2 vs. the previous year's results and diluted EPS jump +120%, as the restructuring hit its full stride. In comparison, results for the S&P 500 on sales and income DECLINED in the June quarter during peak pandemic economic shutdowns.
I believe a reasonable target of $75-100 a share in 18-24 months is in the cards, even given a prolonged global recession through 2021-22. Revenues are rising smartly and the appeal of its online retail selling proposition is hard to ignore during the rise of smartphone commerce (mobile gadget buy orders represented 65% of sales in Q2) and appearance of entrenched ship-to-home, consumer demand trends. My plan is to continue purchasing shares if the price slides under $50 in another general U.S. stock market wave of selling.
In a relative sense to the overall stock market's gyrations this year, eBay's buy point today may be just as bullish as the March panic lows. I don't think prices around (or under) $50 will persist very long. This investment idea checks off most every box for the correct risk/reward timing of a buy. Growth at a Reasonable Price [GARP] calculations, PEG ideas, relative valuations, leading margins and technologies, low upfront cost vs. earnings/cash flows, positive technical momentum, a contrarian slant (unloved security), and rising demographic trends all point to a nice stock quote increase sooner or later.
The biggest risk to the purchase is a macro economic event or stock market crash that lowers the pricing of all U.S. equities. While the odds of such an event are quite high the next six months, I believe eBay is in a great position to survive a double-dip recession or market scare, then bounce back quickly.
P.S. The Adevinta stake is already worth $3 billion more than when the Classifieds deal was announced seven weeks ago, approaching $10 billion in worth vs. eBay's entire market capitalization around $36 billion at $52 a share. After this deal is completed, eBay's falling stock price in August-September may look like an even greater steal for investors, in retrospect.
Thanks for reading. Please consider this article a first step in your due diligence process. Consulting with a registered and experienced investment advisor is suggested before making any trade.
Want to read more? Click the "Follow" button at the top of this article to receive future author posts.
Disclosure: I am/we are long EBAY. I wrote this article myself, and it expresses my own opinions. I am not receiving compensation for it (other than from Seeking Alpha). I have no business relationship with any company whose stock is mentioned in this article.
Additional disclosure: This writing is for informational purposes only. All opinions expressed herein are not investment recommendations, and are not meant to be relied upon in investment decisions. The author is not acting in an investment advisor capacity and is not a registered investment advisor. The author recommends investors consult a qualified investment advisor before making any trade. This article is not an investment research report, but an opinion written at a point in time. The author's opinions expressed herein address only a small cross-section of data related to an investment in securities mentioned. Any analysis presented is based on incomplete information, and is limited in scope and accuracy. The information and data in this article are obtained from sources believed to be reliable, but their accuracy and completeness are not guaranteed. Any and all opinions, estimates, and conclusions are based on the author's best judgment at the time of publication, and are subject to change without notice. Past performance is no guarantee of future returns.