PMI and ISM Manufacturing Indices
The improvement in Markit's Manufacturing Purchasing Managers' Index continued in August, rising from 50.9 to 53.6, as new order growth was fueled by exports. The rest of the world opened up before we did, and the sharp increase in exports reflects that fact. Orders outpaced production, which led to a rise in backlogs, as well as additional hiring. Yet the improvement was concentrated at larger firms, while smaller ones continued to struggle. This is consistent with the tightening of credit we are seeing in the private sector, while larger public firms have much easier access to capital markets.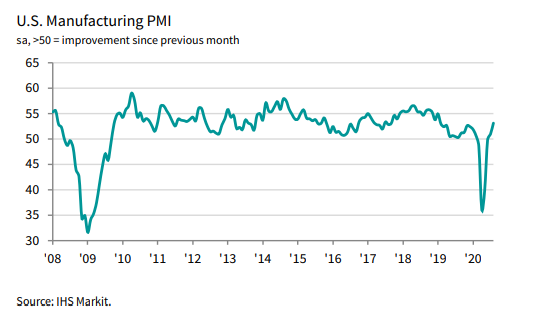 The ISM Manufacturing Index rose from 54.2% in July to 56.0% in August, confirming the strength we saw in the Markit survey. New orders and production both strengthened, prices jumped substantially, and inventories contracted. The weak spot was in employment, which remains the only sub-index still below 50.0. It is important to remember when looking at the chart below that the level of the index is not necessarily comparable to equal levels in prior years, because in this survey, company executives are asked how business is performing relative to the prior month, but not by how much. The economy is still far weaker than it was pre-pandemic.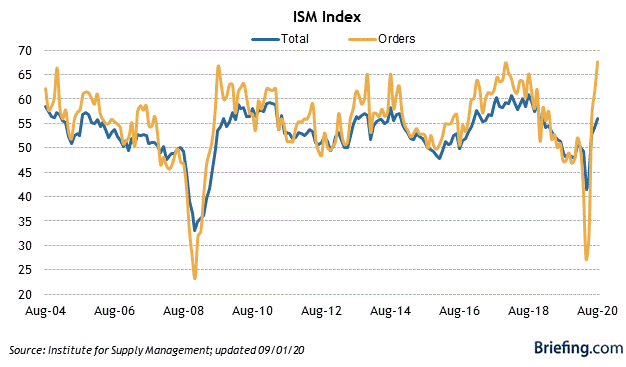 PMI and ISM Services Indices
Markit's Services Purchasing Managers' Index showed significant improvement, rising from 50.0 in July to 55.0 in August, clearly indicating expansion. The catalyst was strength in new orders for service firms, which led to an increase in employment. Input costs also continued to rise sharply, due to the expense of PPE, some of which was passed on to customers. One caveat is that the strength in new business came from financial, business service and tech firms. Those in more consumer-facing industries are still struggling.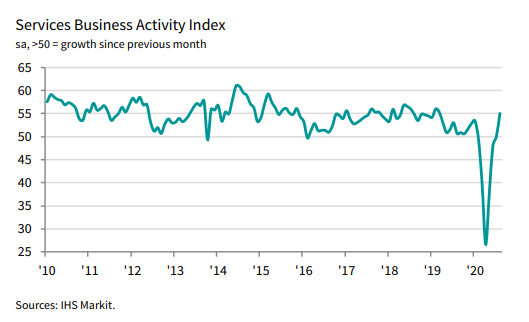 The ISM Services Index edged lower in August to 56.9% from 58.1% in July. The Production Index slowed, while prices paid rose significantly. Employment improved, but remains in contraction. This still reveals a service economy that is much weaker than it was pre-pandemic.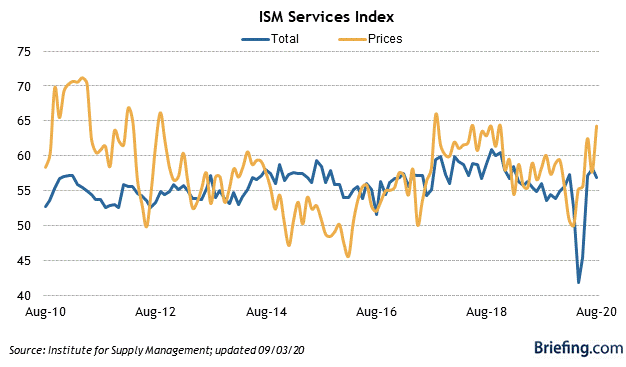 Unemployment Claims
The labor market is losing momentum. Initial claims fell last week, but the decline was due entirely to a change in the way the Labor Department calculates seasonally adjusted data. Unadjusted claims rose modestly last week, and when we include applications filed under the federal Pandemic Unemployment Assistance program, which soared 152,000 to 759,000, the total number of unadjusted initial claims climbed for a third week in a row to 1.59 million.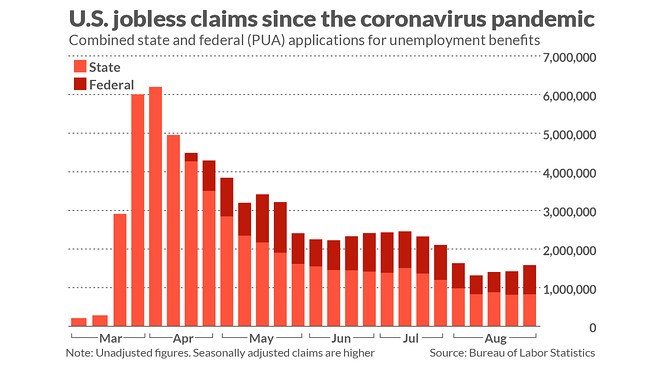 Source: MarketWatch
Continuing claims through all state and federal programs increased by more than two million to 29.2 million through the week ending August 22. More recently, high profile companies like MGM Resorts (MGM), American Airlines (AAL) and United (UAL) have announced new rounds of layoffs. This labor market deterioration comes as no surprise following the end of the various fiscal stimulus programs that kept the consumer afloat through the summer months.
July Jobs Report
The Bureau of Labor Statistics (BLS) estimated that the economy added 1.37 million jobs in August with 344,000 of those being government jobs, largely due to the addition of 238,000 temporary census workers. Estimates in the prior two job reports were revised downward to show 300,000 fewer jobs.
The unemployment rate fell from 10.2% to 8.4%, which is well below the high of 14.7% four months ago, but we need to keep this number in perspective. The BLS acknowledged that many surveyed are still being inaccurately classified as absent from work rather than unemployed. An accurate count would have the unemployment rate closer to 9%. Also, most of the jobs added were low paying ones in the restaurant and retail industries. More than half of the 200,000 white-collar jobs added were temporary hires.
It is important to remember that this report is a survey, whereas the weekly unemployment claims number is hard data. While the monthly jobs reports show that the economy has recovered approximately half of the 22 million jobs lost since March, the reality is that there are closer to 29 million unemployed workers, based on the number receiving some form of unemployment assistance.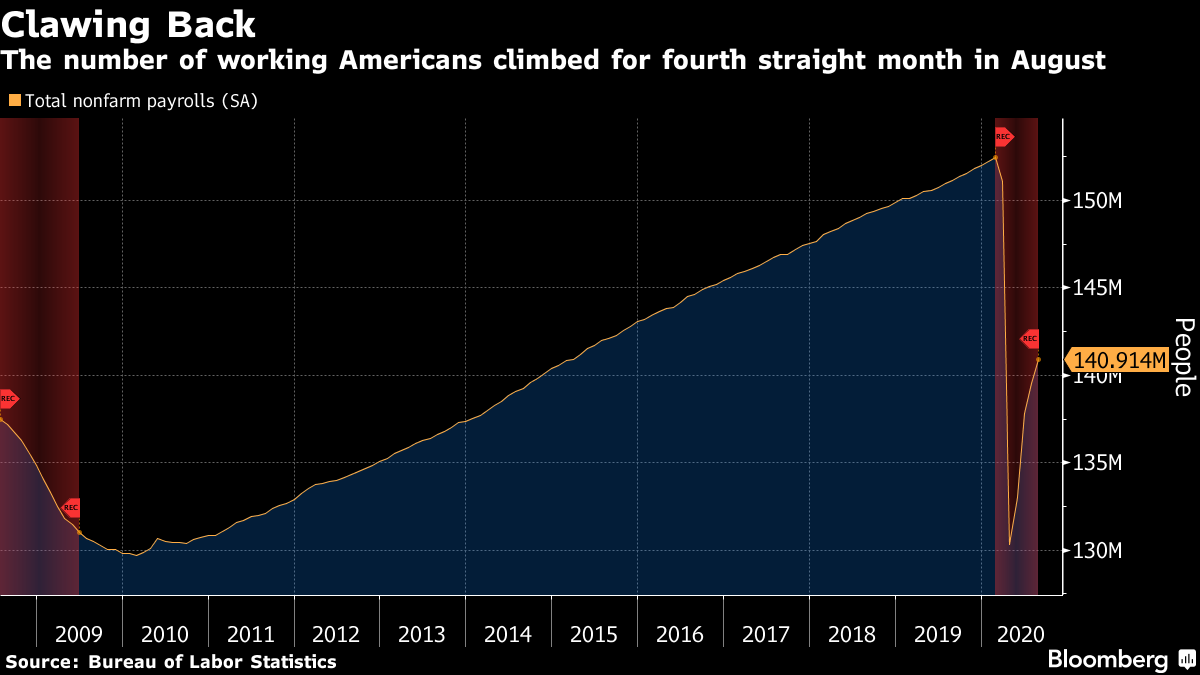 Additionally, the number of permanent job losses continues to rise, increasing by more than half a million in the August report to 3.41 million. There have also been numerous high-profile companies announcing significant layoffs in recent weeks. Further improvement will be dependent on the path of the pandemic and the next steps taken by Congress to address future fiscal stimulus.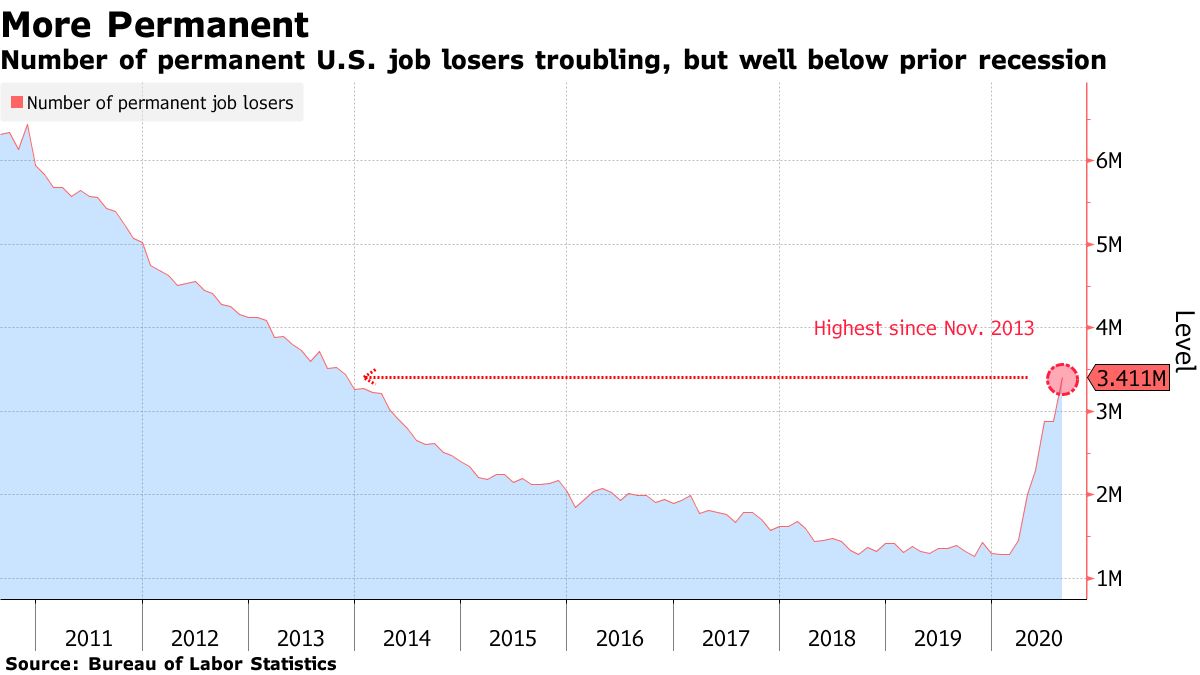 Source: Bloomberg
Conclusion
The most dangerous aspect of the stunning stock market rally over the past five months is that it gives the appearance that the economy is on sound footing in terms of its recovery. Perhaps that is why Congress is in no rush to replace the fiscal stimulus package that ended last month with a new one, as it waits to see how the economy performs. The stock market is sending a false sense of success. Waiting has been a big mistake, because it runs the risk the economy falls back into recession in the fourth quarter.
We are likely to see declines in personal income and consumption in the months of August and September, following the end of the enhanced unemployment benefits for some 27 million Americans in July. It will become increasingly difficult for Congress to address the fiscal shortfall, as the election approaches in November. The decline in income and consumption will lead to additional job losses, further slowing the progress we have seen in the labor market. That will weigh on the rate of economic growth, as well as corporate revenues and profits, in the final quarter of the year. A risk of a double-dip recession looms large.
The chances that we have a vaccine for the coronavirus, which has been proven to be safe and effective by the end of the year, is slim to none. There isn't enough time. If one is available before the end of the year, it won't be available to everyone, nor will many assume the risks in taking it. This will be a 2021 event at best, and there are no guarantees we will have one at all. If and when we do, it will be a catalyst to ignite the rate of economic growth and move us further down the path to recovery.
Lots of services offer investment ideas, but few offer a comprehensive top-down investment strategy that helps you tactically shift your asset allocation between offense and defense. That is how The Portfolio Architect compliments other services that focus on the bottom-ups security analysis of REITs, CEFs, ETFs, dividend-paying stocks and other securities.  
The Portfolio Architect was defensively positioned at the beginning of this year in anticipation of the bear market that followed, but were you? If not, consider a two-week free trial to see how it may help you be better positioned for the next major turning point in the markets. 
Disclosure: I/we have no positions in any stocks mentioned, and no plans to initiate any positions within the next 72 hours. I wrote this article myself, and it expresses my own opinions. I am not receiving compensation for it (other than from Seeking Alpha). I have no business relationship with any company whose stock is mentioned in this article.
Additional disclosure: Lawrence Fuller is the Managing Director of Fuller Asset Management, a Registered Investment Adviser. This post is for informational purposes only. There are risks involved with investing including loss of principal. Lawrence Fuller makes no explicit or implicit guarantee with respect to performance or the outcome of any investment or projections made by him or Fuller Asset Management. There is no guarantee that the goals of the strategies discussed by will be met. Information or opinions expressed may change without notice, and should not be considered recommendations to buy or sell any particular security.