Insiders might sell their shares for any number of reasons, but they buy them for only one: they think the price will rise. -Peter Lynch
Investment Thesis
I love it when I see insiders buy their own company's stock, especially when I also own a partial stake in that company.
Not only does it increase the alignment of interests between management/directors and shareholders, it also signals that at least some insiders believe the stock is undervalued. After all, insiders are almost always rewarded with company stock as part of their compensation. It has become a significant portion of executive compensation packages over the years. Sure, sometimes this stock is restricted (requires the fulfillment of certain conditions before it can be transferred), and sometimes insiders are granted options to purchase the stock below market price. But the point is that insiders usually have other means of acquiring stock; they don't need to plunk their own money down to buy shares.
That's what makes it meaningful when they do buy shares on the open market. In fact, as I've written about previously, academic studies have demonstrated the strong tendency for stocks to outperform after insider buying. In my July 2nd article highlighting several instances of big insider buying, I explain:
Buying when insiders do tend to outperform the market by 6-10% per year, and most of this excess return accrues in the first few weeks and months after the insider makes the purchase.
Here's how the six stocks highlighted in my April 3rd article on insider buys have performed since that date: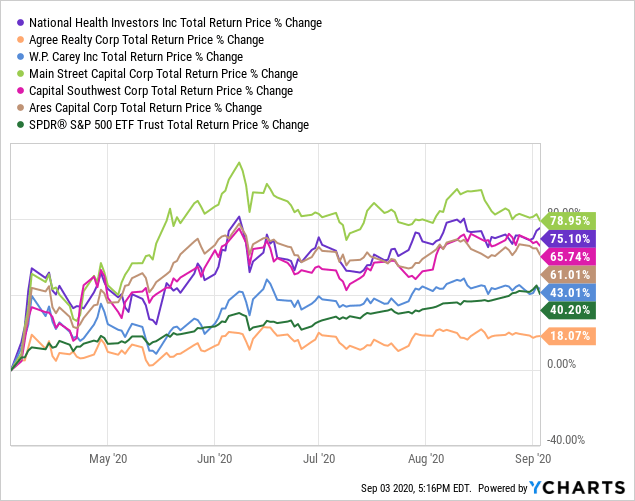 As you can see, all but one (net lease REIT, Agree Realty Corp. (ADC)) have outperformed the S&P 500 (dark green line above) on a total return basis. And the primary reason why ADC has not outperformed, in my estimation, is because it already enjoyed a rich valuation before the March selloff, and it has returned to a relatively rich valuation since then.
With both high income and total return outperformance in mind, then, let's take a look at five more dividend stocks that have seen recent insider buying.
1. Physicians Realty (DOC)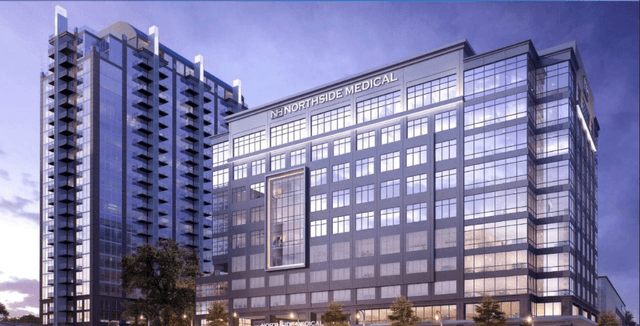 Source: DOC Q2 Presentation
Physicians Realty is a real estate investment trust that owns large medical office buildings ("MOBs") across the United States. Its portfolio consists of 268 properties averaging a little over 53,000 square feet in size, 93% of which are MOBs (the remainder mostly hospitals) and 60% of which are leased to investment-grade credit tenants.
Also, 89% of its gross leasable space is occupied by health systems, rather than private practices, which increases the reliability of rent. One more point to highlight about the portfolio is that only 21% of leases expire through 2024, compared to 48% for MOB REIT peer Healthcare Trust of America (HTA) and 67% for Healthcare Realty Trust (HR).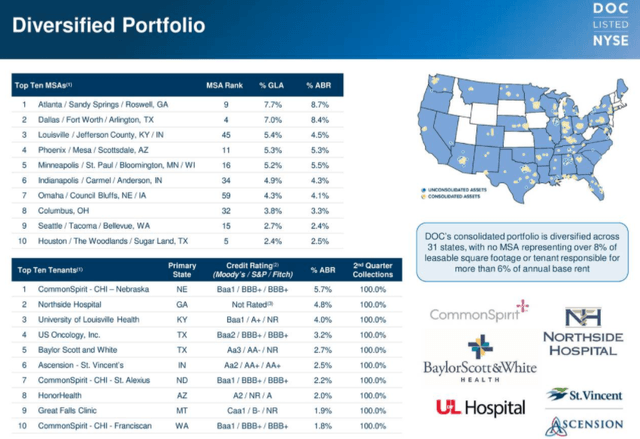 Source: DOC Q2 Presentation
The quality of DOC's portfolio is exemplified by its strong rent collections. Despite investor nervousness about patients putting off unnecessary visits to doctors' offices during the pandemic, long leases and high-quality tenants helped DOC bring in 98% of Q2 contractual rent and 100% from each of its top ten tenants.
Management believes that as healthcare services become more efficient, an ever larger portion of care will transition away from the more expensive hospital campuses to the relatively less expensive off-campus MOB setting. That should boost demand for its space in the coming decades as the US population ages.
Debt is modest at 4.6x net debt to EBITDA, and the company has very little by way of debt maturities until 2023.
A director recently purchased 2,800 shares for $18.13 apiece. Although, admittedly, other insiders have also sold chunks of shares lately, but see the Peter Lynch quote at the beginning of the article for a reminder on the difference of signals between insider buying and selling.

Source: SEC Form 4
2. Avangrid Inc. (AGR)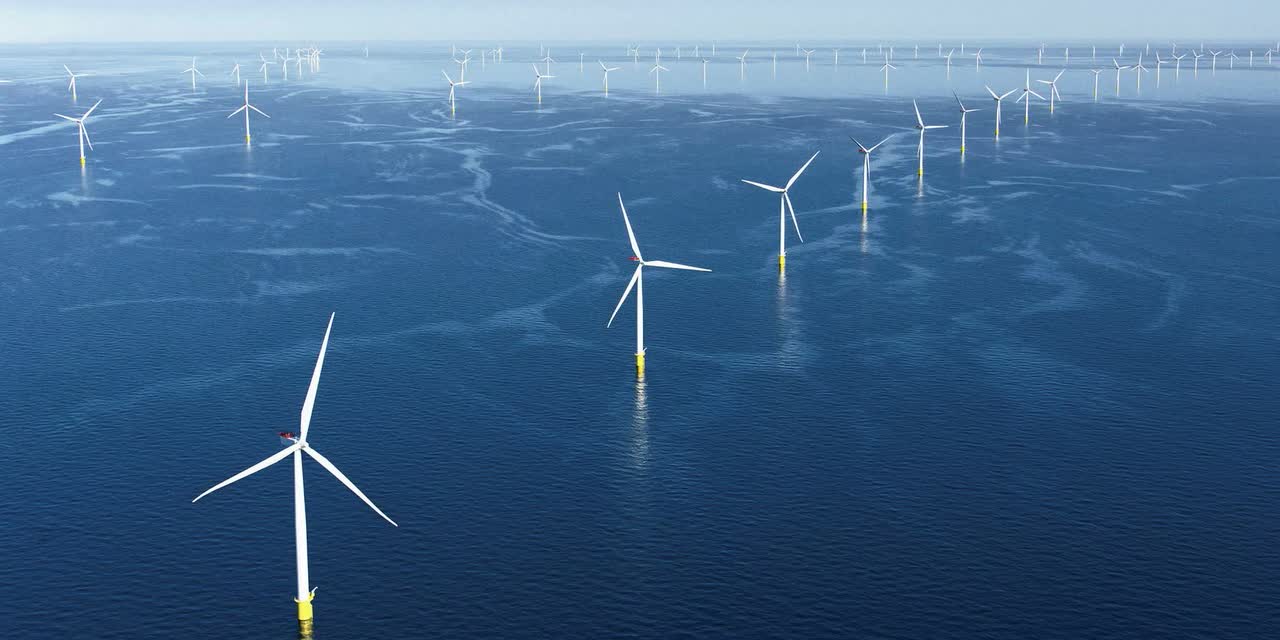 Avangrid is a Connecticut-based utility company that focuses primarily on renewable energy-producing assets and serves customers throughout New England. It also develops and operates renewables across the country, with a 6 gigawatt ("GW") portfolio of renewable power capacity. It specializes in offshore wind development. The company is also reportedly considering a sponsored yieldco spinoff of its stabilized renewable power assets, which could boost its growth prospects.
Almost all (98%) of the counterparties for its renewable energy projects are investment-grade rated, and COVID-19 has scarcely set back the timetable for its projects under development. The company has a huge growth pipeline – 18.9 GW-worth of projects, with ~1 GW of wind alone expected to go into service this year.
This year, Director Alan Solomont has made several open-market purchases of AGR stock, between $42 and $50 per share. The most recent purchase on September 2nd was for $48.07 per share.

Source: SEC Form 4
3. Southwest Gas Holdings (SWX)
Southwest Gas is a natural gas utility company serving residential and commercial customers in parts of Nevada, Arizona, and California. Being based in populous California and business-friendly Nevada and Arizona, SWX enjoys a rapidly expanding customer base (1.6% increase expected in 2020).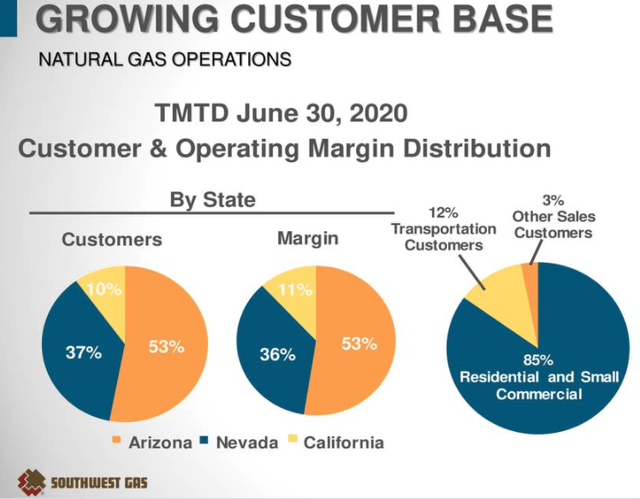 Source: SWX Q2 Presentation
SWX saw its net income rise 4.6% YoY in the trailing twelve months ending Q2, 2020, although EPS dropped from $3.82 to $3.77 due to share issuance. Over the next three years, SWX expects revenue to rise 5-8% per year. And over the next five years, it expects rate base growth to come in at 8.6% per year.
The company has been a faithful dividend grower, having raised its dividend every year since 2005 and upped it an average rate of 7.1% per year over the past five years. The target payout ratio is 55-65%.
The CEO, Paul Daily, has been buying incrementally this year, with the latest purchase at $62.29 per share.

Source: SEC Form 4
4. Invesco Ltd. (IVZ)
Invesco is an investment management company that historically has specialized in actively managed (mutual) funds but has been making big shifts toward lower-fee passive ETFs and smart-beta funds. Its stock price has languished in recent years as AUM outflows from its active funds have only partially been offset by inflows into its passive funds.
However, after a brutal pounding in the markets this Spring, IVZ's AUM has staged a comeback, rising from $1.119 trillion at the end of April to $1.195 trillion at the end of July.

What's more, the company now trades at a substantial discount to book value – almost 50%.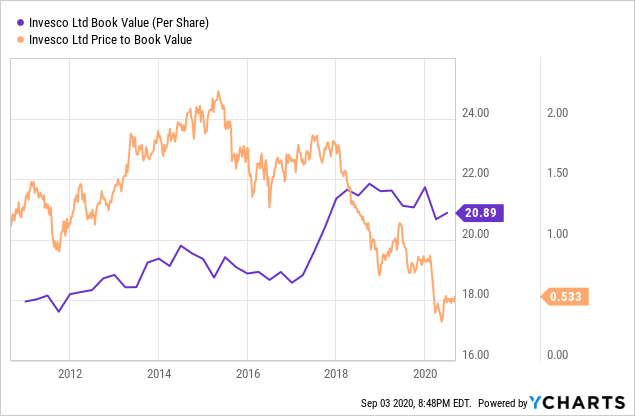 News that the CEO bought $3 million of shares for $10.19 each a few days ago made headlines, but he isn't the only one to have purchased recently. Director Sarah Beshar also picked up 9,500 shares at $10.54 apiece. This is certainly a substantial signal in management's confidence in IVZ's long-term prospects.

Source: SEC Form 4
5. B. Riley Financial (RILY)
B. Riley Financial was founded by Bryant Riley, who remains the company's chairman and co-CEO, as well as a large shareholder. The company is an independent investment bank, providing financial services, business advising, and wealth management. With a variety of financial services in its portfolio, RILY boasts the status of being the #1 bookrunner for 144A equity offerings, a top 5 bookrunner for U.S. small cap IPOs, and the #2 small-cap research provider.
RILY also advises merger & acquisition, restructuring, and liquidation deals, as well as providing valuation and appraisal services.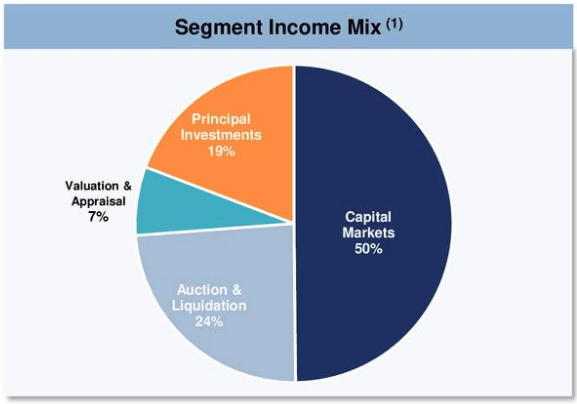 Source: RILY November 2019 Presentation
I really like that RILY has carved out a niche for itself in the retail auction and liquidation space. That is, it advises dying retailers as they go through the bankruptcy and liquidation process. And there has been no shortage of retail bankruptcies this year.
The company has advised some of the largest retailer bankruptcies and liquidated over $13 billion of assets since 2013.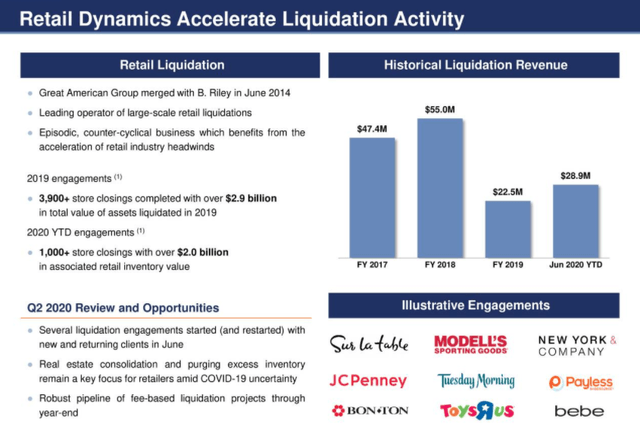 Source: RILY Q2 2020 Presentation
RILY also has a history of rewarding shareholders through regular dividends, special dividends, and share buybacks. Perhaps this is because management own so many shares themselves. Insiders own 24% of the company.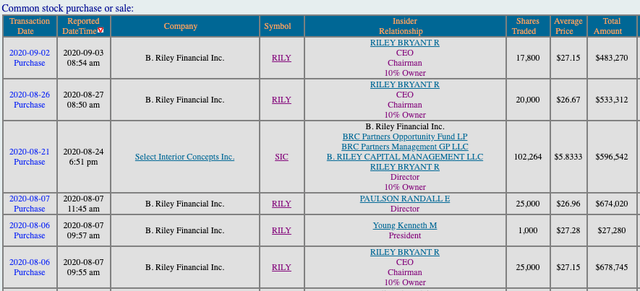 Source: SEC Form 4
Another attractive option is RILY's longest term baby bond – the B. Riley Financial 7.25% Senior Note (RILYG) maturing at the end of December 2027. Since the baby bond is trading under the par / redemption price of $25, the yield is 7.39%.
*** If you find this content valuable, please follow me by clicking the orange "Follow" button at the top of the page!
With Better Information, You Get Better Results…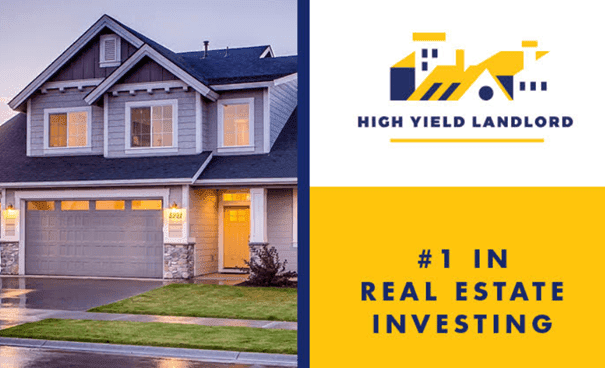 At High Yield Landlord, We spend thousands of hours and well over $50,000 per year researching real assets like REITs, infrastructure, pipelines, and renewable energy for the most profitable investment opportunities and share the results with you at a tiny fraction of the cost.
Take advantage of the 2-week free trial and join our community of 2000+ "landlords" before we hike the price!

Disclosure: I am/we are long ADC, DOC, AGR, SWX, IVZ, RILY. I wrote this article myself, and it expresses my own opinions. I am not receiving compensation for it (other than from Seeking Alpha). I have no business relationship with any company whose stock is mentioned in this article.
Additional disclosure: I may initiate a long position in RILYG in the next 72 hours.