Last week, I wrote about screening the stocks in SCHD, the Schwab U.S. Dividend Equity ETF, reporting that though it is considered the best dividend ETF by many, I found the holdings far too concentrated in the stocks of a few seriously overvalued companies and too dependent on regional banks for its income.
Several readers who commented asked, understandably, what alternatives I might recommend. To answer that question, I came up with several solid dividend-paying stocks, some of which are very well-covered on this site and don't need my recommendation to bring them to your attention, but I also found three which seem to be far less visible to those seeking income, which I will discuss here. It is worth pointing out that none of these stocks tick all the boxes when it comes to the criteria I like to follow for buying a stock. But in each case, I felt that the stability of the company and its long-term prospects were such that I could live with its deviation from perfection. So, let's look at them now.
Snap-on Inc. (SNA): Premium Quality Product, Long Growth History, Solid Dividend
Snap-on Inc. is the smallest of the companies I came up with, with a market capitalization of $8.24 billion (according to Seeking Alpha's portfolio). It has been in business since 1920 selling what are widely considered to be some of the very highest-quality tools, primarily but not exclusively for those serving the auto repair industry. Snap-on's main business model depends on franchises it sells to individual entrepreneurs to whom the company sells a van stocked with tools, both of which it finances. These entrepreneurs then service local repair shops. I see this as a very stable business. Amazon (AMZN) is not going to be fixing your car anytime soon, and in a recession, where people are strapped for income, they will tend to hold on to their cars long after they are serviced by dealerships and turn to the smaller local shops, which are a strong market for Snap-on's equipment. I have heard the company's tools recommended by people in the business, who explain that though they are expensive, they hold up very well, have excellent guarantees and are worth the extra money, as the company's franchisees replace tools that do break or get damaged with no argument.
Snap-on has the best credit rating of any of the companies I found, with an S&P rating of A- and a relatively low 29% debt-to-cap rating. More importantly, though the company is reporting lower earnings this year, its history in previous recessions is that it bounces back fast and overall has a very strong record of share price growth. It has been paying a dividend for the last 11 years. Currently, that dividend is 2.86%, which falls into the sweet spot for me. It isn't high enough to signal problems within the company, but it isn't low enough to make me question why I should risk money on a stock paying little more than a CD. Between 2003 and 2009, SNA had several years in which it did not raise its dividend, but the company has not cut it ever over the last 20 years and it has risen steadily over the last 10 1/2 years.
Snap-on's franchise model may be a plus in the coming years if people with technical skills who are being laid off now do not get hired back into their old companies, as it offers what looks like an attractive path to self-employment. Its trucks have long been a feature of the landscape in neighborhoods where the people live who are their target market, so the company has high name recognition, and with its 100 years of history, I suspect that it will be here, still growing, for many years to come.
As you can see from the F.A.S.T. Graphs graph below, Snap-on's price oscillates around a P/E of 17.46, with shorter periods of undervaluation and longer periods of overvaluation. It is currently at value with the recession taken into account, but because I expect the company to continue its path of growth for years to come, I find this an acceptable point of entry.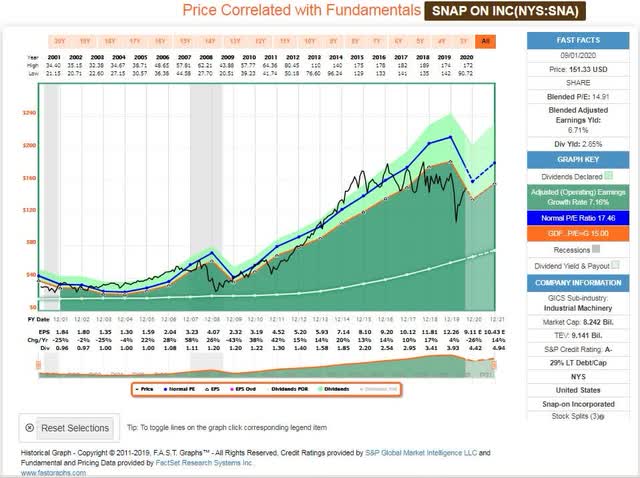 Kroger Co. (KR): People Gotta Eat, and This Company Keeps Growing
Kroger is a lot bigger and better-known company, at least in the 35 states where it maintains 2,757 superstores, many with gas stations. These states do not include New York, New Jersey, Pennsylvania, or any of the New England states, so it may not be as familiar in people living in those states, but for just about everyone else, it is the Big Dog of grocery superstores. The company has been pioneering online sales, too, and has seen its earnings increase during the shutdown, as so many people are being forced to do more cooking at home and are more financially stretched, making it less feasible to feed a family at fast food joints. There are predictions that a whole new generation may rediscover home cooking as a result of the months spent at home baking bread and coming up with affordable home cooked meals. If it does, grocery store sales of all kinds, especially Kroger, will continue to grow.
Kroger faces competition from Amazon, which is moving into the grocery space. But the questionable quality of much that people have been getting from Amazon's mail order business over the past few months and its dependence on pricey Whole Foods for its retail footprint probably won't make it an overwhelming challenge to Kroger. People cooking at home will always need something they forgot to buy, right away for tonight's dinner, and if the supermarket is just a few blocks away, that is where they will go to buy it (and the 6-10 other impulse items that accompany any trip to buy one thing at a supermarket). Whole Foods stores tend to be placed in upscale neighborhoods, whereas Krogers are more widely distributed.
Kroger's dividend just makes my cutoff at $2.03. However, it has the advantage of a solid history of annual dividend growth since 2007. The company's credit rating is probably its weakest point for me – it is BBB, like that of so much of the market, with a 62% long-term debt-to-capitalization ratio. Should interest rates shoot up, this could be a factor, but as a veteran of the intense inflation of the early 1980s, I remember very clearly that during inflationary periods, the price of groceries literally shot up from week to week – so that a can of soup would sometimes have 3 or 4 stickers superimposed on each other when you bought it. This flexible pricing allows grocery chains to deal with inflation a lot better than other kinds of companies with longer receivables. Kroger's current P/E at 13.8 is just a tad under its average historical P/E of 14.8. I started scaling into it a few months ago when it was even better priced, but I recently bought more, as the stock appears to be recovering from a long period of undervaluation and is still at what I'd consider fair value.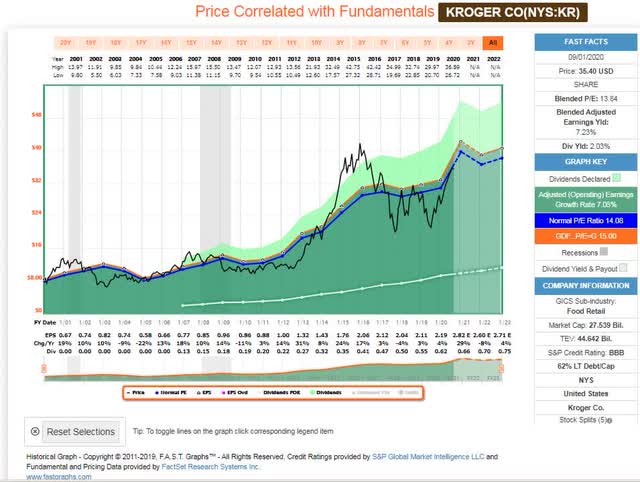 CVS Health Corp. (CVS): A Health Care Monster that Remains Shockingly Undervalued
My third pick is CVS, which has a finger in a wide range of retail and wholesale health-related businesses. It started out as a chain of drugstores, and currently has 9,900 retail drugstores which also sell food, small housewares, and cosmetics. In 2015, the company bought the pharmacies located within Target (TGT) stores. It offers 1,100 Minute Clinics, which are doc-in-the-boxes built into its retail locations which offer immediate appointments covered by many insurance plans. I became aware of how useful these are a few weeks ago when I needed an immediate appointment with a live person, and after calling in a 30-mile radius, was only able to be seen by a very helpful Nurse Practitioner at a local CVS Minute Clinic. My usual doctor's practice would have made me wait two days or go to the very expensive ER. With the expansion of telehealth and Zoom-like doctor appointments, which is predicted to outlast the pandemic, this easily accessed in-person presence may become even more valuable.
But CVS's recent acquisitions have made it far more than a retailer. In 2018, the company bought Aetna, the nation's third-largest health insurer, so it now offers health insurance plans, pharmacy benefit management, and mail order drugs. It is also a preferred pharmacy for the other pharmacy benefit managers that service Blue Cross Blue Shield Medicare Advantage plans in my region, which funnels most of those plans' customers to CVS retail pharmacies if they want immediate pick-up for their prescriptions, as other pharmacies are forced to charge $5 more per prescription.
CVS has a BBB credit rating and 51% long-term debt-to-capitalization, which is less than ideal, but the company has been using its money to grow its business, not to buy back shares to artificially inflate the earnings per share. The current price gives it a P/E of 8.8, which is far less than its historical average of 16.27. As you can see from the graph below, CVS is recovering from years of being overvalued. But if you look at its history, you can see the oscillation from over to under and then back to overvaluation. At some point, it will come back to value and probably overshoot it again, providing rewarding capital gains to stockholders.
Of course, when a company grows as dramatically as this one has, there are always questions as to whether it can pull off consolidating its new, disparate pieces and grow earnings in the way that it had hoped when it made the acquisition. But in CVS's favor, the businesses it has bought operate in the arena it has long been familiar with and make sense. If the company stayed undervalued for years but saw its P/E rise to only an anemic 12%, you would still make money on the share price. Meanwhile, as the price lagged the company's earnings, you would still be collecting a satisfying 3.32% dividend.
CVS may not be on many dividend investors' radar, because after 14 years of dividend growth starting in 2003, the company froze the dividend in 2018 as it embarked on the Aetna acquisition. Given the current dividend yield, I see this as prudent. A company that is using its money to grow the business does not need to pay the way-over-market dividends you see in stagnant companies that have reached the limits of their ability to expand.

Scale in if You Invest
It's always safe to assume that there are very few, if any, real bargains in a stock market where hundreds of thousands of investors are using sophisticated tools every day to unearth sound investments. If these stocks were more perfect, they would be seriously overvalued the way that all the dividend-paying AAA companies are right now. So, a certain amount of caution is advisable if you are thinking of investing in these stocks.
I would recommend that if you do, you buy modest amounts at set intervals; I purchase every three months. It is also a good idea to keep each individual stock holding below 2% of your total portfolio, at least until you have followed the company long enough to have a better sense for how its management operates and how investors view it.
Disclosure: I am/we are long SNA, KR, CVS. I wrote this article myself, and it expresses my own opinions. I am not receiving compensation for it (other than from Seeking Alpha). I have no business relationship with any company whose stock is mentioned in this article.