This article was coproduced with Dividend Sensei.
As you know, I spend most of my time in the REIT universe always on the prowl for the cheapest sleep well at night (SWANs) companies. However, I also spend time researching non REITs so that I can build my own retirement portfolio and help others achieve financial freedom.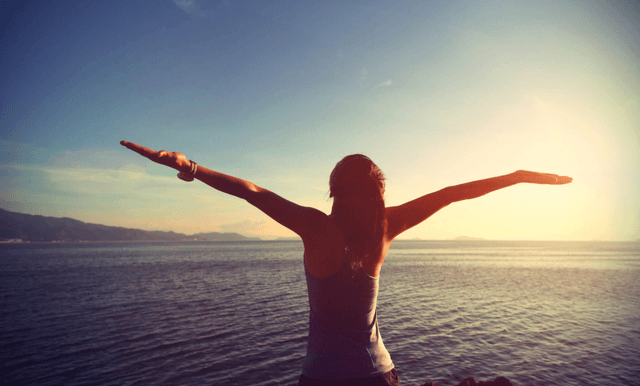 And speaking of "financial freedom" I decided that this week, in honor of Labor Day weekend, I would write on a "Super SWAN" that's one of my highest conviction non-REIT buys. Note that I have trimmed the article down by around 50%, but you can get the entire version at iREIT on Alpha, where we provide our safe Midstream/MLPs (updated weekly).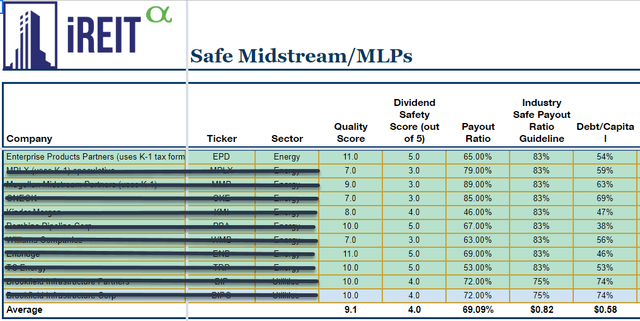 In a bubble-prone market – which may or may not have burst this past week – midstream member Enterprise Products Partners (EPD) is looking especially good these days for three specific reasons.
As of Thursday afternoon, when we originally published this article on iREIT on Alpha, it was trading at a 50% discount and its lowest valuation in nine years (minus the March lows).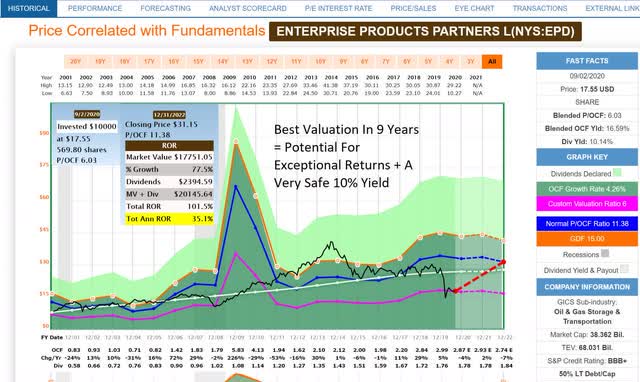 (Source: FAST Graphs, FactSet Research)
Back in 1999, EPD also was extremely undervalued, yielding 12.6% due to the market's obsession with tech stocks and hatred of value. Which should sound familiar.
Yet Enterprise went on to deliver sensational long-term total returns and steady income growth over the next 21 years. That, in turn, pushed the yield on cost to 174% by last year.
Enterprise Products Partners Since 1999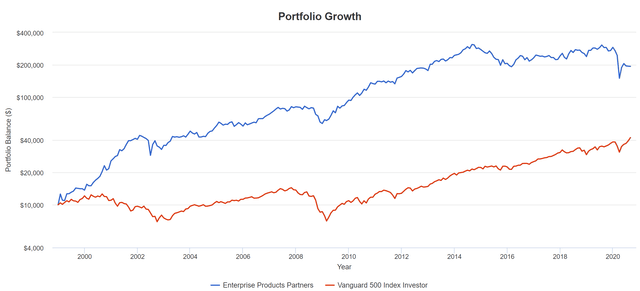 (Source: Portfolio Visualizer)
In that time frame, the once-unloved EPD more than doubled the market's returns.
Can it do something similar this time around?
We can't claim to predict the future – and you shouldn't trust anyone who says they can. But our analysis below does provide very promising data that makes us very willing to buy in and see where this goes.
Reason 1: The Safest 10% Yield On Wall Street
As usual, let's look at dividend safety first. Using historical dividend-cut data for the S&P 500, we're able to calibrate the five-point safety score below.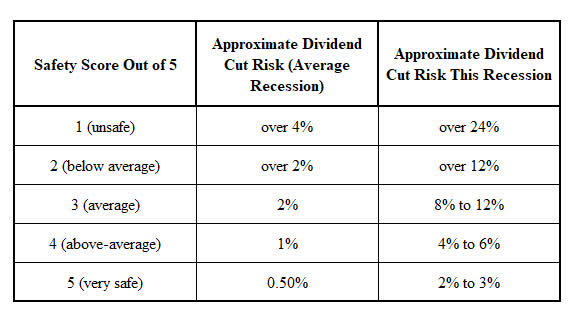 And we combine that with the following analytical list of tools, or at least the ones that easily relate to this particular company:
.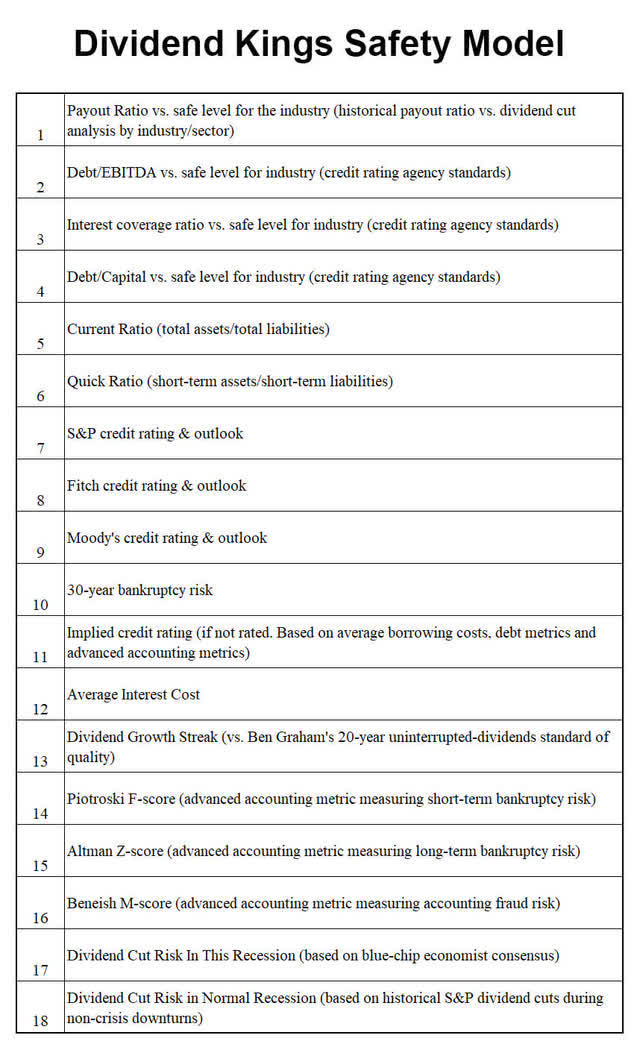 Here's how the results break down:
2020 consensus discounted cash flow payout ratio: 65% vs. 83% safe for self-funding midstreams
Debt/capital: 50% vs. 60% or less safe
Debt/EBITDA (earnings before interest, taxes, depreciation, and amortization): 3.4 vs. 5 or less safe
Interest coverage: 4.8 vs. 2.5+ safe
S&P credit rating: BBB+ stable outlook = 5% 30-year bankruptcy risk
Fitch credit rating: BBB+ stable outlook = 5% 30-year bankruptcy risk
Moody's credit rating: Baa1 (BBB+ equivalent) stable outlook = 5% 30-year bankruptcy risk
F-score: 6/9 vs. 4+ safe, 7+ very safe = low short-term bankruptcy risk
M-score: -3.0 vs. -2.22 or less safe = ultra-low accounting fraud risk
Dividend growth streak: 21 years
Dividend safety score: 5/5 very safe
Dividend-cut risk: 2%-3% in this recession, 0.5% in normal recession
Distribution coverage ratios have been marching higher over time. Though in Q2, they did take a tumble, with many midstreams slashing their payouts – sometimes by over 50%.
EPD isn't expected to resort to any such thing though. Management owns 32% of the stock and thus gets about $1.3 billion per year in tax-deferred income. So it's very focused on protecting its balance sheet and putting its capital toward only the wisest of plays.
As Morningstar notes:
"Current liquidity is $7.3 billion, made up of a $6 billion credit facility and $1.3 billion in cash on hand. And adjusted debt/EBITDA is about 3.4 times, which we consider prudent.

"Capital spending forecasts continued to decline for 2021 and 2022, falling to $3.3 billion from $4 billion in the prior quarter, as projects are deferred and canceled due to weak economics."
Even so, it sees the stock as being "deeply undervalued." And that's despite how:
"Enterprise has already seen some recovery in volumes across its operations. U.S. refining is operating at about 80% utilization, up from 68% in April, helping Enterprise's petrochemical operations. Natural gas processing and natural gas liquids are between 88% and 98% of March 2020 activity levels, while fractionation and NGL pipelines have already exceeded March lows. Crude-oil volume remains the weakest area, as crude pipeline volumes are about 20% below March levels."
Plus, it has a record $7.3 billion in liquidity available courtesy of the BBB+ stable credit rating – tied with Enbridge (ENB), Magellan (MMP), and TC Energy (TRP) as the strongest in the industry.
Debt/EBITDA came in at a very low 3.4 in Q2, and management plans to keep it at 3.5. Also worth noting is this: 88% of cash flow is under long-term contracts, and those with mostly large, financially strong, and investment-grade counterparties.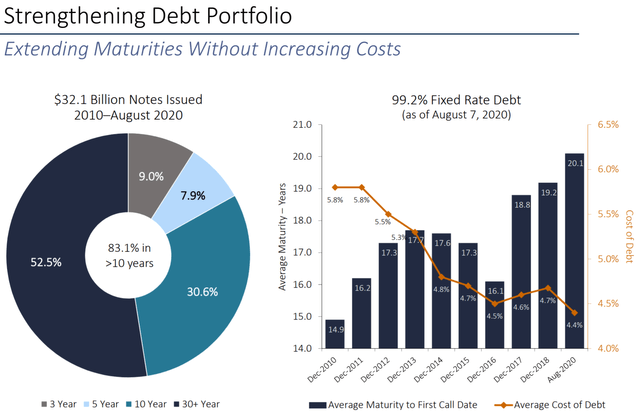 (Source: Investor presentation)
99.2% of the debt is long-term fixed-rate, with 53% being 30-year bonds. And the weighted maturity on its bonds is 20.1 years, locking in profitability on its projects for two decades.
Yet EPD has seen its borrowing costs fall to 4.4%, about 1/3 its returns on invested capital. ROIC has remained stable at 10%-13% over the past decade regardless of commodity prices.
This has always been a highly conservative MLP, whose management is dedicated to safe and effective uses of debt, as we discuss going forward.
Reason 2: The Best Management Team in the Industry
EPD's management team is hands down the best in the industry, as heralded by Morningstar:
"We ascribe an Exemplary stewardship rating to Enterprise's executives, who represent some of the best and brightest in the industry.

"We see them as chess masters operating in an environment where everyone else is playing checkers. Beyond the depth of management's experience in nearly every aspect of the energy and chemical industries, their consistent alignment with LP unitholders' interests over time substantially differentiates them from their midstream peers."
That's high praise from a ratings agency. Extremely high praise.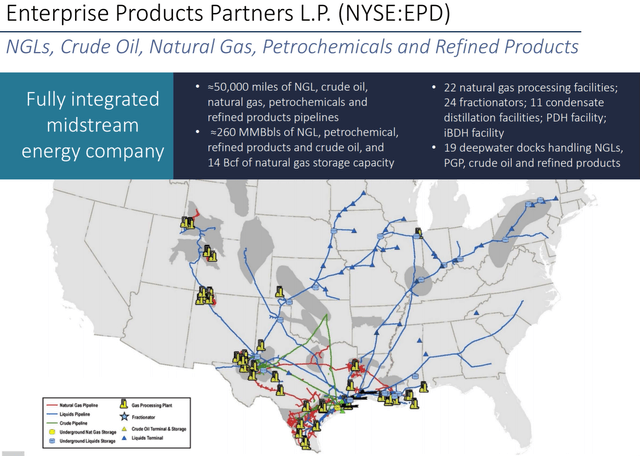 (Source: Investor presentation)
But that makes sense considering how management has spent more than 20 years assembling the second-largest midstream asset base in North America. And one that's almost always best in class from stage to stage of the midstream value chain.
On average when oil moves from the well to end-users, EPD is involved in six of the steps of that process, taking a fee every time. That helps protect its cash flow and distribution – even in the worst oil crash in human history.
Consider that Co-CEO Jim Teague said on the company'sQ2 conference call:
"Our profits were protected by a strong base of firm customer obligations and the natural edge we have and our storage and marketing activities, which enabled us to largely offset the weakness in our natural gas gathering and processing, and petrochemical businesses…

"Because we are so tightly integrated, we have a lot of tools at our disposal. When the market says store crude we can. When the market says store diesel, but give me LPG, we convert wells and do so. When the markets say store Y-grade, we store Y-grade.

"In addition, our people and our systems have a strong history of performing, no matter the type of crisis, and our balance sheet always has the dry powder to move quickly."
And management continues to reduce capex plans, adjusting to falling demand for new midstream infrastructure. It currently has $6.6 billion in growth projects under construction – which typically have close to 100% of capital contracted for before a shovel goes into the ground, and with contracts for 15-plus years.
These people know what they're doing.
Reason 3: The Best Valuation in Nine Years
Admittedly, the worst oil crash in human history has negatively impacted the company's short-term growth outlook. However, investor relations is saying that, in 2021, management plans to cut capex even more and could potentially start buying back stock and raising the distribution once more.
Currently, the 2020 DCF payout ratio consensus is 65%, which means analysts expect EPD to remain $1.4 billion in 2020 after paying distributions. That amounts to a 3.6% annual buyback potential, which equals 3.6% CAGR DCF/unit growth from buybacks alone
This organic growth potential – courtesy of repurchasing stock at a 50% discount – likely explains why the long-term growth consensus is far more bullish than many would expect:
FactSet consensus growth through 2022 (factoring in oil crash/recession): -2.8% CAGR
FactSet long-term growth consensus (looking beyond oil crash/recession): 2% CAGR
Ycharts long-term growth consensus (looking beyond oil crash/recession): 5%
Reuters' 5-year growth consensus (factoring in oil crash/recession): -3.7% CAGR
20-year rolling growth rates: -6.5% to 16.6% CAGR.
So estimates of EPD's long-term growth (looking beyond the worst oil crash in history and the worst recession in 75 years) are 2%-5% CAGR.
That's in-line with the growth rate during the last six years – during literally the worst bear market in EPD's history – which hasn't been justified by rising fundamentals.
So what kind of returns can you expect when a Super SWAN-quality stock is this mispriced?
EPD is currently so undervalued that even if analysts are dead wrong about its growth outlook and it never grows again, investors are looking at about 14% CAGR total return potential over the next five years.
Which is what the S&P 500 delivered over the last decade.
Moreover, the 10% very safe yield makes market-smashing returns in the future very, very likely.
Over the last 20 years, millions of investors risking real money have valued Enterprise Product Partners at 11-13 times cash flow. That's even during the worst bear market in master limited partnership history.
That objective fact is why we're saying that EPD is trading at approximately 50% below fair value. And it's also why we're saying that, if EPD grows at:
The low end of its expected range and trades at the low end of historical fair value, it could achieve 17% CAGR total returns over the next five years
At the high end of that range and returns to the upper end of its FV

,

it could achieve up to 25% CAGR total returns
At the 2% CAGR that FactSet expects and returns to mid-range historical fair value, it could achieve 19.2% CAGR total returns
As expected through 2022 and it returns to the historical 12 operating cash flow mid-range fair value (which has been the same since the Midstream bear market started) then 37.8% CAGR total returns are possible.
To further understand Enterprise Product Partners' value, let's consider the following figures: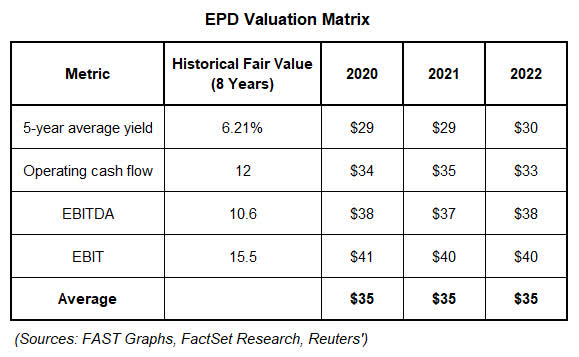 EPD's fair-value range for 2020 is $29 to $41, with a historical average of $35. That represents a reasonable estimate of what its fundamentals are worth for the next few years.
At 6x cash flow, EPD is literally trading below the average Shark Tank multiple of seven over the first 10 seasons.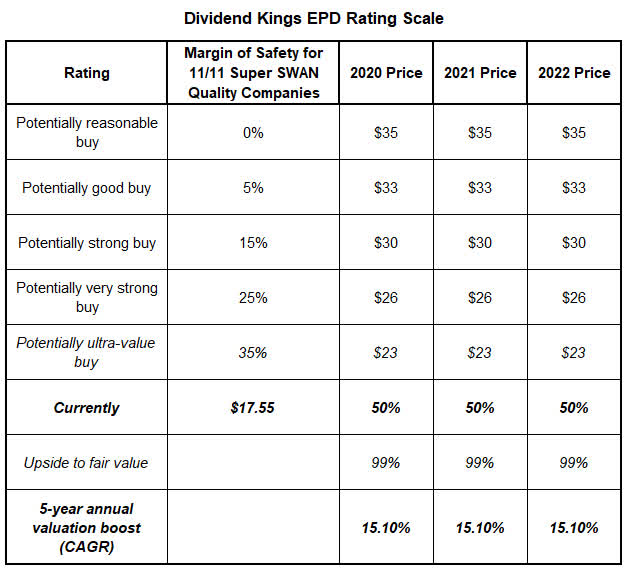 Merely returning to FV over the next five years would generate total returns that even tech-heavy Nasdaq can't hope to match. That's the power of a quality stock like EPR.
Risks to Consider
First of all, EPD is an MLP, which means it pays a K1. That automatically means some people simply won't want to own it, regardless of the very safe 10% or exceptional long-term return potential.
Turbotax handles K1s in about five minutes, for the record, but it's still something new for many people to deal with.
As far as fundamental risks are concerned, the biggest short-term risk is the pandemic. In short, customers could skip on contracts due to bankruptcy.
Already, ratings companies have had to take negative action in their official assessments of more than one gathering and procession company. And there could be more pain up ahead for exploration and production businesses.
Fortunately for EPD, its best-in-class credit rating and fortress balance sheet insulate it from the worst effects of this short-term risk. As S&P notes, "We believe investment-grade midstream companies are better positioned to deal with the severe supply and demand shocks rippling through the energy sector."
Naturally, that's not to say there's no risk involved whatsoever. There is. We're only pointing out that this is quite possibly America's safest midstream. Its diversified business model and low leverage perfectly positions it to survive this unprecedented crisis – and even come out stronger on the other side.
What about long-term risks other than the pandemic related ones? According to Morningstar:
"The single greatest risk to the Enterprise story is the failure of demand for natural gas liquids from the petrochemical industry in the Gulf of Mexico to materialize.

"In addition to making up over 50% of the partnership's gross operating margin today, Enterprise's NGL business will serve as its primary growth engine through the rest of the decade. We anticipate demand for ethane due to ethylene crackers under construction in the Gulf in the next few years.

"However, much of this demand is out of Enterprise's control. Any delays or reduced demand would have a materially negative effect on Enterprise's earnings. Even as much of the downside risk is mitigated by sufficiently contracted capacity, failure of NGL demand to materialize would cap Enterprise's earnings upside.

"Enterprise holds some commodity price risk from both volumes and equity ownership of natural gas, crude oil, and NGLs. The partnership addresses some of this risk through hedges and its diversified asset base.

"We maintain that management's efforts to vertically integrate insulates the business, proving natural hedges against much of the commodity price volatility. However, the main risk to Enterprise's marketing business is a narrowing of spreads.

"As with many yield-oriented investments, Enterprise is also exposed to interest-rate risk. If interest rates increase faster than expected, Enterprise units could underperform, as a steepening yield curve increases the expected distribution yield for competing assets."
Of course, the results of the upcoming elections could have an impact on EPD's operational abilities. But remember that this company has been around since 1968. That's 10 presidents and multiple party switches.
So we think it will survive somehow, one way or the other.
The most critical risk is what happens with future energy production, which is more a function of commodity prices than politics.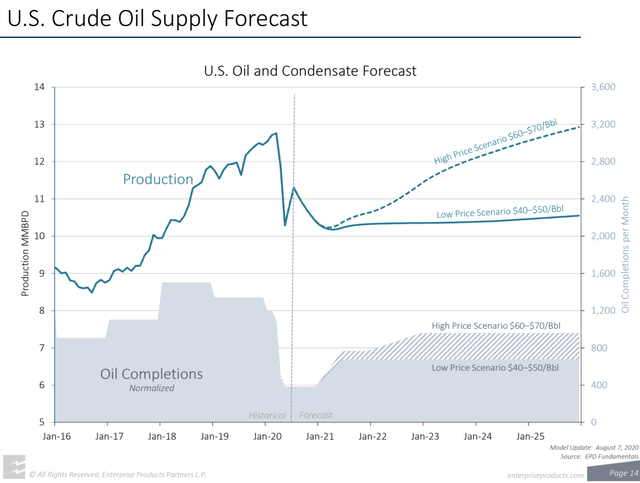 (Source: investor presentation)
If oil stays at $40-$50 then McKinsey, Rystad Energy, and EPD management expect U.S. production to remain flat through 2026.
Fortunately, even if it has no demand to justify growth projects, the company already knows what it's going to do. It will simply divert its growing free cash flows to buybacks and distribution hikes.
EPD's fortress balance sheet means it has the most financial flexibility of any midstream operator when it comes to achieving modest growth, either via capex or stock buybacks.
While the company's valuation risk is very low right now – courtesy of it trading at 6x cash flow – there's always the risk of volatility.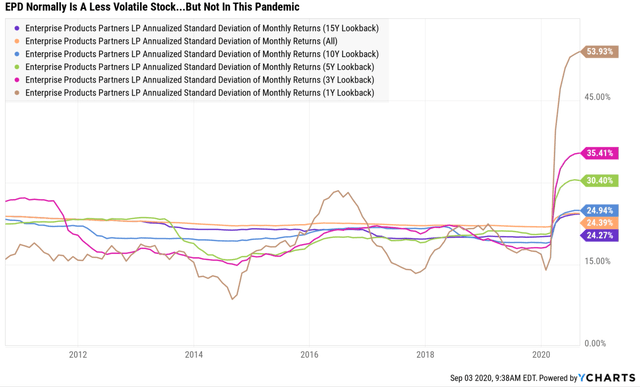 Over the last 21 years, EPD's annual volatility has been 23.36% vs. 27% for the average standalone company. But in the short term, that can spike as high as 54%, which is what we saw during the March crash.
As we mentioned before, EPD currently is in the worst bear market in its history, now in its sixth year. However, the fundamentals don't justify that. Plus, it began this bear market incredibly overvalued.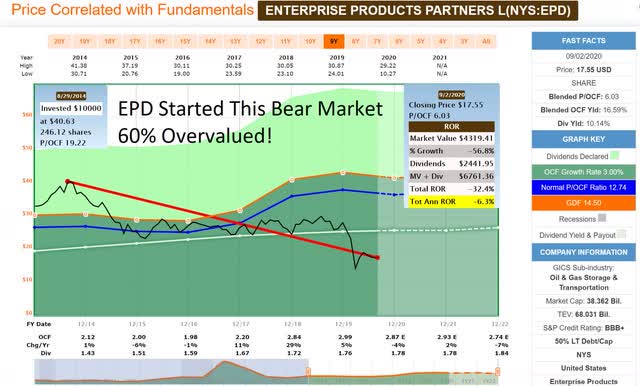 (Source: FAST Graphs, FactSet Research)
Those who paid an insane 19x cash flow for a stock worth about 12x aren't victims of a bad company, just poor risk management.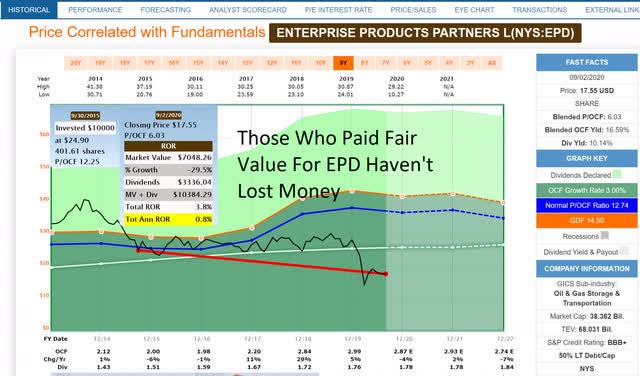 (Source: FAST Graphs, FactSet Research)
Those who waited for EPD to return to fair value in September 2015, however, are up 0.8%, even as the bear market goes on.
Imagine how much it can do after a bull market begins?
In Closing…
At a 50% discount to fair value, 6x cash flow, and a very safe 10.1% yield, Enterprise Product Partners is both a Super SWAN and an anti-bubble stock.
It's rare to have the opportunity to buy such a high-quality company at such a discount. Its current pricing offers not just generous, safe, and steadily growing income, but also market-smashing double-digit long-term returns – even if the company never grows at all.
Moreover, EPD's mountain of liquidity, fortress balance sheet, and the best midstream network in the country mean it's well situated to continue growing by 2%-4% over time, purely from buying back ultra-cheap shares with retained cash flow.
EPD's 50% margin of safety – combined with that mouthwatering yield – makes it very possible to earn 14.3% CAGR probability-weighted expected returns over the next five years, which is a whole lot better than anything the S&P 500 has going on at the moment.
To put it another way, we're talking about one of the best high-yield wealth compounders of the past two decades. And it's poised to continue richly rewarding patient investors who understand its risk profile and own it in a well-constructed portfolio.
Author's note: Brad Thomas is a Wall Street writer, which means he's not always right with his predictions or recommendations. Since that also applies to his grammar, please excuse any typos you may find. Also, this article is free: Written and distributed only to assist in research while providing a forum for second-level thinking.
Join the iREIT Revolution! (Labor Day Sale Underway)
At iREIT, we're committed to assisting investors navigate the REIT sector. As part of this commitment, we are launching our newest quality scoring tool called iREIT IQ. This automated model can be used for comparing the "moats" for over 150 equity REITs and screening based upon all traditional valuation metrics.
Join iREIT NOW and get 20% off and get Brad's book for FREE!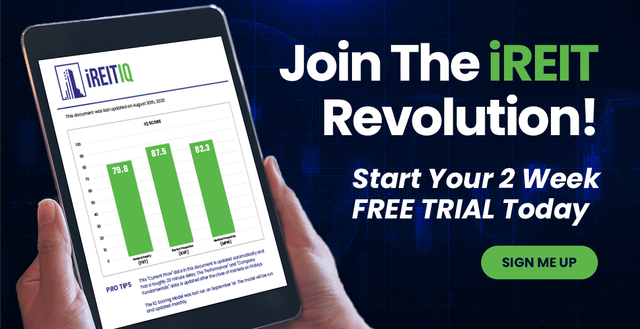 * Limited to first 15 new members * 2-week free trial * free REIT book *
Disclosure: I am/we are long EPD. I wrote this article myself, and it expresses my own opinions. I am not receiving compensation for it (other than from Seeking Alpha). I have no business relationship with any company whose stock is mentioned in this article.