During the past week, I've received multiple complaints from marketers who are currently unable to schedule their Facebook Page posts. I've checked my pages, and I see the same.
As you can see in the screenshot above, I can only publish now, backdate, or save the post as a draft.
I am going to assume that this is a bug because there's virtually no good reason to remove this capability. To make it weirder, some have told me that they can still schedule posts.
This is likely going to be fixed quickly. But, if you rely heavily on scheduling content to your Facebook page, know that there are two known workarounds in the meantime.
Save as Draft, Then Schedule
In the example above, you saw that I could save my post as a draft. If you do that, you can then find the saved draft and THEN schedule it.
After creating the saved draft, you should be able to access it quickly below your page publisher.

Otherwise, you can find your saved drafts within Publishing Tools under "Posts."
Select that post and then choose "Schedule" from the Actions.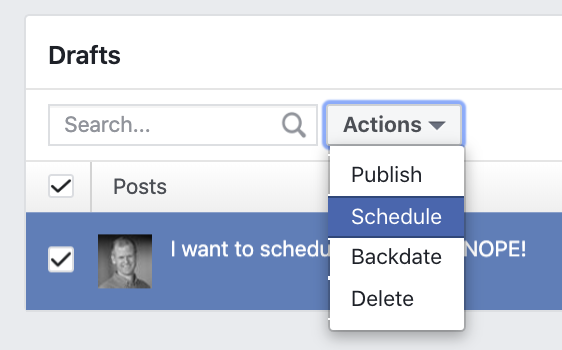 You should then be able to schedule that post.
Use the Creator Studio
There was some talk within the Power Hitters Club that the removal of scheduling posts from the page publisher was intentional. The reason: To get people to use the new Creator Studio.
You can still schedule posts from the Creator Studio. Access it from your Publishing Tools under "Tools."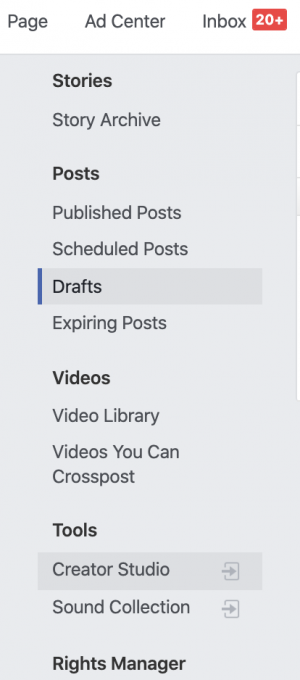 Click "Create Post" at the top left.
A publisher will now slide out from the right side.
The Publish button is at the very bottom, and if you click the arrow next to it, you'll see the option to schedule.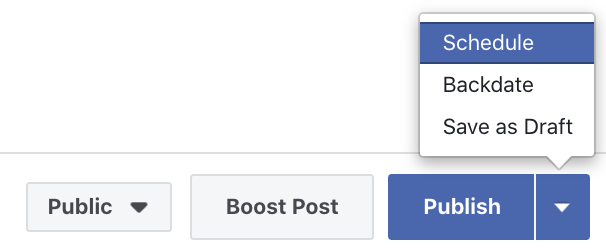 Your Turn
This post is likely to be irrelevant in a matter of days or hours, but I know the disappearance of scheduling is a major hassle for some marketers, and I wanted to be sure everyone knows about the workarounds.
Are you seeing this issue, too?
Let me know in the comments below!